Affiliate Disclosure: I am grateful to be of service and to bring you content free of charge. In order to do this, please note that when you click links and purchase items, in most cases I receive referral commissions. Eventually, I may earn enough to buy a beer or two 🙂
Swimming is one of the great joys in life, especially in a clear blue pool, however, cleaning your pool is a hassle which is why I've summed up the best rated pool cleaners for 2021 to give you an easier life. If you're lucky enough to own a pool there is no way of avoiding the task of keeping it clean, it's a vital part of the pool's maintenance, aesthetics and longevity.
Pool water attracts lots of impurities from things like hair and skin cells. In addition to this, debris from the surrounding environment will naturally take residence in the pool- leaves, insects, twigs and plants could all easily make their way into the water. This debris poses a risk to swimmers as it could be ingested and it can also clog up the pool's pump that circulates water.
When done manually, pool cleaning is difficult and a burden on your time. Investing in a high-performance automatic pool cleaner will free up your time to have fun swimming rather than worrying about a dirty pool.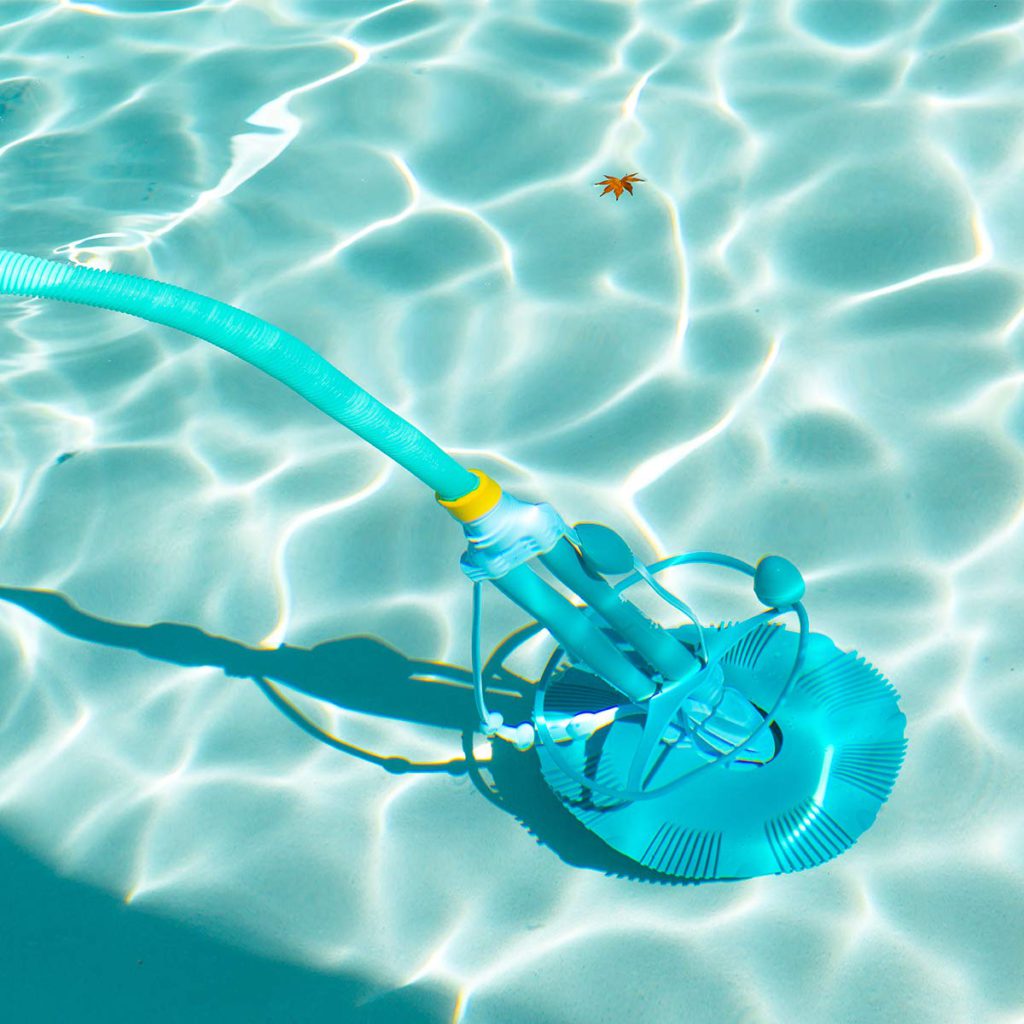 The list of pool cleaners currently available is plentiful and somewhat daunting to look through. This guide provides you with a concise review of the top recommendations to help you select the best in-ground pool cleaning robot for your requirements and budget.
The latest pool gadgets are designed to be 100% automated, therefore, do not require babysitting or intervention once tasked to clean the pool. These devices get better year after year and the technology is constantly improving to give you the ultimate convenience.
High-tech pool cleaners are costly, however, the effort, maintenance and expense that they reduce in the long term is well worth the investment and you don't need to hire a professional cleaner.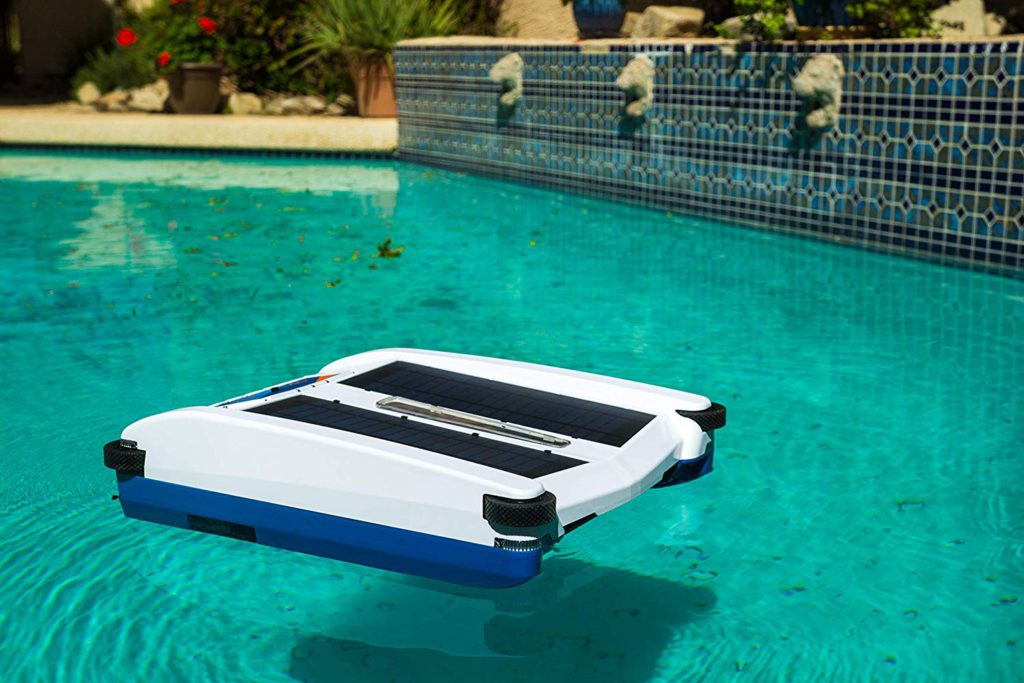 Without further delay, lets take a took at the leading pool cleaning devices available today:
#1. Dolphin Premier Robotic – Best of the Best
At the top of our list is the Dolphin Premier Robotic pool cleaner. This robot boasts a set of advanced features that outshines the rest of the pack.
The most remarkable feature is the comprehensive multimedia filter system that comes with 4 unique filters to handle any type of pool cleaning requirements. You will find a microfilter that extracts biofilm, algae and bacteria. It's equipped with a dual filter and a large collection bag for debris such as leaves, bugs, sticks, acorns and so on. The last filter is a disposable collection bag if you don't have time to clean the standard bag, it can be used to catch the debris described above.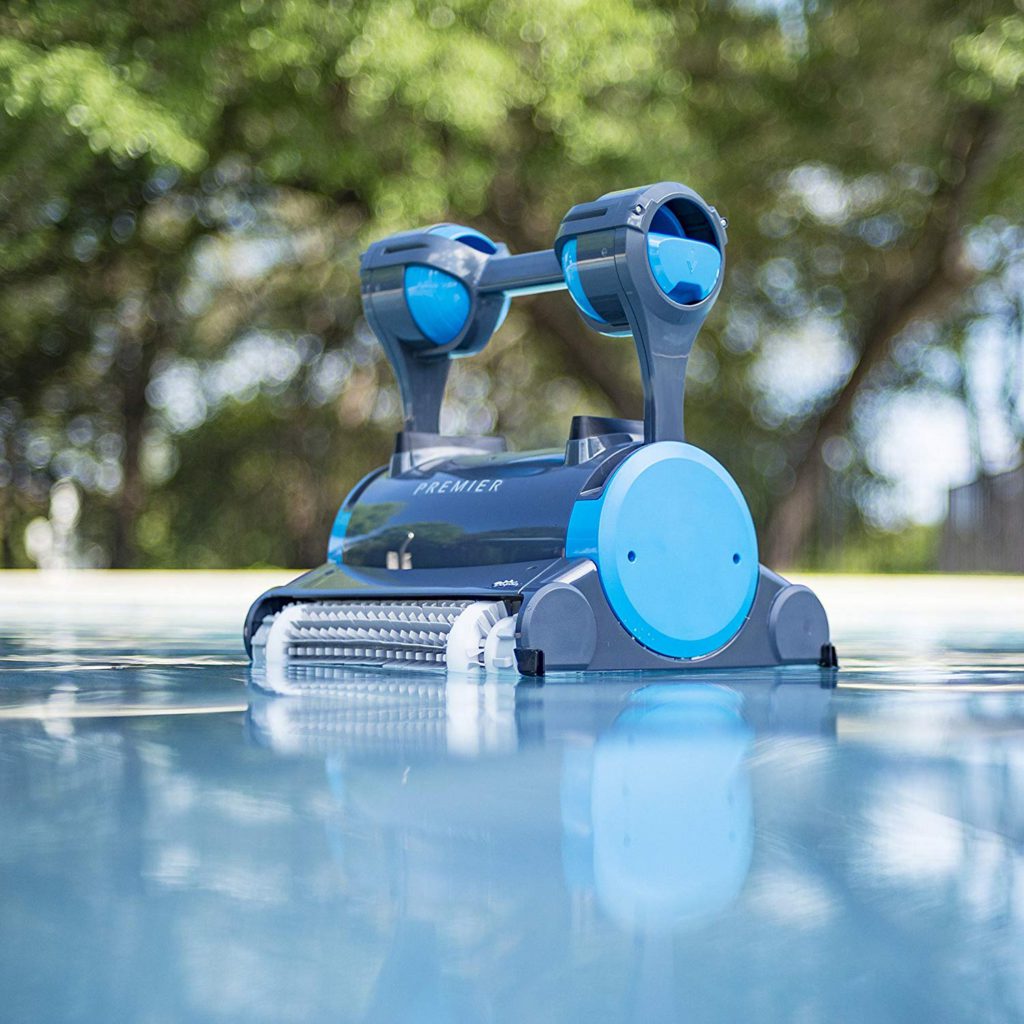 You won't find an alternative robot pool cleaner that comes with so much choice. Normally, you will need to buy the above filters in addition to your chosen appliance, if they are available for that specific machine. The Dolphin Premier allows you to undertake any type of pool cleaning without worrying about extra accessories.
But wait there's more. The unit comes with a PowerClean brush mechanism with brushes that rotate very fast. This means that the unit can scrub away stubborn algae and biofilm from the base of the pool which is then caught by the micro-filter.
The Dolphin cleaner is also energy saving- the motors can operate at a very low power consumption of only 180 watts. This means that power usage is minimised by 87% over a standard pool cleaner and drives down the cost of running your new machine to a mere 5 cents per hour. Although it uses very little power, the Dolphin Premier is a high-performance cleaner that clears the pool walls, floors and waterline tiles with ease.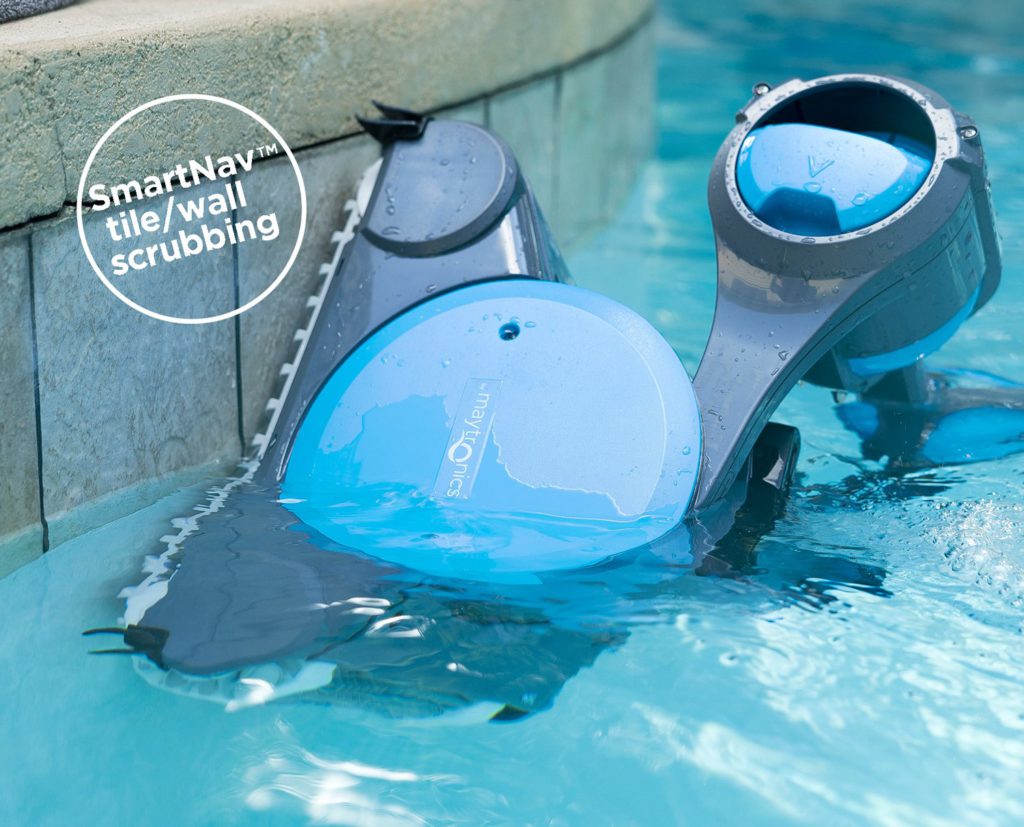 The machine is equipped with the proprietary SmartNave system to help it optimize energy usage. It cleans all sections of your in-ground pool whilst avoiding unnecessary energy wastage such as roaming to areas it has already cleaned. The unit also comes with a clever tangle-free swivel cord to stop it from getting stuck in its own cord.
The superb cleaning results delivered by the Dolphin and the different filters that it comes with means that you only have to use it just 2-3 times per week rather than daily. You can even set a schedule for the machine to clean automatically on your chosen days.
The Dolphin Premier is not cheap but as you can see from the set of features it comes with, this cleaner is certainly worth the investment. It's supplied with every type of filter that you could possibly require. The energy efficiency is impressive and won't put a dent in your household bills, plus you don't have to run the machine as often. It comes with an unlimited 3-year warranty to give you peace of mind.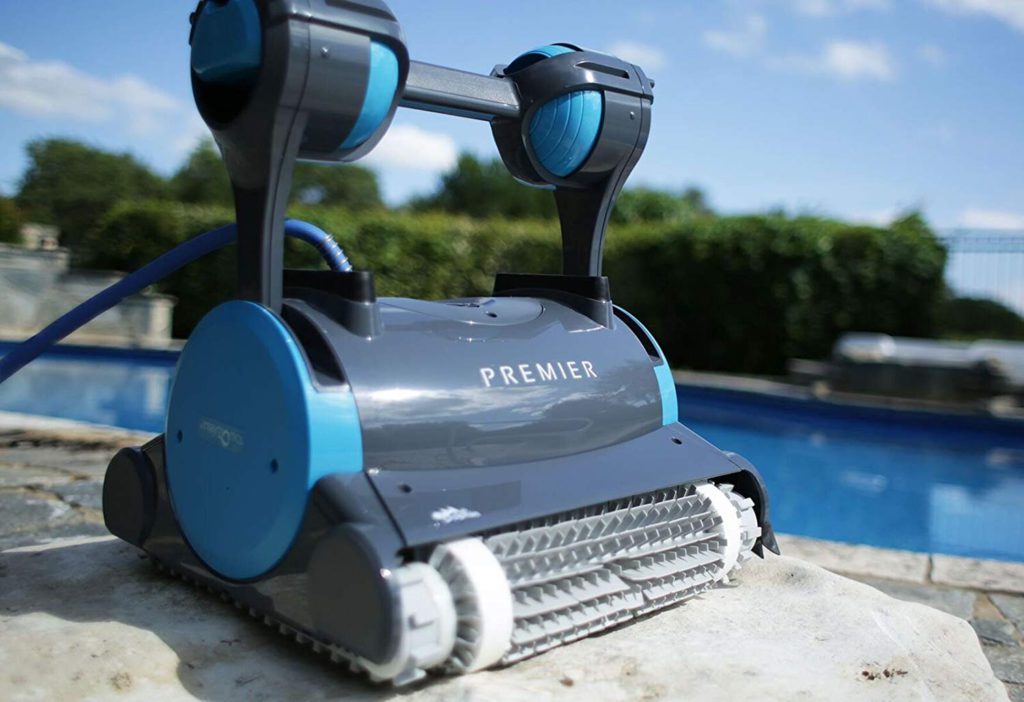 It might be a pricey investment from the onset but in the long run, this robot will save you time, effort, potential labour costs for professional cleaning and the energy costs of running a pool cleaner. It's one of the leading robotic pool cleaners currently available and comes highly recommended.
Pros
It's consistently good in performance and quality.
A fully automated robot that doesn't get stuck.
The Dolphin Premier is simple to set up and get going.
The low energy consumption is a standout feature and will have very little impact on energy bills.
The unit is incredibly lightweight.
You get the peace of mind of an unlimited 3-year warranty.
It comes with 4 filtration media to deal with any type of pool cleaning.
The robot's efficiency is made better by the SmartNave system and anti-tangling cable.
The remote allows you to conveniently program a cleaning schedule for the machine.
Cons
Expensive purchase (but saves you a lot of money in the long term).
Where can I buy the Dolphin Premier Robotic Pool Cleaner?
#2. Polaris F9550 Sport Pool Cleaner
Next up is the Polaris F9550 Sport automatic pool cleaner, it's a slick-looking robot that resembles a small car. The unit is portable and it does a fantastic job of keeping your pool in the best condition. It comes with a remote to conveniently program the little guy.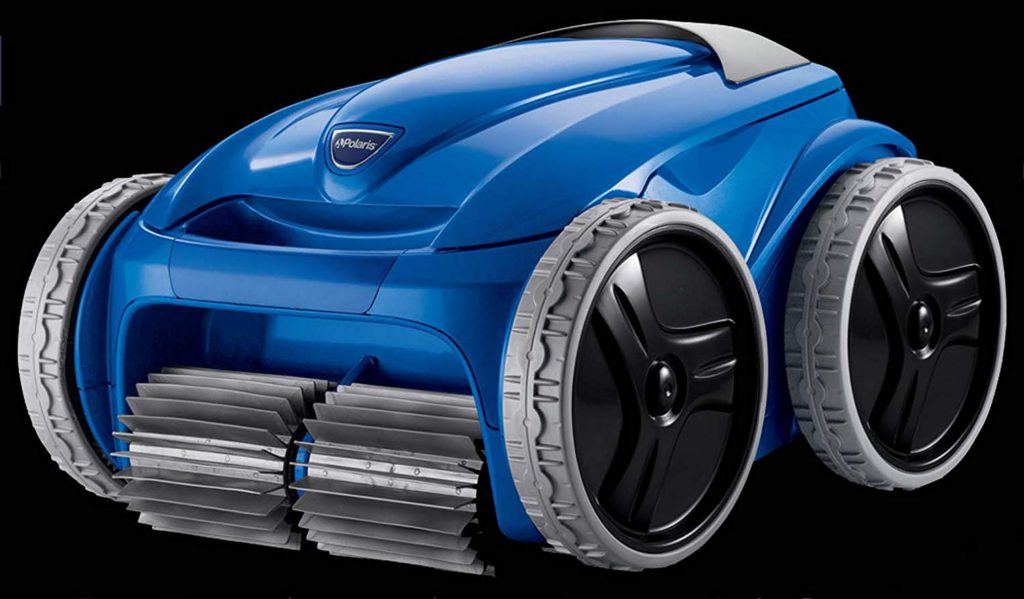 The Polaris cleaner is a compact machine that is incredibly easy to use. One thing to note is that it weighs more than the Dolphin Premier, 43.6 pounds to be exact. To address the weight issue, the unit is fitted with a proprietary Easy Lift feature that allows you to press a button using the remote and the machine will float to the surface and come out of the water. This allows you to lift the unit easily. You'll also find a unique transportation caddy and a user-friendly design that makes handling the Polaris robot a doddle.
The remote control provides the hands-free freedom to control the robot's direction or to pick an area that you want it to come out of the water. There's a comprehensive timer that you can program a 7-day schedule and bespoke cleaning cycles to specifically target the pool floor or walls if required.
In addition to this, the filtration canister is designed to be easier to clean and empty compared to a bag. All you need to do is tip out the debris and quickly wash it out with a hosepipe, all of which takes less than a few minutes and your robot is ready to continue.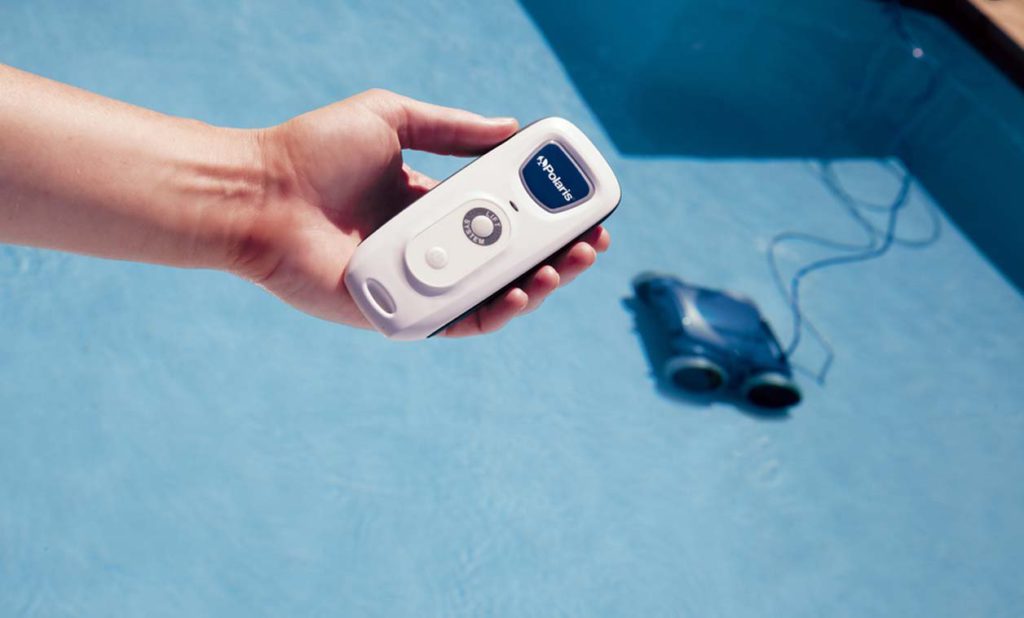 The Polaris is supplied with a regular filter canister though there is the option to buy additional filters such as an ultra-fine canister or leaf canister for more specific jobs.
Similar to our leading recommendation, the Polaris robot is a low energy consumption machine, thus, it won't add much to your energy bills. It takes advantage of a 110v transformer for lower energy usage. The proprietary ActivMotion technology guides the robot efficiently around the pool. The cable is tangle-free too.
Pros
A more cost-effective solution to our top pick.
The little bot is highly programmable thus giving you a better level of customisation for its cleaning cycles.
It comes with a caddy to transport it easily and combines this with the Easy Lift system to minimise the heavyweight issues.
The clever guidance sensors and lengthy cable make it suitable for bigger pools.
It's capable of cleaning any type of surface.
The canister is much easier to clean than a collection bag.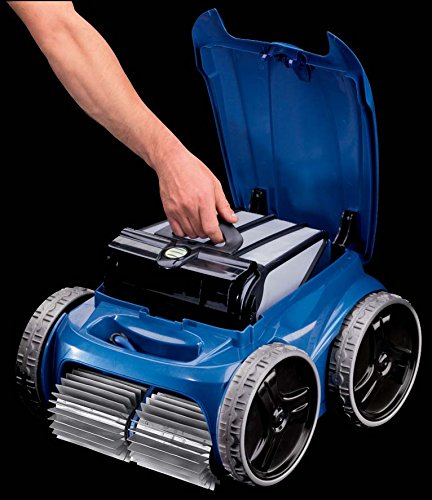 Cons
The robot is heavier than it looks.
It only comes with just one filtration option. The additional filter types such as the Leaf canister needs to be purchased separately.
Where can I buy the Polaris F9550 Sport Pool Cleaner?
#3. Dolphin Nautilus Plus Pool Cleaner
Yes, Dolphin features again on our list of recommended pool cleaners. This just goes to show how good the brand is. The 99996403-PC Dolphin Nautilus Plus is an affordable premium pool cleaner that offers plenty for the money.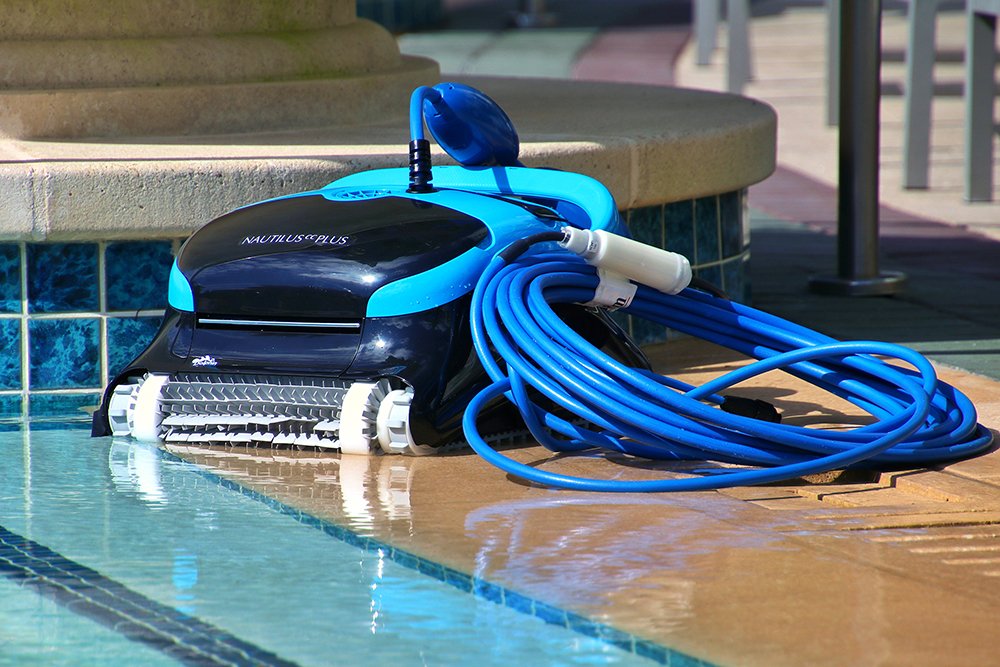 It's considerably lighter than the Polaris F9550 and weighs just 22 pounds. In terms of cost, this robot is a lot more budget-friendly than our top 2 picks, however, it's incredibly efficient at achieving a high standard of cleaning.
Installing and removing the filters is an easy process thanks to the convenient access point found at the top of the robot. You will find a dual cartridge with the capability of simultaneously collecting fine debris as well as bigger particles without the need to swap filters or change the cleaning cycle. Clever!
It also comes will an identical proprietary tangle-free cable found on the high-end Dolphin Premier further up our list. Yes, it includes the SmartNave guidance technology to ensure that the robot uses the best possible routes without aimlessly going over the same areas- this saves time and energy. It can clean all areas of the pool i.e. the waterline, pool floor and walls. This little machine will have your pool cleaned up in just 2 hours 30 minutes.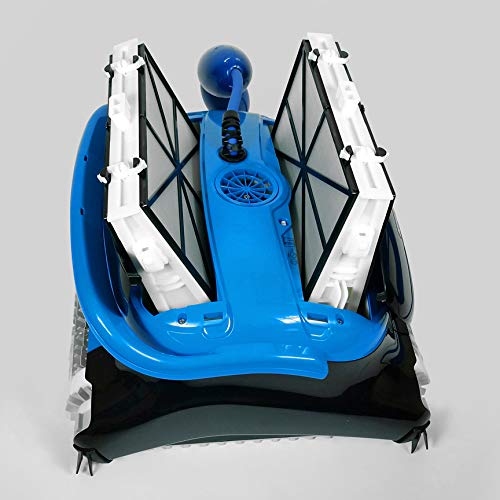 Overall, The Dolphin Nautilus offers a lot of premium features, however, it's not supplied with a remote control though you will find a 7-day timer to schedule cleaning routines that can fit in with your lifestyle. I'd recommend this robot for pool owners that want a balance between great value and premium functions.
Pros
This unit is dependable and cleans quickly.
A very affordable robot that still includes several cartridge options and flexibility to schedule cleaning cycles.
It weighs less than its rivals and is easier to lift and handle.
At this price, you are still getting premium features such as route optimization technology regardless of pool size or shape, a tangle-free cable to ensure that the bot is truly autonomous.
It costs next to nothing to run the Dolphin Nautilus- cleaning your entire pool will set you back just $0.15.
There is nowhere this robot doesn't go- it cleans the pool floor, waterline, stairs and wall.
Cons
A remote control is not included with this model.
It doesn't have a caddy, however, the machine is extremely lightweight.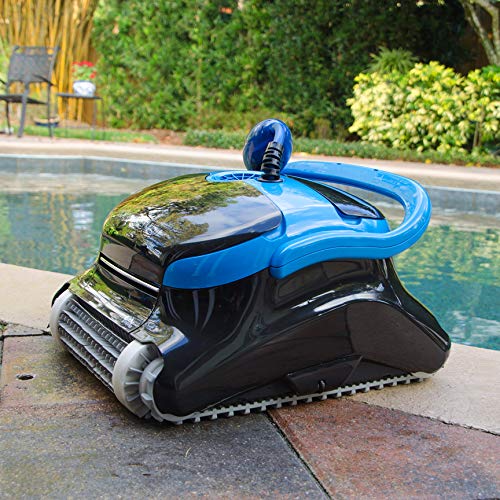 Where can I buy the Nautilus Plus Pool Cleaner?
Suction Side Pool Cleaners
If you'd rather set your sights on a more conventional suction side pool cleaner, you will find tonnes of options but we've summarised a list of our top 3 that stand out from the rest of the pack.
#1. Zodiac BARACUDA G3 W03000
At the forefront of Suction Side pool cleaners is the Baracuda G3 W03000 and there are lots of good reasons why you should consider it.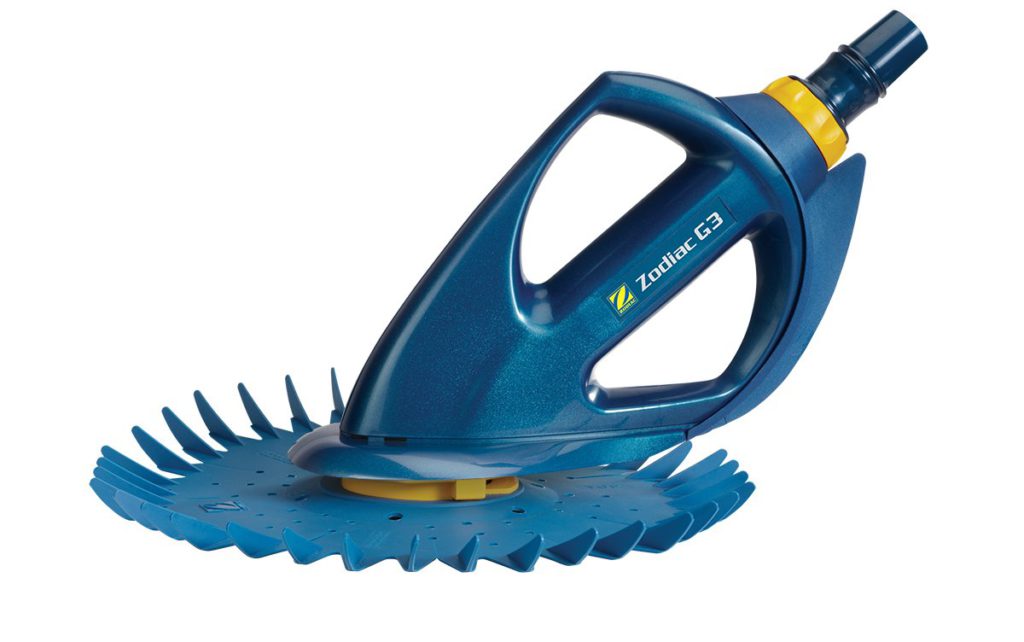 You won't find a better suction side pool cleaner if you tried. The Zodiac cleaner is extremely adaptable and is capable of collecting tiny and bigger debris particles as well as climbing from the pool floor to wall.
What makes it better than its rivals is that it can perform at a high level even with pool pumps that run at a lower speed. The proprietary FlowKeeper valve controls the flow of water to provide optimal results whilst using pumps with less horsepower, this is a design feat that rival suction cleaners are yet to achieve.
The machine has less moving parts and as a result, it's less prone to faults or breakage, and it operates at a lower noise level. It features a 36-Fin disc which means it can stick better to the pool, making sure that it avoids getting trapped on the grates or drain covers which is a frequent occurrence with suction cleaners that have a disc design.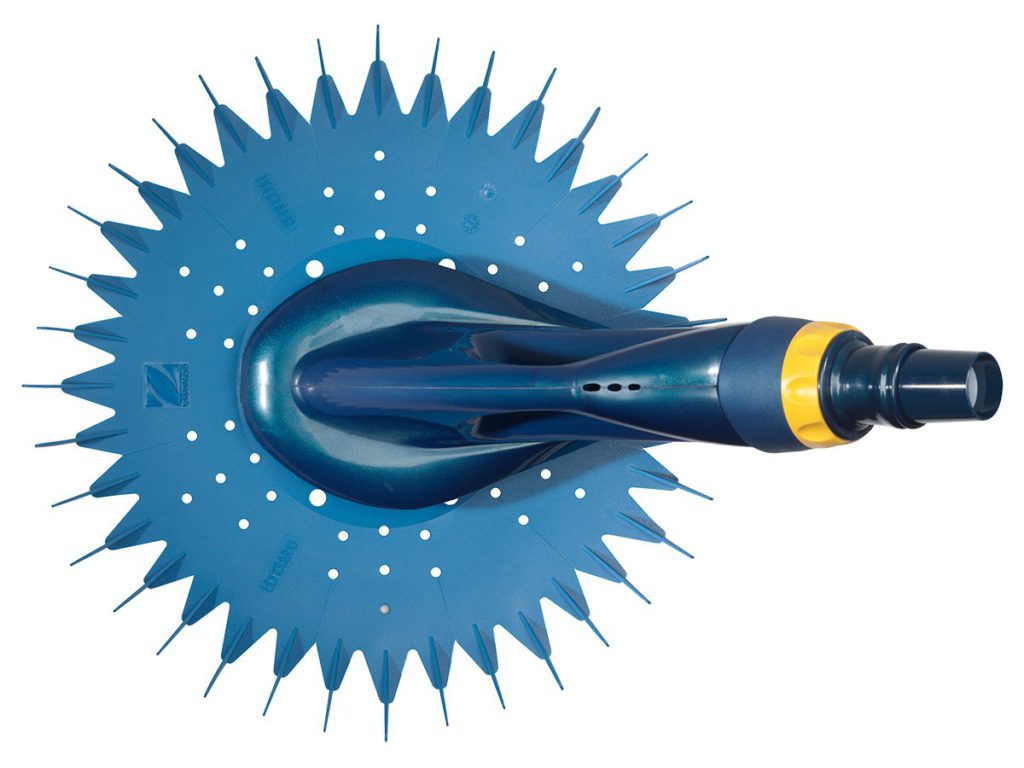 The Zodiac Barracuda can skim the pool's surface with just the press of a button, therefore, it can collect various types of debris such as bugs, leaves and stray sticks. The versatility of the Zodiac cleaner earns it the top spot of best suction side pool cleaner available to buy today.
Although this unit can collect larger pieces of debris, you will need to remember that everything it picks up goes directly into your pool's filter basket which will need to be cleared out regularly to avoid clogging. A drawback of suction units is that they clog easily thus pushing your pool's system to its limits which is why you need to keep on top of clearing out debris.
Pros
There are lots of convenient features to be enjoyed on the Zodiac Barracuda cleaner at a reasonable price.
Less moving parts equate to fewer maintenance worries.
This unit can clean all sections of your pool.
It's compatible with any type of in-ground pool surface.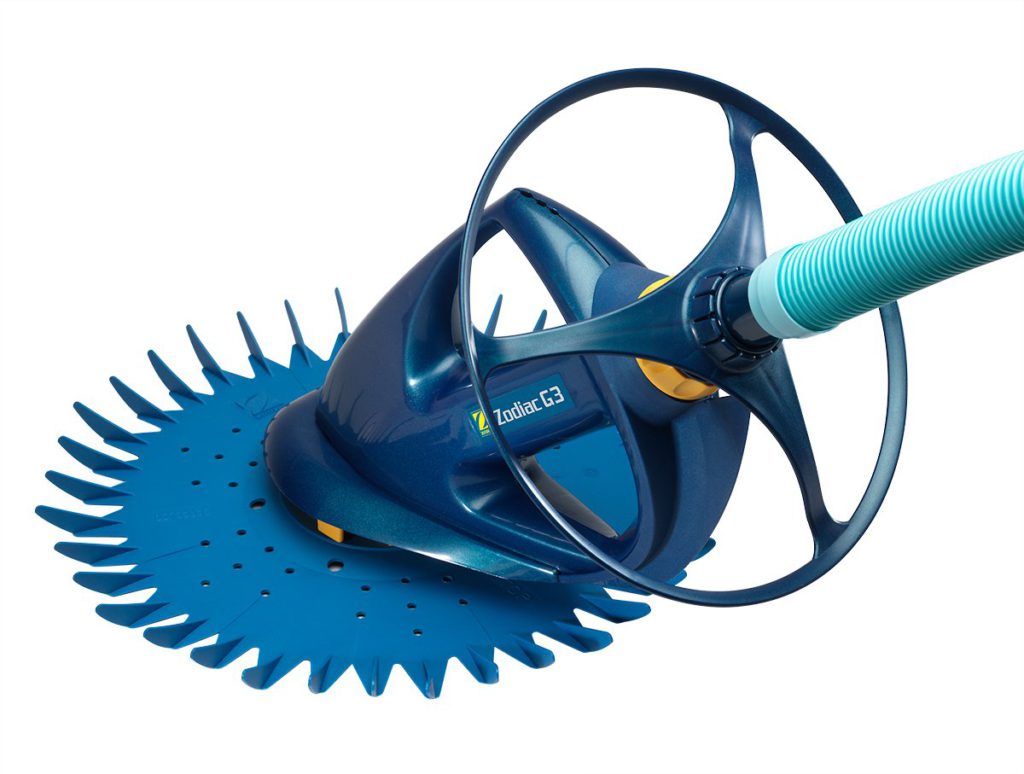 Cons
Does not come with route guidance which could result in the machine cleaning the same areas again or missing a spot.
It weighs more than comparable units.
Where can I buy the Zodiac BARACUDA G3 W03000 Pool Cleaner?
#2. Hayward Poolvergnuegen 8965840000-013
The Hayward Poolvergnuegen side pool cleaner is another top pick that comes highly recommended. It's packed with a full set of features which make it a high performance cleaner worth considering.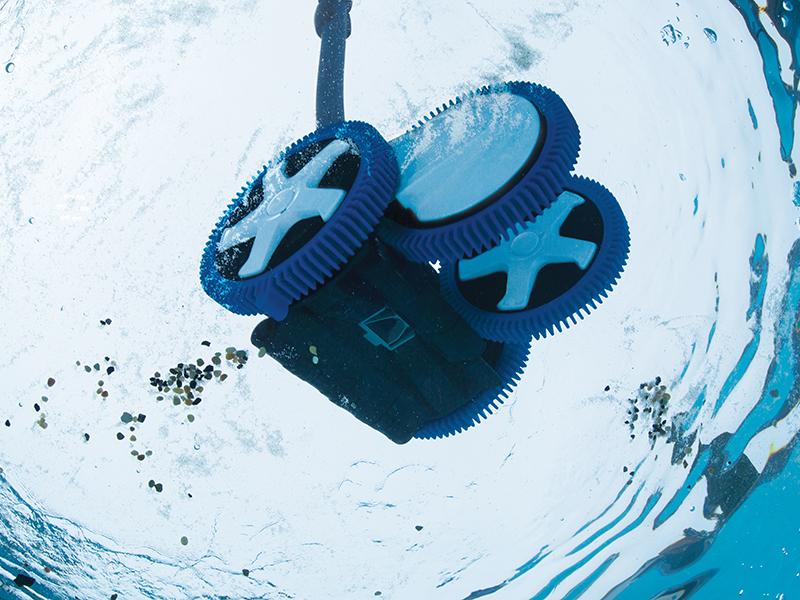 Instead of a disc mechanism, the Hayward cleaner is equipped with a 4-wheel drive system with a robust set of tires that can swivel to a radius of 90 to 540 degrees. There is a clever steering system that covers the shallow section right down to the deep end. It navigates corners like a champ and can traverse any type of pool surface.
In general, you will not find navigation technology or steering on suction side pool cleaners which is why it's a huge advantage that this comes included with the Hayward Poolvergnuegen and as a result, cleaning is more effective and time-efficient.
Additionally, the Hayward pool cleaner comes with a distinct set of self-adjusting turbines that allow it to make the best use of its cleaning power. The result is that it can utilize lower powered pumps- it can work with a pump size of just 0.5 horsepower and when you combine this with the 40 ft hose it provides the efficiency to clean big pools measuring up to 20' x 40' and a depth of up to 6′.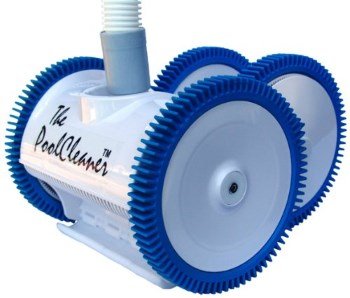 And if that wasn't enough, the machine is armed with 3 swappable throats to improve it's versatility and capability to collect various sized particles from leaves to dead bugs.
Pros
Improved coverage from a side suction cleaner thanks to the turning sequences and navigation technology.
Ability to collect various sized particles using the interchangeable throats.
The sturdy tires improve the machine's grip and reduce the likelihood of it getting stuck.
Capable of picking up larger debris.
It can clean all sections of your pool with ease.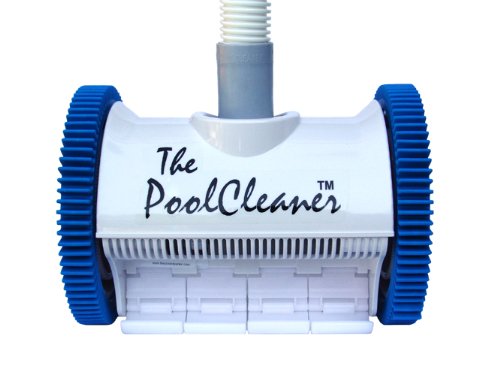 Cons
This model costs more than our leading recommended side suction cleaner.
The cleaning time increase significantly with bigger sized pools.
Where can I buy the Hayward Poolvergnuegen 8965840000-013 Pool Cleaner?
#3. Hayward PHS21CST Aquanaut 200 Pool Cleaner
Our final recommended side suction pool cleaner is the Hayward PHS21CST Aquanaut 200 which is a compact solution that offers heaps of cleaning power to keep your pool looking crystal clear.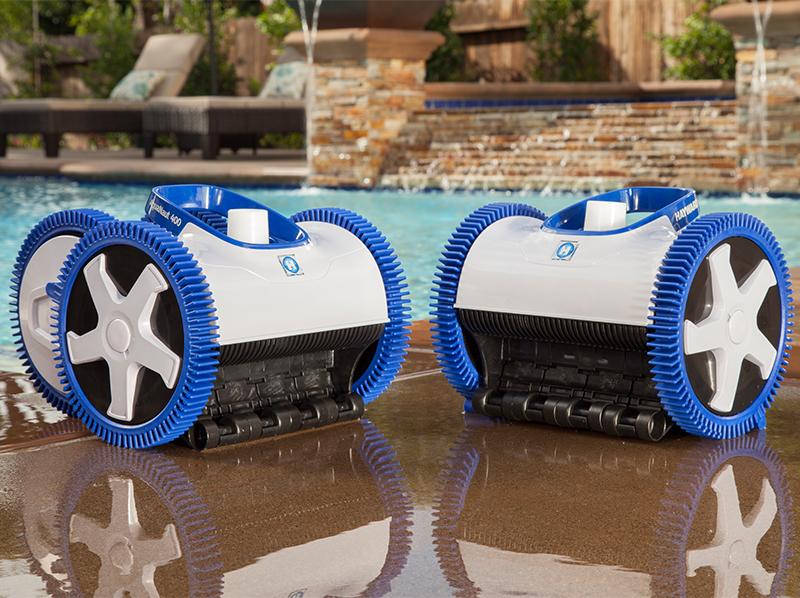 The proprietary V-Flex system harnesses the power to ensure that it works at its best at virtually any flow. The machine can pick up bigger pieces of debris without getting blocked.
It has patented V-Flex technology, which means it is guaranteed to run at optimum power at nearly any flow and can handle even larger debris without getting congested.
The Hayward cleaner comes with a steering program that directs the unit to all four corners of the pool delivering a thorough coverage of all areas regardless of the depth. The on-board roller skirt allows the machine to handle obstacles and maintain a consistent level of suction.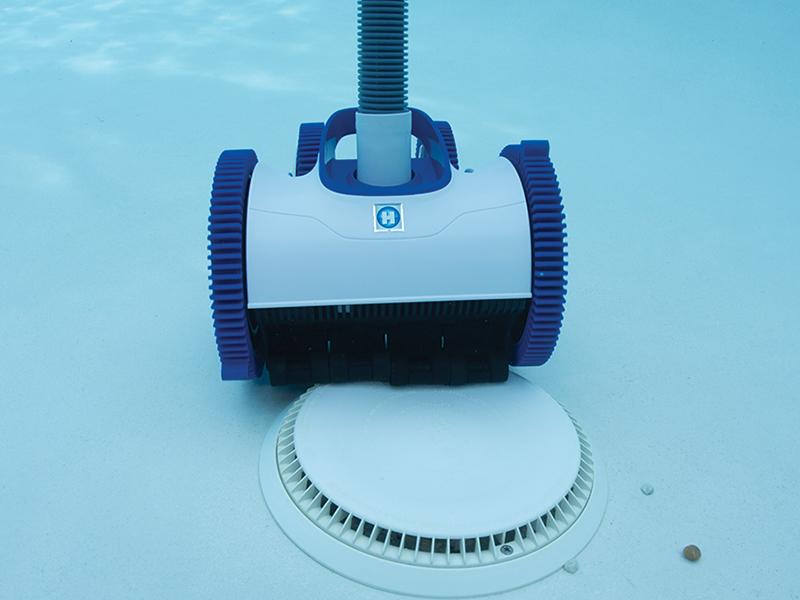 Overall the Hayward PHS21CST Aquanaut 200 is a well considered portable cleaner that is ideal for pools measuring up to 16' x 32'. It's lightweight too, weighing just 16 lb.
A slight drawback of this machine is that its limited by the types of surfaces it works on. It's advised to use it on granite, concrete, fiberglass, vinyl, pebble or tile pools.
Pros
This is one of the smallest high-performance side suction pool cleaners.
Provides extensive coverage of the wall and pool flooring.
The branded V-Flex system and exchangeable throats allow this machine to pick up bigger particles without blockages.
Can cover pool floor and walls.
V-Flex technology and interchangeable throats make it capable of sucking up larger debris without clogging.
Cons
It's limited to specific surfaces although most types are covered.
Costlier than alternative models.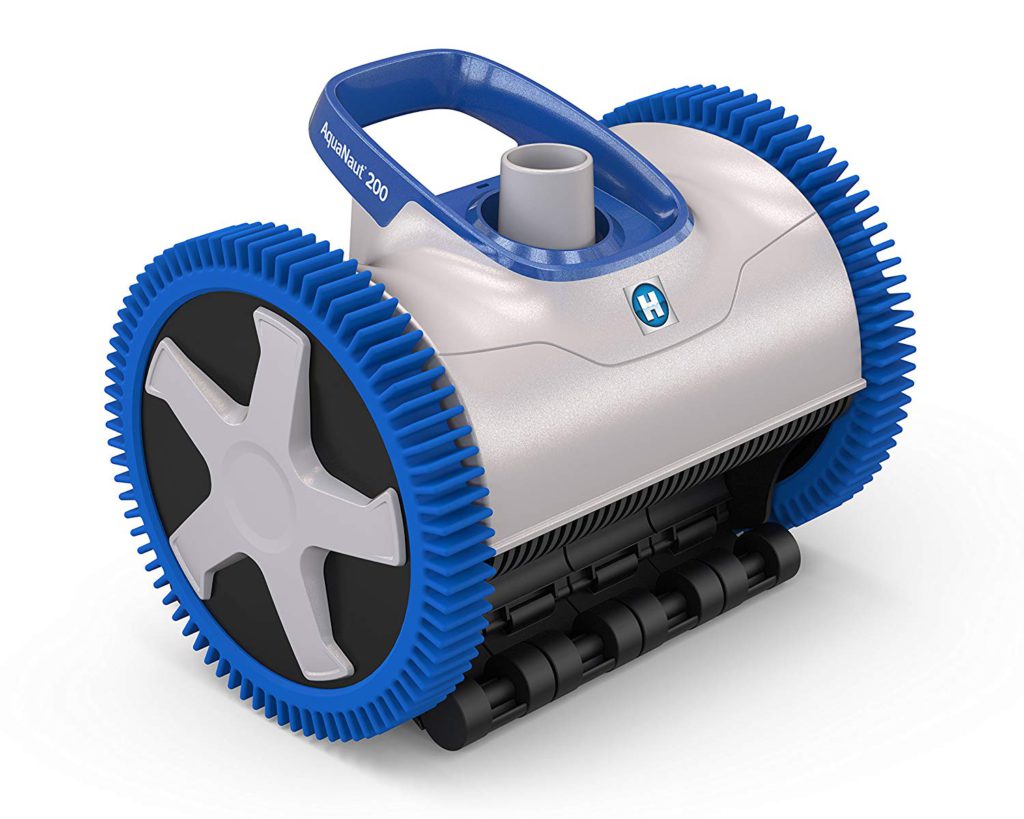 Where can I buy the Hayward PHS21CST Aquanaut 200 Pool Cleaner?
Pressure Side Pool Cleaners
To conclude this guide, lets delve into our recommended pressure side pool cleaners. These pool cleaners are a perfect choice if your pool already has the booster pumps required to run them. The advantage here is that a pressure side pool cleaner significantly reduces the burden on your pool's circulation system and pump.
#1. Polaris Vac-Sweep 280 – The Best Choice
The best pressure side cleaner is the Polaris Vac-Sweep 280. It comes with a well planned pressure cleaner that improves efficiency and cuts down cleaning times.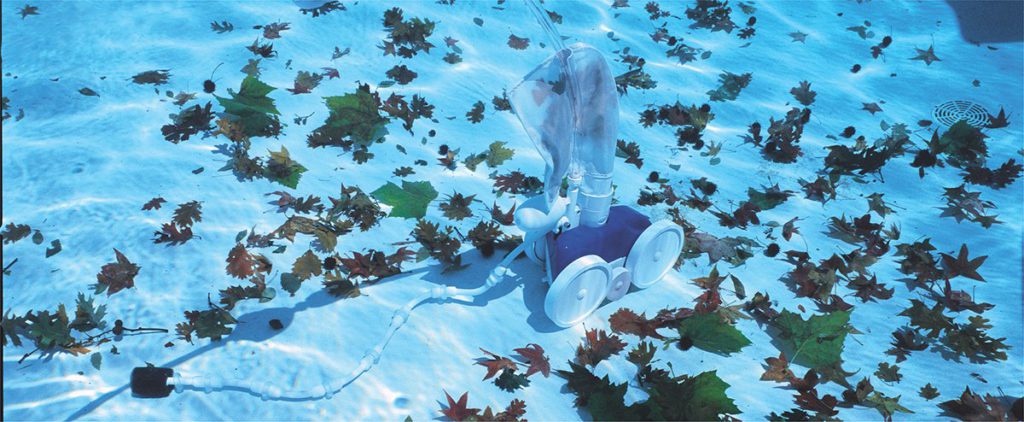 The machine is the ideal choice for any pool configuration with dual jets to ensure that the task is carried in a fraction of the time that it would take a standard cleaner to do. The collection bag is designed to catch debris of all sizes and stops it from reaching the pool's filter or pump basket, therefore, ensuring that the system does not get overworked.
One thing to keep in mind is that the machine needs a Polaris booster pump, which isn't supplied, your pool also needs to be configured to install a booster pump and a pressure side cleaner.
For added convenience, the machine is lightweight and weighs just 18 pounds and it comes with a long 31′ hose. It's easy to install and not too heavy to lift it from one section to another. This is the perfect solution for anyone looking to buy an affordable pressure side cleaner for a pool measuring up to 30′ in size.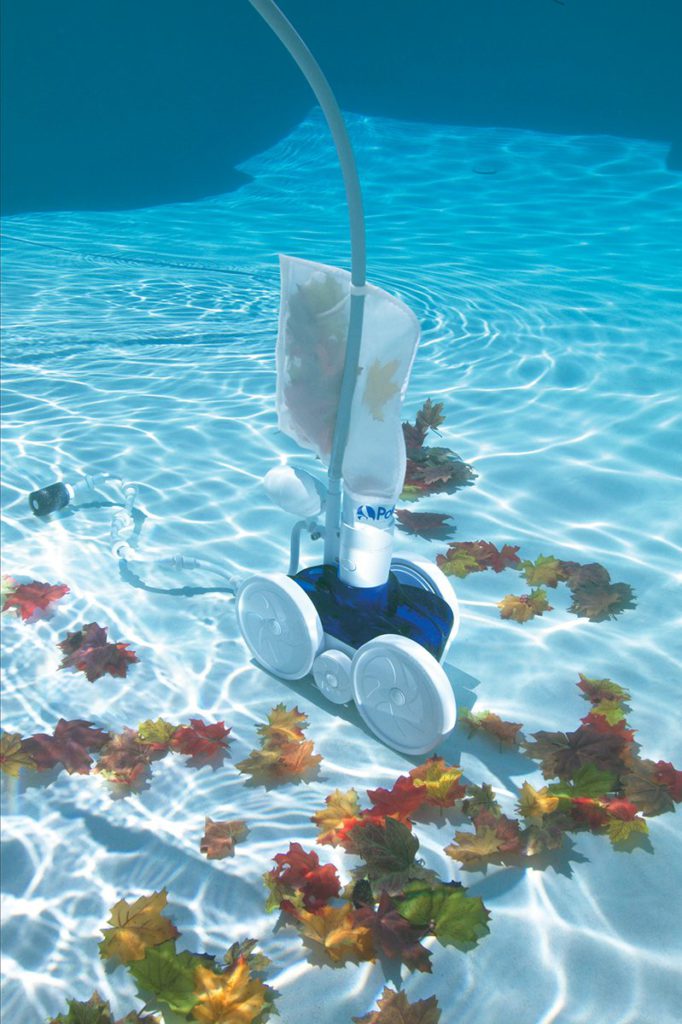 Pros
The collection bag is designed to collect small and large debris plus it filters tiny contaminants from the water.
It's compatible with any type of pool surface.
The double jets speed up the rate of cleaning and improve its attention to detail.
Cons
The collection bag has just one chamber and as a result, it needs to be cleaned and emptied often.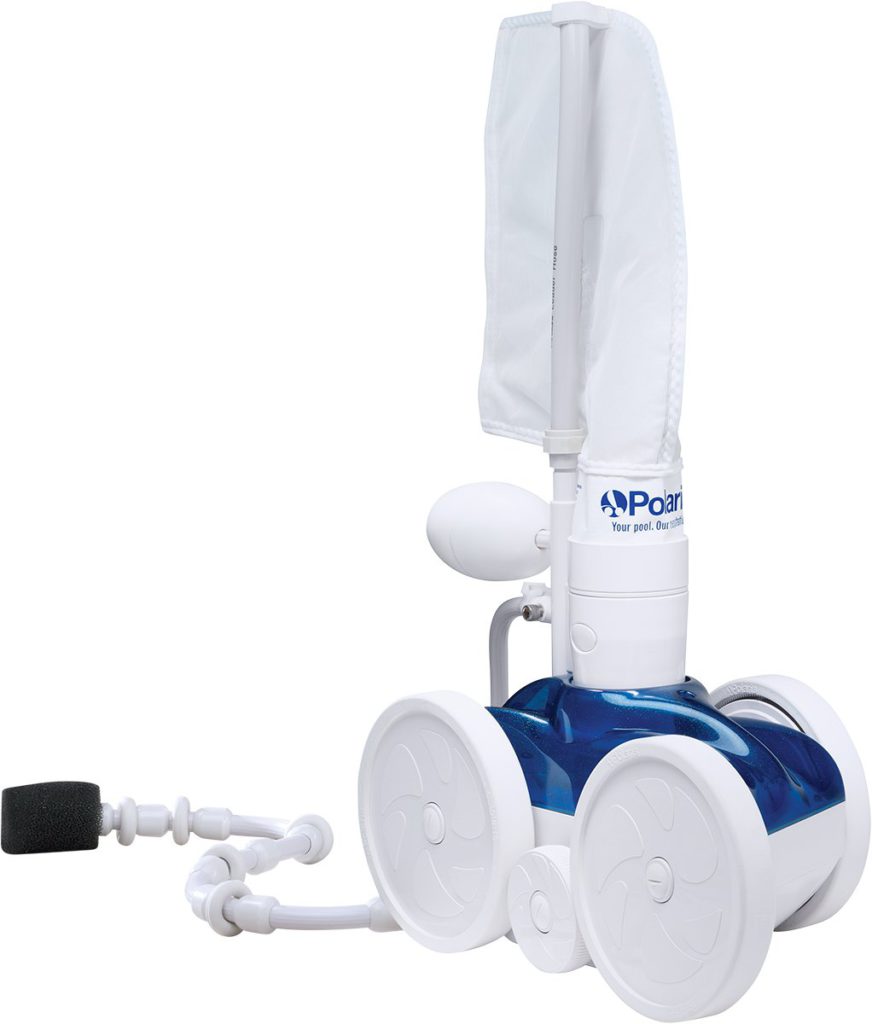 Where can I buy the Polaris Vac-Sweep 280 Pool Cleaner?
#2. Polaris Vac-Sweep 3900
Next up is the Polaris Vac-Sweet 3900 pressure cleaner which is a robust machine that earns it the title of quickest and strongest pressure pool cleaner from the Polaris brand.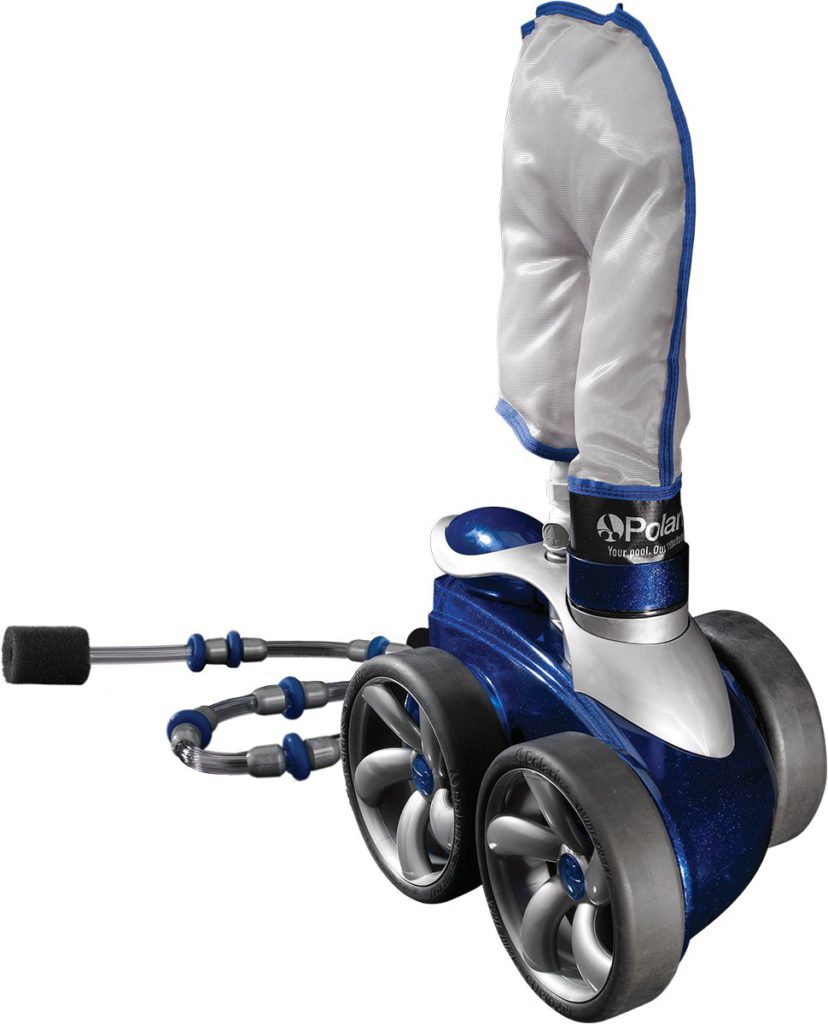 This appliance is equipped with a system named PosiDrive which improves torque by an extra 50%. Pool filtration is made better thanks to the triple jets that give an extra 40 GPM of filtration. The result is a speedier and thorough cleaning performance. The filtration is so powerful that algae and contaminants don't get the opportunity to accumulate in the water.
The Polaris Vac-Sweet 3900 houses a 5-liter double chamber collection bag, therefore, it can collect and contain more debris with each cleaning cycle. It's also designed with a reversing system that automatically gets it out of trouble if it got trapped by an obstacle.
Overall, the Polaris Vac-Sweet 3900 is a hardy pressure side pool cleaner with a high capacity, it's perfect for big pools that need extra assistance with circulation to stop algae and bacteria forming. If your pool is positioned near trees or bushes and it accumulates lots of leaves, twigs and debris then this is the ideal cleaner to keep it clear blue.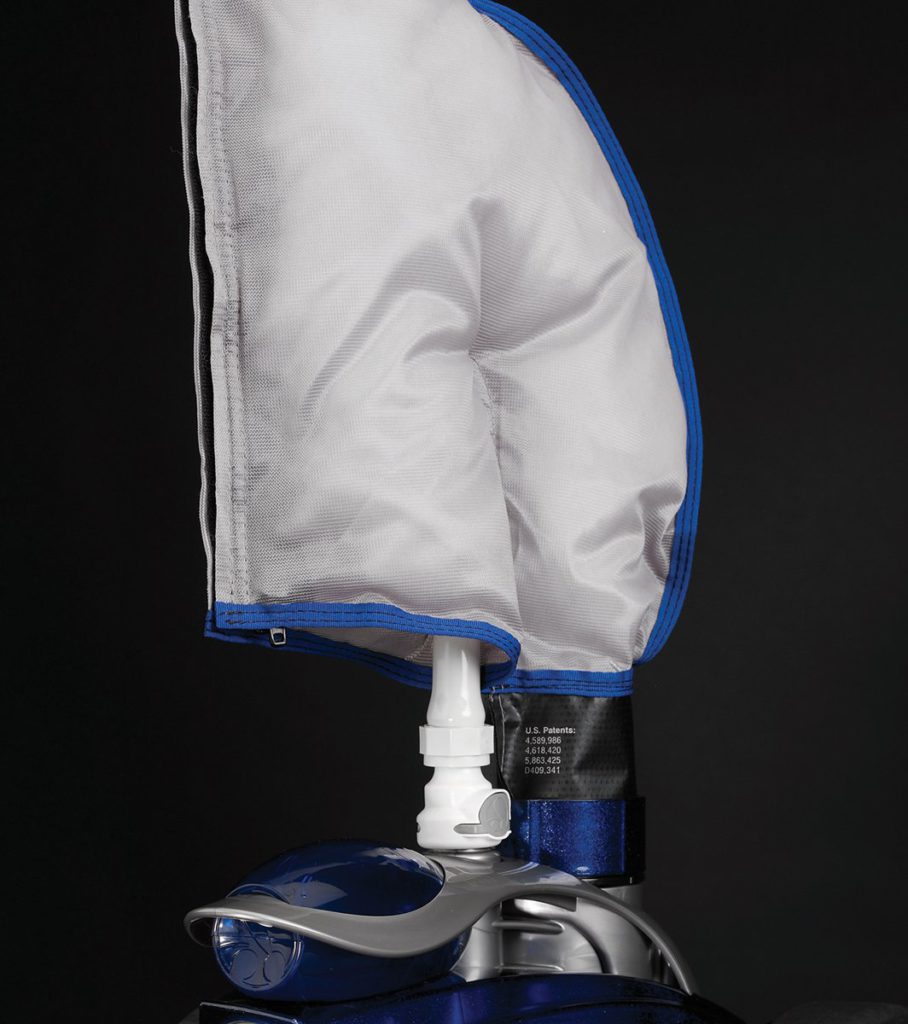 Pros
The triple jets and PosiDrive system provide an extra boost and a truly powerful pressure cleaner.
This is one of the best solutions for owners of huge pools or pools that attract plenty of large debris such as leaves.
The double chamber bag collects a higher amount of debris in less time.
Cons
It's a pricey option compared to alternative pressure side cleaners.
The machine can't clean pool steps.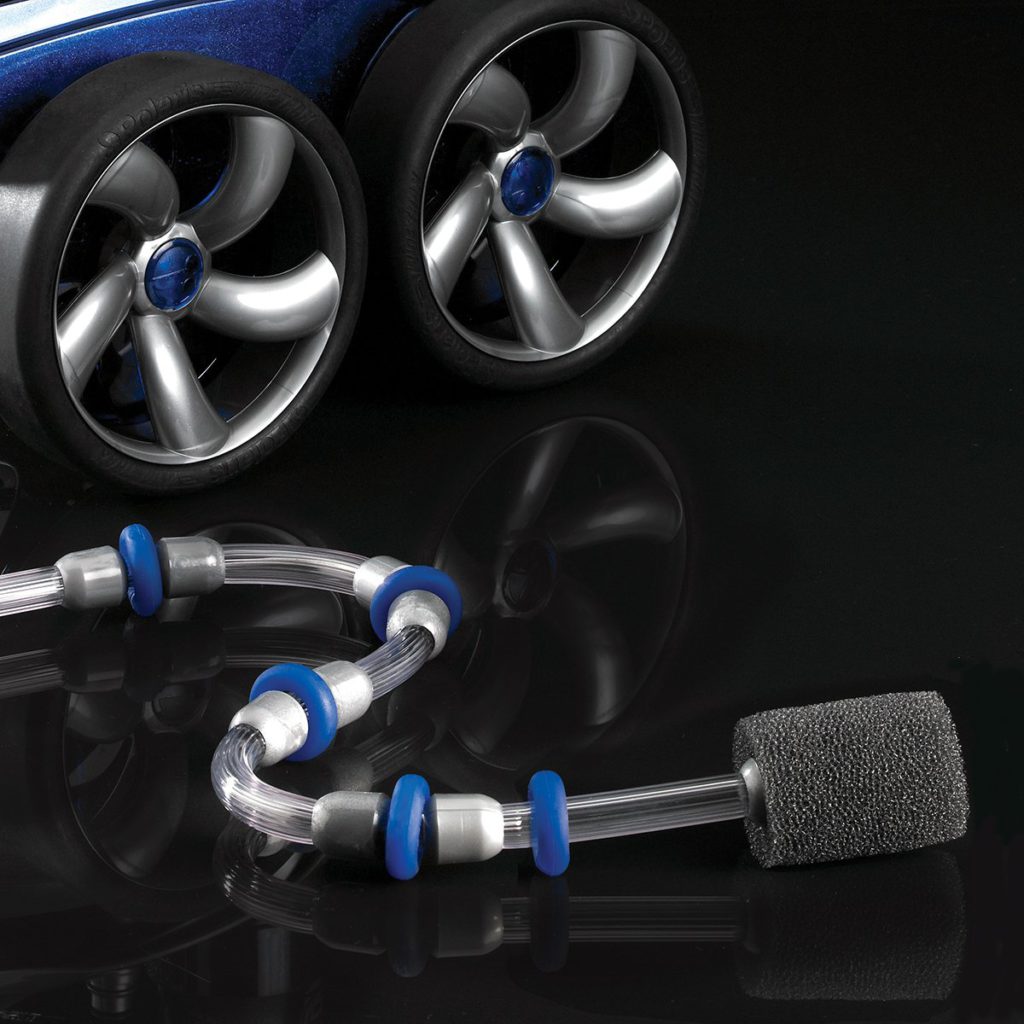 Where can I buy the Polaris Vac-Sweep 3900 Sport Pressure Side Pool Cleaner?
#3. Pentair LL505G Pool Cleaner
Last but not least is the Pentair LL505G pressure side cleaner a.k.a the Kreepy Krauly Legend. This is a highly favoured appliance for small pools that are problematic to keep clean. The Kreepy Krauly Legend excels at picking up bigger dregs of dirt.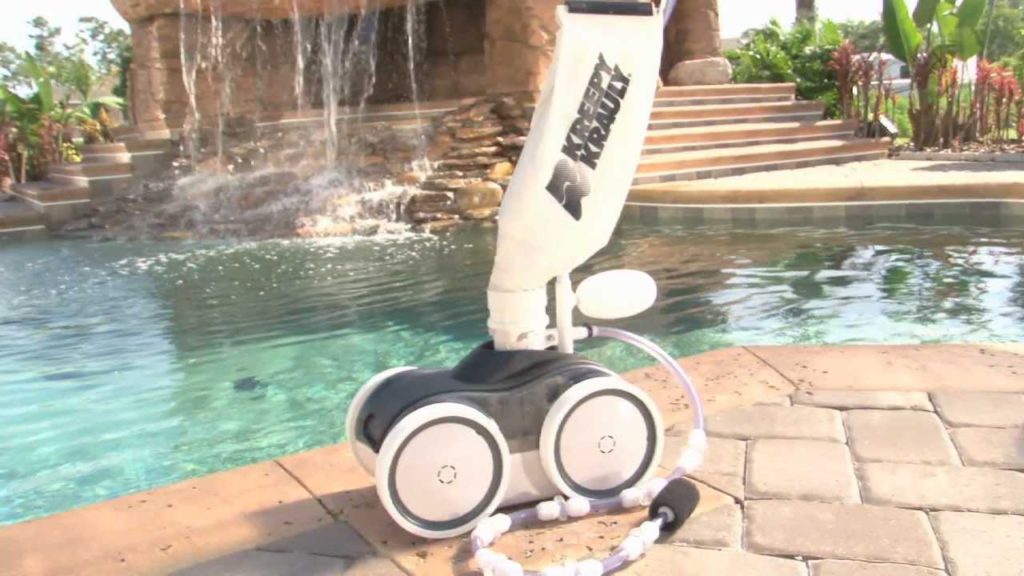 This smart unit comes with 4 wheels instead of the usual 3 wheels found on a conventional machine, making it less susceptible to losing its balance. The unit is designed with a front-wheel drive for robust traction, giving it the advantage of cleaning inclines. The powerful performance is aided by a vortex venturi jet system.

The machine is compact but is cleverly designed with a big throat to handle bigger debris without the worry of it clogging up and is fitted with a distinct valve to stop debris from going back into the water after a cleaning cycle is complete.
Similar to other high-performance pressure side cleaners, the Pentair LL505G is equipped with a backup mechanism that automatically turns on to assist the machine if it gets caught between an obstacle. Smart thinking!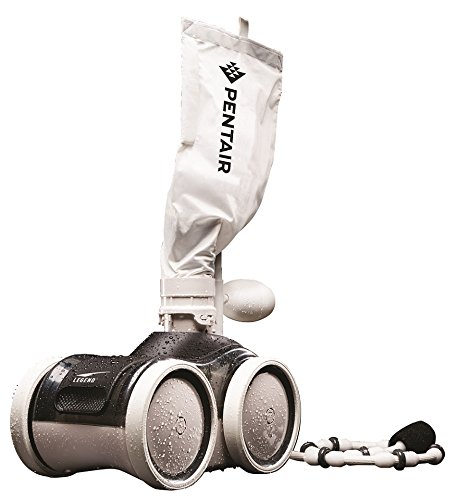 Overall, the Pentair LL505G is a great addition for small-sized pools and it houses a decent spec of features which ensure that your pool is kept clean and free from debris.
Pros
This machine excels at picking up bigger pieces of debris without getting blocked.
It's designed with 4 wheels rather than 3 that stop it from toppling onto its side.
The unit is supplied with a comprehensive 1-year warranty.
Cons
The hose could be a bit longer.
The performance isn't as good at cleaning steps.
Usage is limited to certain pool surfaces.
Where can I buy the Pentair LL505G Kreepy Krauly Legend Pressure-Side Inground Pool Cleaner?
Conclusion
That concludes our list of the best rated pool cleaners for 2021. If you're looking for a simple time-saving cost-efficient solution to keep your pool crystal clear then you won't find a better set of high-performance cleaners for domestic pools.
There is a selection of automated robotic pool cleaners with all the bells and whistles or you can opt for a pressure side pool cleaner or suction side option. Whichever configuration you decide to go for, we've got you covered. There is a choice for every budget and pools of different sizes.
Are you considering buying a pressure side, suction side or robotic automatic pool cleaner from our list or do you already own one? Please leave your comments in the section below. I'd love to hear from you.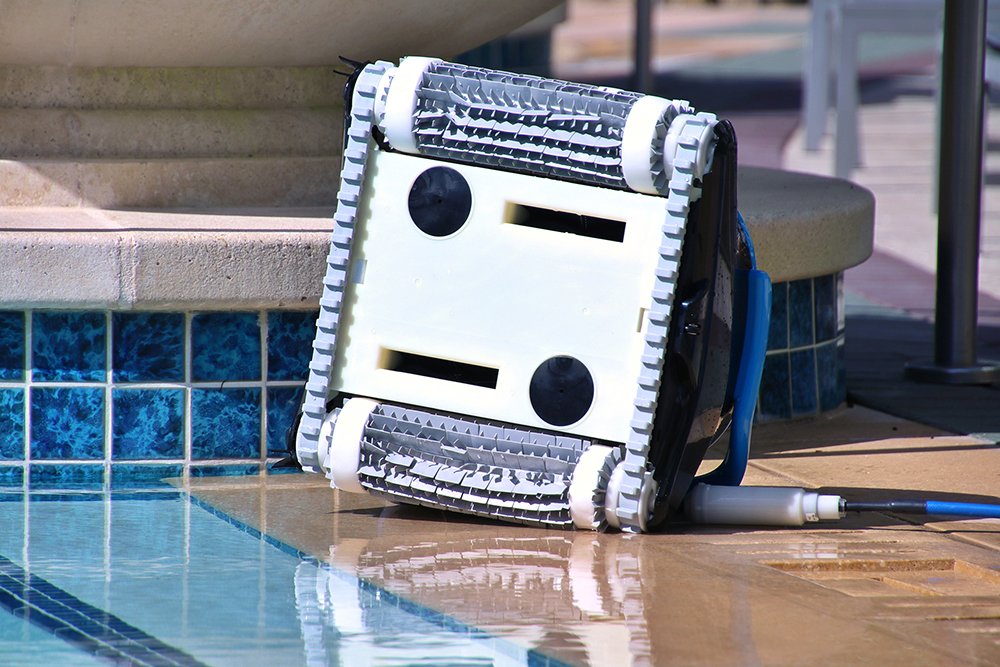 Our List of the Best Domestic Appliances