Pool maintenance can be a tedious and challenging task. It can take time and energy and can even cost you more than what you should be spending if you end up with mistakes. Especially after a pool party, cleaning it can be extra demanding. However, keeping your pools clean can actually be easy. There are tools that you can use that are smart, cutting-edge, and simple to operate. These devices can make your pool maintenance way easier. There are automatic pool cleaning tools for above-ground pool cleaning. In this section, we'll share tips on how to end up with the best above ground pool cleaner for your needs.
Recommended for You: Best Pool Cleaners For Above Ground Pools | Tools To Keep Your Pools Clean Easy
The Right Type of Above Ground Pool Cleaners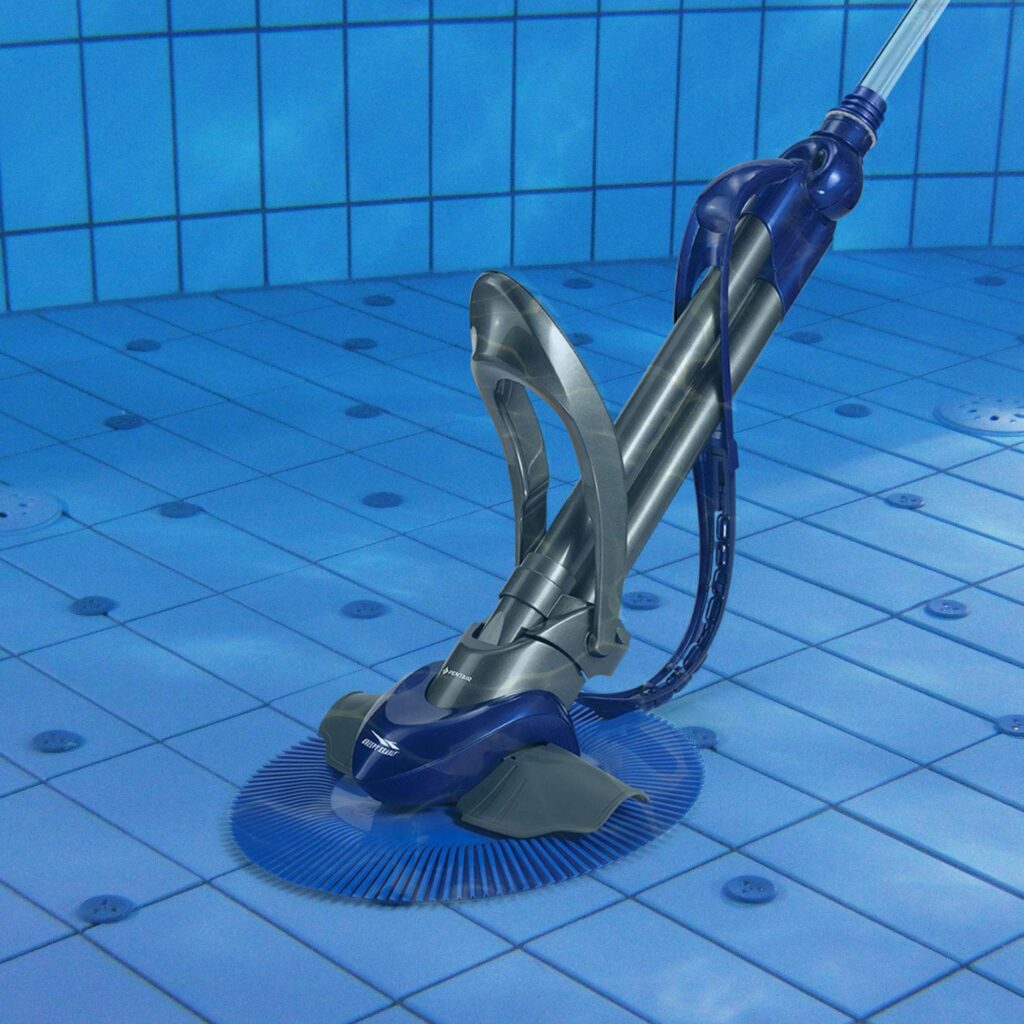 There are four different kinds of models when it comes to above ground pool cleaners. Basically, there's pressure-side, battery-operated, robotic and suction-side types. When choosing the right kind of pool cleaner, you can consider factors like your needs, preference, budget and your pool's features.
Battery-Operated Models
If you're looking for a pool cleaner that doesn't need a hose or cords to work, battery-operate models can be the best choice for you. Because this type works using batteries, mostly they are handheld devices with a run-time of about 30 minutes to an hour. Battery-operated above-ground pool cleaners can tackle different kinds of pool grimes like dirt, leaves, algae and bigger debris.
Suction-Side Models
Above ground pool cleaners that are suction-based work using pumps. This pool cleaner type is equipped with a long hose that is attached to the skimmer to go to all corners of the pools. With a long hose, and because it works using pumps, this pool cleaner type is easy to use and it can efficiently clean corners. However, suction-side pool cleaners require the filters and skimmer basket to be cleaned and backwashed every time you use the device.
Robotic Pool Cleaners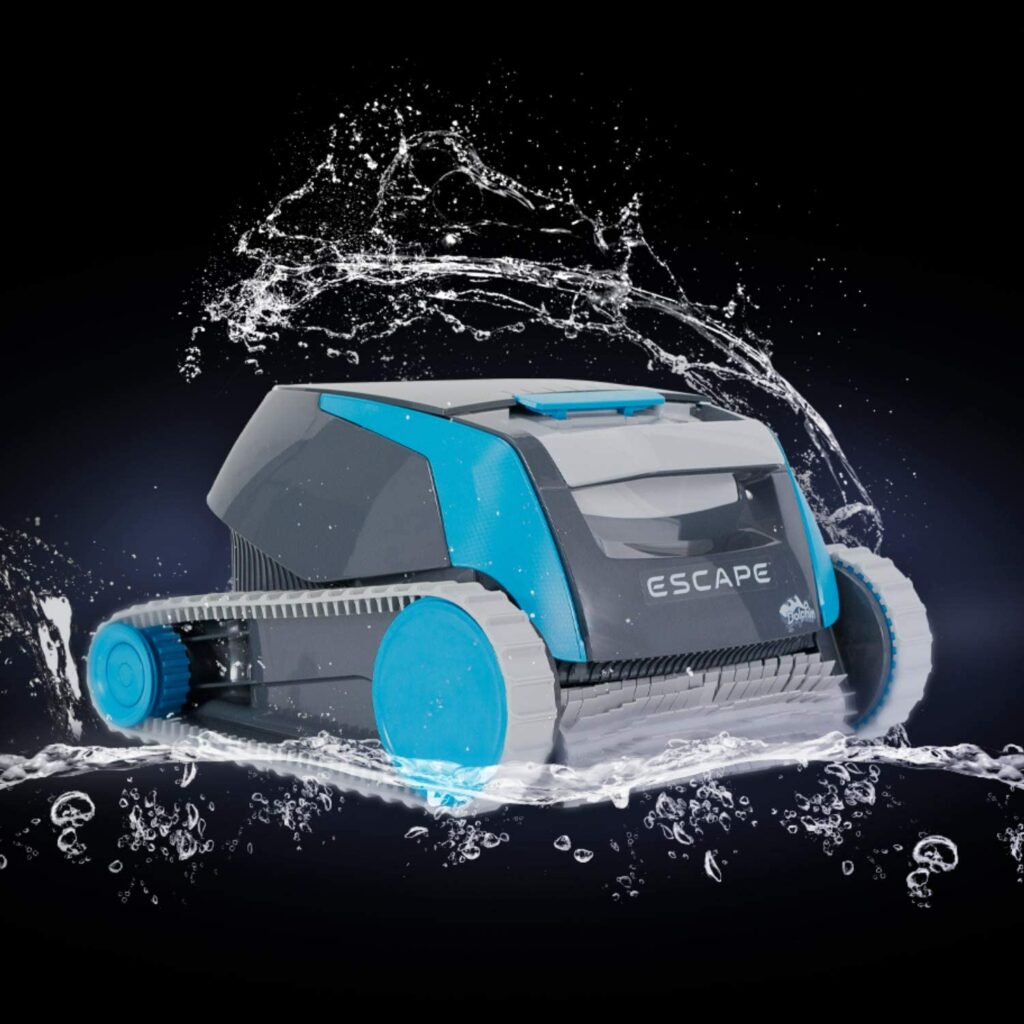 Perhaps, the easiest to use pool cleaner are robotic models. This pool cleaner type works on its own and needs only simple programming. Setting up only involves plugging the device into a socket and then placing it in the pool. It's equipped with filter bags and can work independently when cleaning the pool.
Pressure-Side Type
Pressure-side pool cleaners may be similar to suction-side types, but they work differently. Pressure side types use the pressure from pumps to clean the pool and get rid of dirt and debris. This kind of pool cleaner has filter bags like robotic models. Pressure-side types, however, don't need backwash, which can be an advantage.
Recommended for You: Dolphin Escape Above Ground Pool Cleaner Review | Automatic Pool Cleaner at a Fair Price
Buying an Above-Ground Pool Cleaner: Factors to Consider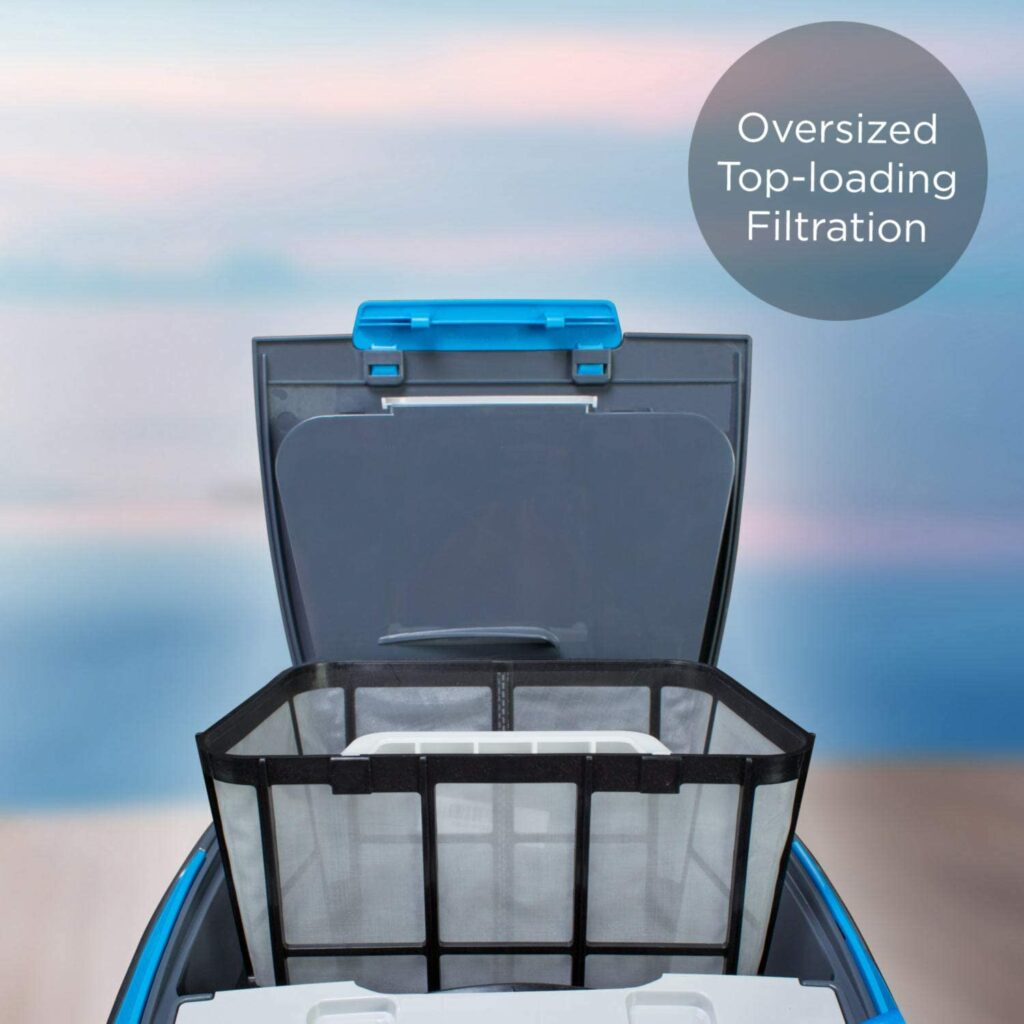 There are points you need to consider to be able to purchase the right pool cleaner. If you don't know a lot about these tools, reading this guide is a must for you. In this section, we'll discuss the parameters and factors to weigh out when buying an above-ground pool cleaner.
Pool Cleaner Type
There are different types of pool cleaners, and these devices differ in how they function. You will find types like suction-based, robotic, pressure side, and battery operated. Different types of pool cleaners work differently yet they all use pressure to eliminate dirt before filtering it. Despite the technology used, all above-ground pool cleaners work with the same idea. Still, when choosing the right type of pool cleaner, there are factors to consider to make sure you're ending up with the product of your needs.
Pool Features
Your pool's size, shape, and other features like obstacles are crucial factors to consider when getting an above-pool cleaner. Your pool's features will tell the length of time the cleaner it will take to complete its tasks. The pool's size and shape will also affect power consumption, energy use, and other factors like pump strength, etc.
For small pools, for example, an automatic robotic cleaner could be the best choice. For larger pools, on the other hand, suction-based pool cleaners could work most efficiently. You must know the size of your pool and be able to tailor your needs and expectations about the model that you will get.
Pool Cleaner Weight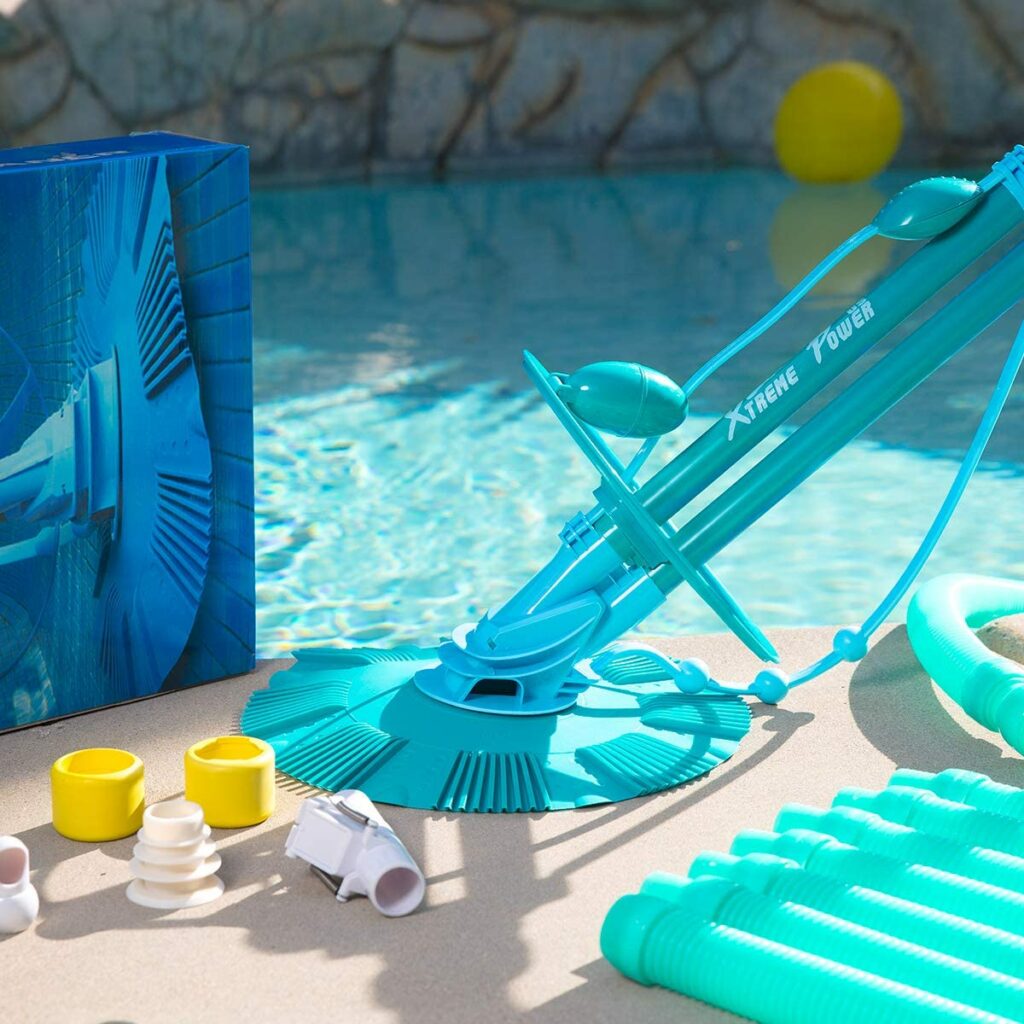 You will also need to consider the weight of the pool cleaner that you will get. Because these devices are typically moved and carried from one place to another, getting a lightweight pool cleaner can offer perks. Ending up with a lightweight model will be easier for you to maintain your pool. Varying models have different weight, which is why it's one of the factors to check when buying a pool cleaner.
Energy Use
You would also want to consider the power consumption of the pool cleaner when buying an above-ground pool cleaner. Besides the cleaning speed of the model, you must also consider the energy usage of the device on your purchase. The pool cleaner's power use and speed typically come together and affect one another. Thus, when buying a pool cleaner, you must weigh the product's cleaning speed versus energy use.
Automatic robotic pool cleaners are usually the most efficient among all other product types. This pool cleaner type, however, uses more energy, which you should also be aware of when getting a model. The bigger watts the robot uses may also mean it consumers more power. Therefore, bigger electricity.
Filter System
You must know the filtration system of the model you're getting before you buy it. The model's filtration system affects the cleaner's efficiency and operation. When considering this factor, you must opt for a model with a filter system that is easy and quick to clean thoroughly.
Bristles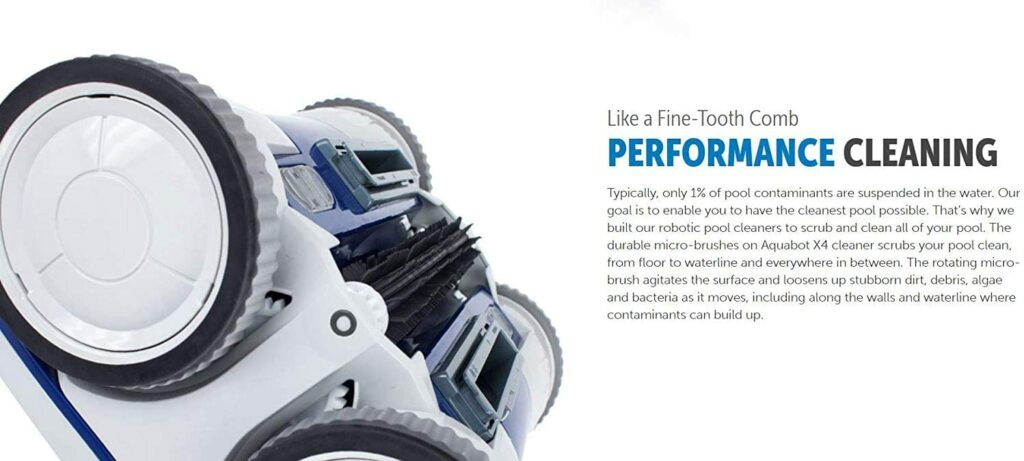 The type of bristles and brush of an above-ground pool cleaner will affect the product's efficiency in cleaning algae, grime and calcium deposits. Therefore, you must get a model that has powerful bristles to be efficient in this task. With strong bristles, the cleaner can easily rub off dirt and debris in the pool walls and floors.
Another factor to consider about the model's bristles and the brush is if they are automatic. Models that work automatically have bristles that can be efficient for cleaning edges and larger debris in the pool.
Recommended for You: Pentair Kreepy Krauly Pool Cleaner 360042 Review | Suction-Based Cleaner for Different Pool Types
Ease of Use
Another factor to consider when you purchase a pool cleaner is how easy it is to operate. We suggest you opt for a model that is easy to use. Some pool cleaners have a timer that you can program. With this feature, the cleaner works on its own unmonitored within a time span, and then automatically shuts off when the timer is done.
If you want to go for the best, choose the models that need minimum for operation. A timer feature is not available in all pool cleaners. Thus, you may want to opt for a model that is easy to operate when buying a pool cleaner. One of the features that contribute to the product's ease of use is a timer.
Movement
Some models can move on their own. With these pool cleaners, they have varying movement patterns as well. We suggest you opt for models that are independent and can finish the job fast. Depending on the model's speed and the pool size is the length of cleaning time it would take for the tool. You may want to choose a pool cleaner that can work unmonitored and has a satisfying cleaning speed.
Hose Length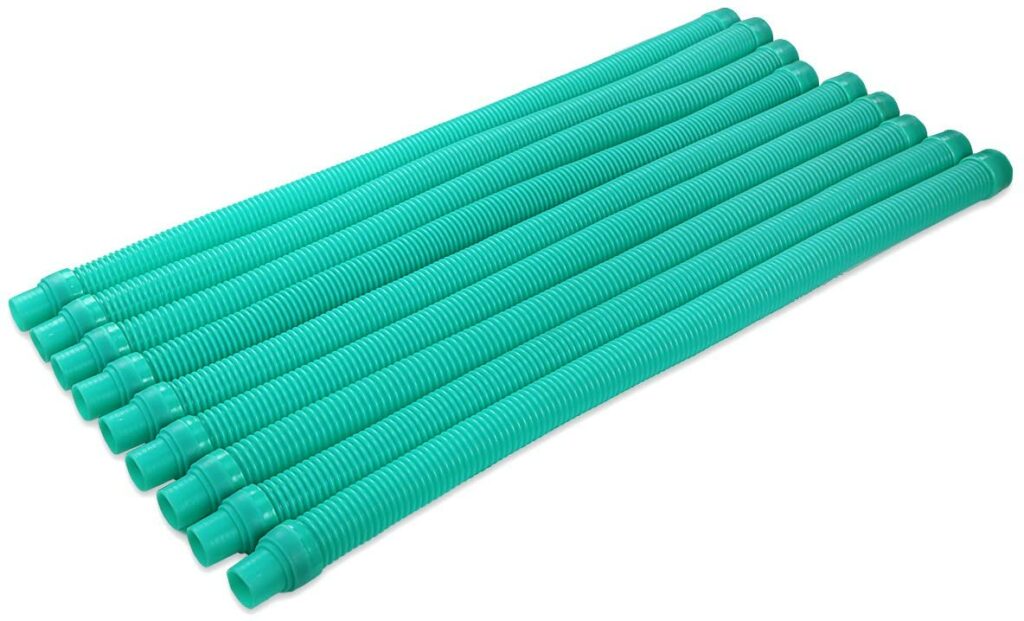 Most above-ground pool cleaners have a lengthy hose, which allows the models to move freely. You would want a unit that comes with a hose and not need to be purchased separately. Choose a product with a hose and cords, so you can save yourself from buying these accessories separately.
Another factor to consider is the length of the cord and the hose. Opting for a product with long cord would mean the model can seamlessly perform its tasks. A pool cleaner with a lengthy power cord would also mean the cords won't easily get entangled.
Warranty
Despite the pool cleaner's brand or model, there's always a risk that it can be damaged or broken during its time of use. Shipping or manufacturing defects can take place in some circumstances. Thus, it will be wise to opt for a model with a warranty for the protection of your investment.
When looking at the model's warranty, you may also want to check its terms and conditions. Being detailed about and knowing its details can help you be sure and get the most of what you paid for the pool cleaner.
Cost
The price of the model is another factor to consider during your purchase. Especially for people with a tight-budget, this factor is the number one in the list. But if you have enough budget for a pool cleaner, the cost won't be too crucial but the product's quality. Cheap or expensive, make sure to get a pool cleaner that can offer satisfying results.
However, it's a misconception that the quality of the pool cleaner depends on its price. It isn't always true that the cheaper the product is, the better. Usually, though, you will get what you paid for this kind of tool. Still, you can buy a top-quality pool cleaner that is within your budget. Robotic pool cleaners typically are the most efficient and easy to use types, but this kind of model usually is more expensive.
Conclusion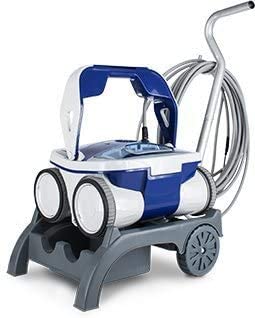 We hope we have provided helpful insights into how to buy the best above ground pool cleaner. If you think you find this post valuable, let us know in the comment section below. We'd love to hear from you!
Recommended for You: Best Rated Pool Cleaners – Top Recommendations & Reviews