The Best Commercial Wet & Dry Vacuum Cleaners Buyers Guide in 2021
Heavy-duty Industrial vacuums are essential for tackling dirt and dust from challenging environments such as building sites, offices, workshops or stores. The engineering inside commercial vacuums resembles that of domestic machines but they are some fundamental differences, they are larger, more powerful, made from stronger materials and can also handle wet liquids.
If you're a building professional or workman, a wet and dry vacuum cleaner is vital for your workshop or building project. A standard vacuum is not robust enough to cope with the challenges that a commercial cleaner can take on- it can clean both indoors and outdoors, some can be transform from vacuum to blowers, use them for water recovery and unblocking sinks.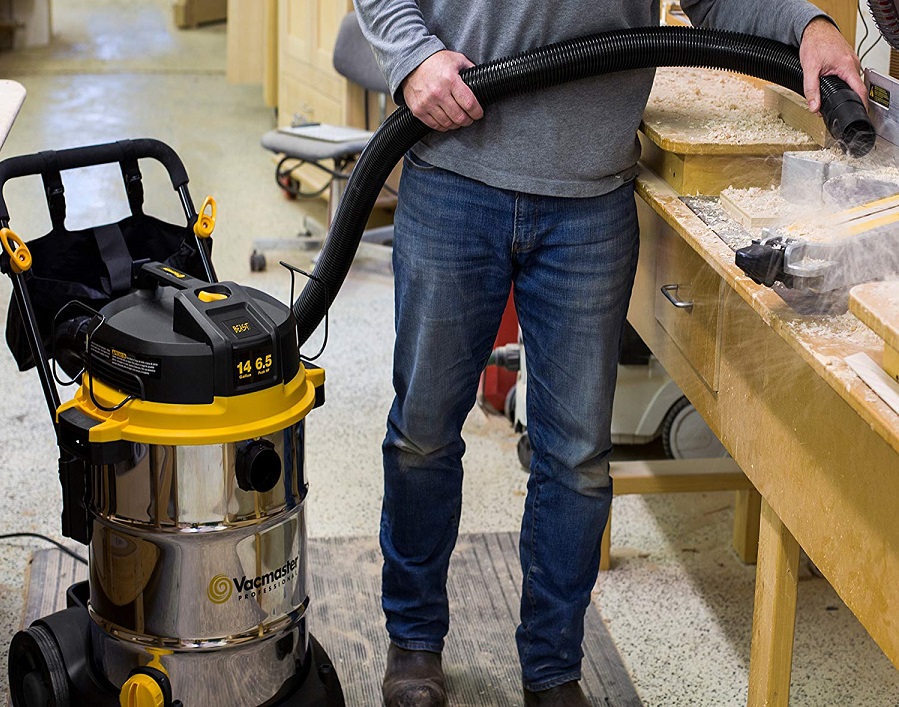 There are several manufactures of commercial vacuums but the most common ones are designed by brands such as Vacmaster, ProTeam, Powr-Flite, Kärcher, etc. We've shortlisted the highest performing wet and dry vacuums for commercial use. Simply use the link below to access our recommendations. It's important to use the correct appliance for your business and requirements, therefore, we'll cover more of this further down.
Recommended Reading: Best Commercial Wet & Dry Vacuum Cleaners
What's The Difference between a Commercial Grade and Regular Vacuum Cleaner?
Domestic vacuum cleaners are great for regular household usage, however, a commercial vacuum is designed for heavy-duty work, houses a motor with more power, uses higher quality filters, can extract liquids and is built for continuous cleaning over extended periods. If you were to place the same demands on a standard vacuum it would soon break down. Industrial cleaners are made for demanding environments.
Additionally, the majority of commercial vacuums are equipped with a high grade, longer power cable to improve the operational safety standards for your business.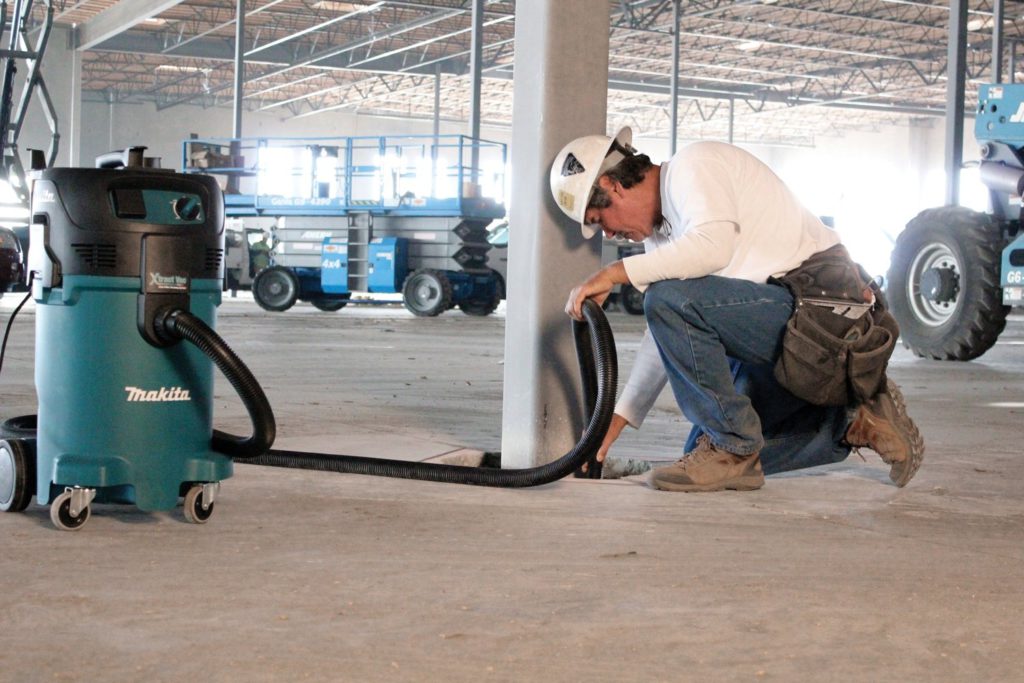 Vacuum Cleaners In Action
The basic principle of a vacuum cleaner is that it operates using a motorised fan to draw dirt and air inside the unit, then catches dirt using various filters as the air passes through the machine. This is a fairly standard process, however, not all vacuum cleaners are created equal and the suitability of a vacuum will very much depend on several factors-
Suction power
The level of suction power required for commercial cleaning depends on the type of dirt that needs cleaning. Smaller grains of dust are extracted efficiently with higher airflow instead of suction, however, larger dirt particles are cleaned better with increased suction power.
As a rule of thumb, machines with a larger amount of wattage in their motors deliver higher suction power. Commercial vacuum cleaners have at least 5 to 10 amps of power and as a result, can perform the toughest tasks and collect liquids quickly. The machine's effectiveness will also depend on the build quality, adaptability and filter maintenance. Choose wisely!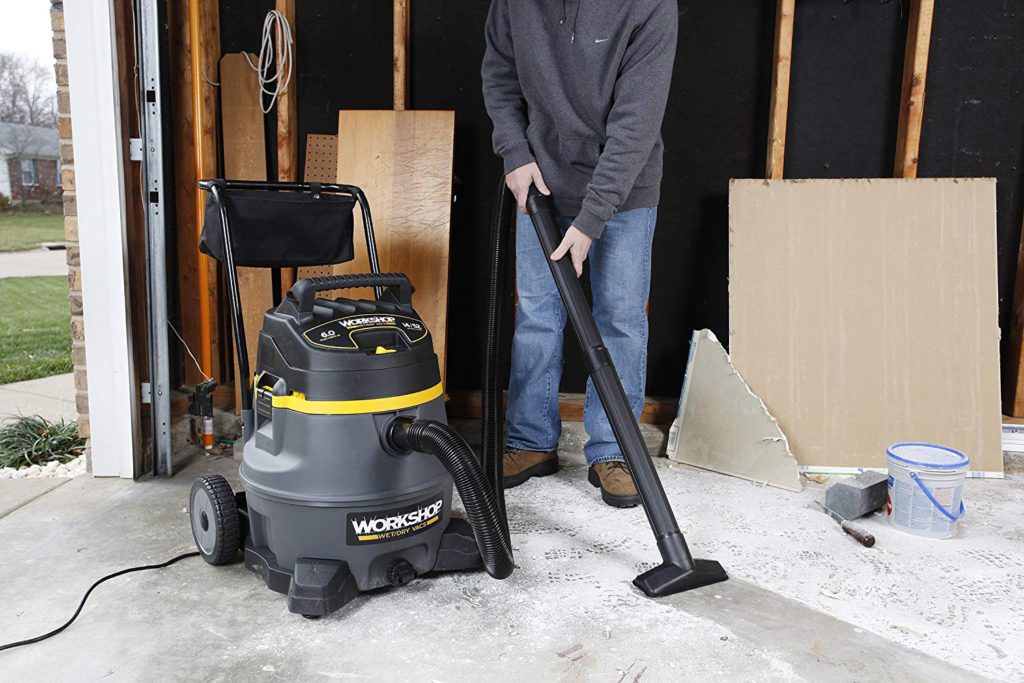 Dry Debris, Liquids or Both?
Industrial vacuums can handle tough mess such as wood chippings, sawdust and debris caused by drilling, however, if you require a machine to collect liquids you will need a wet and dry vacuum. These units are specially adapted to collect wet substances whilst protecting the electrical components and motor.
Our recommended wet dry vacuums can switch from dry cleaning to wet with minimal fuss. This provides you with the ultimate convenience for various cleaning jobs without the need for multiple machines.
Cleaning Speed
The rate at which a vacuum cleaner sucks air is calculated using the average air speed multiplied by the width of the hose, therefore, a slimmer suction hose will result in lower air volume but the advantage of this is higher vacuum power. Airflow is calculated by the amount of air litres an appliance can move per minute. Commercial vacuums are capable of moving thousands of air litres each minute.
Recommended Reading: Best Commercial Wet & Dry Vacuum Cleaners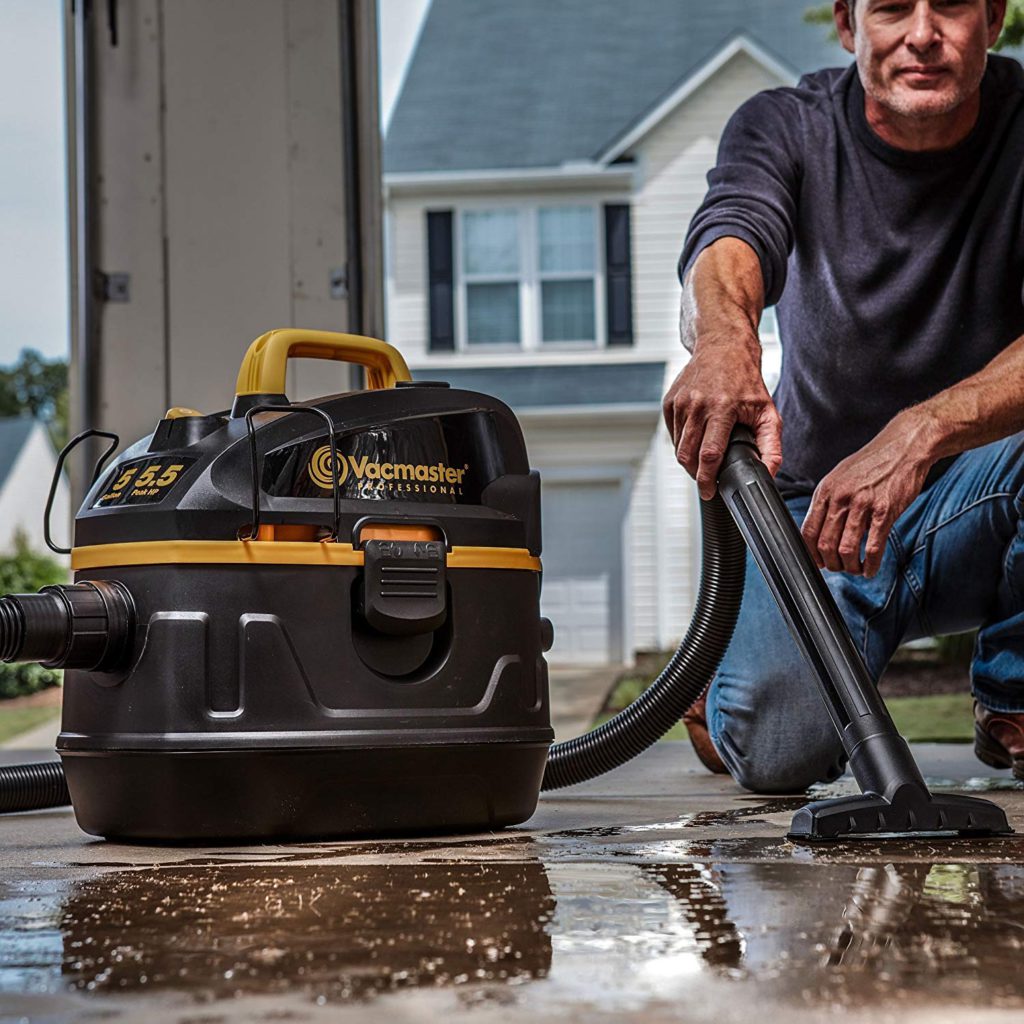 Filters
If you've read some of my previous posts you'll already know that I write extensively about filters because they are a huge contributing factor to vacuum cleaner performance. Filters come in all shapes, sizes and grades. The type of filter we'll look at today is a HEPA filter which, in my opinion, is a standard requirement for industrial vacuum cleaners.
What is a HEPA filter and how does it work?
It provides the highest level of filtration and stands for High Efficiency Particulate Air. These filters are vetted and given the seal of approval only if they meet the requirements to extract a large percentage of microscopic particles from the air.
HEPA filters are used in various types of machinery and industries such as motor vehicles, however, installing HEPA filters in vacuum cleaners has big benefits. This level of filtration cleans the air and captures dust, pollen, airborne allergens making it ideal for asthma and hay fever sufferers.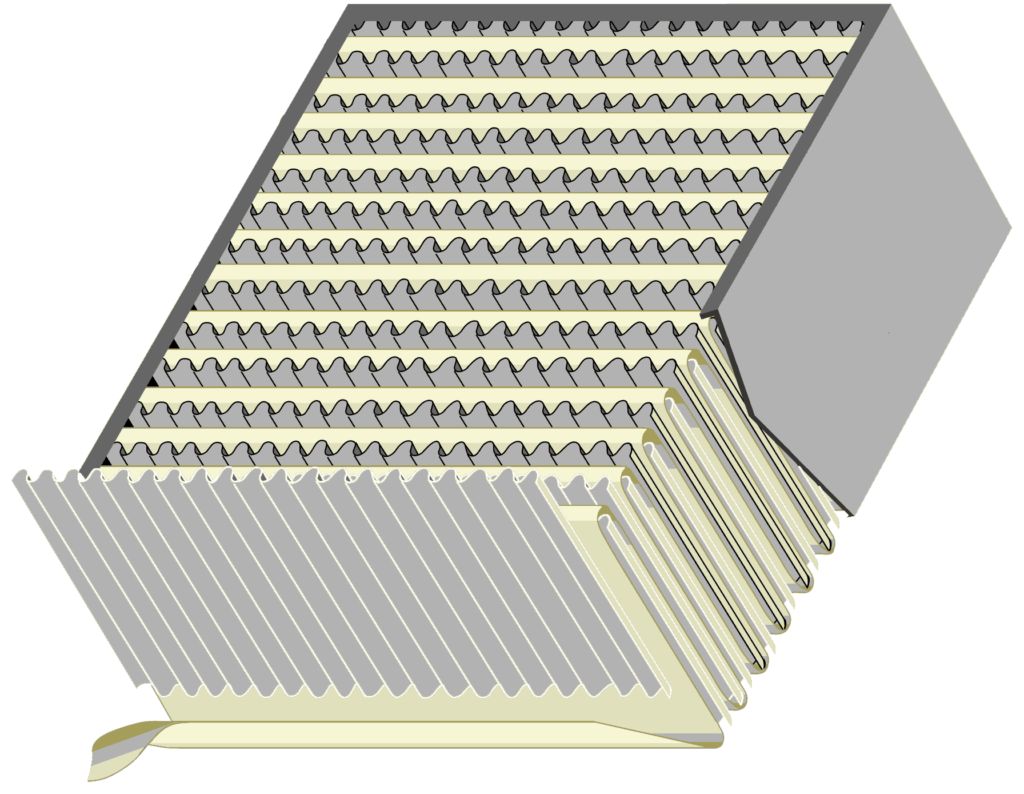 All vacuum cleaners are equipped with filters, however, this doesn't mean that they are HEPA filters. I would highly recommend that you buy a commercial vacuum cleaner with HEPA filtration to catch minute dust particles and separate it the air more effectively than a standard filter.
Is it Worth Buying a Wet & Dry Vacuum?
In addition to commercial cleaning, wet and dry vacuums can also be used regularly for domestic cleaning throughout your home. The majority of wet and dry vacuums are fitted with long power cables and usually come with an assortment of accessories to carry out plenty of tasks including cleaning upholstery, offices, car interiors and garages. Below is a summary of the different ways you can use a wet and dry vacuum cleaner-
Vacuuming debris after an extensive house renovation.
Blowing away leaves, grit and dust from the porch or paving (with the blower feature).
Cleaning wooden floors, drapes and mattresses.
Collecting water, from hard floors, carpets, caused by leaks or spillages.
You can also unblock a blocked sink.
Cleaning vast areas such as store floors or offices.
Vacuuming sawdust, wood chippings and grit.
Power tools can be attached to some models for automatic cleaning whilst you use your tools.
Recommended Reading: Best Commercial Wet & Dry Vacuum Cleaners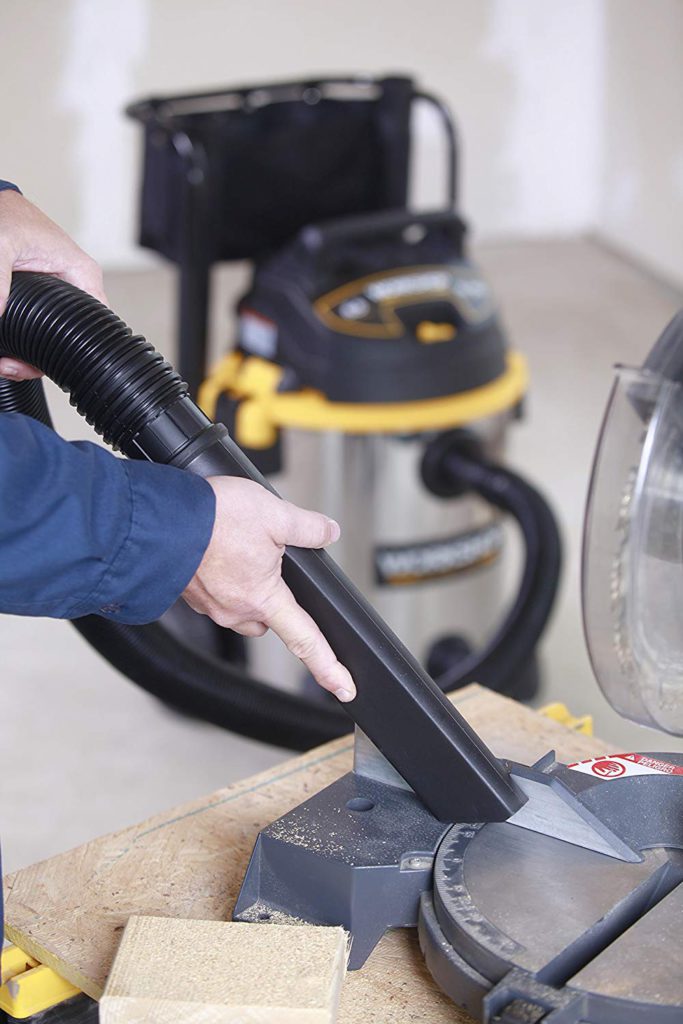 Cordless Commercial Vacuum Cleaners
Nowadays, portable handheld vacuum cleaners are a common household appliance and are convenient for cleaning cars interiors and areas with limited power sockets.
Advancements in battery technology have resulted in extending cordless convenience to commercial vacuum cleaners, with lengthy battery times and similar performance to their corded counterparts. Cordless Commercial vacuum cleaners are a godsend for areas where lose cables could be a risk or to clean areas that don't have an electric source.
Commercial Vacuum Cleaner Capacity
The capacity and size of a commercial vacuum cleaner will ultimately determine how much dirt you can clean in one go and also the ease of handling the machine. If you anticipate that you'll be cleaning large spaces and a high amount of dirt regularly then you might want to choose a unit with a bigger capacity. A portable commercial wet & dry vacuum with less capacity should be sufficient for smaller areas.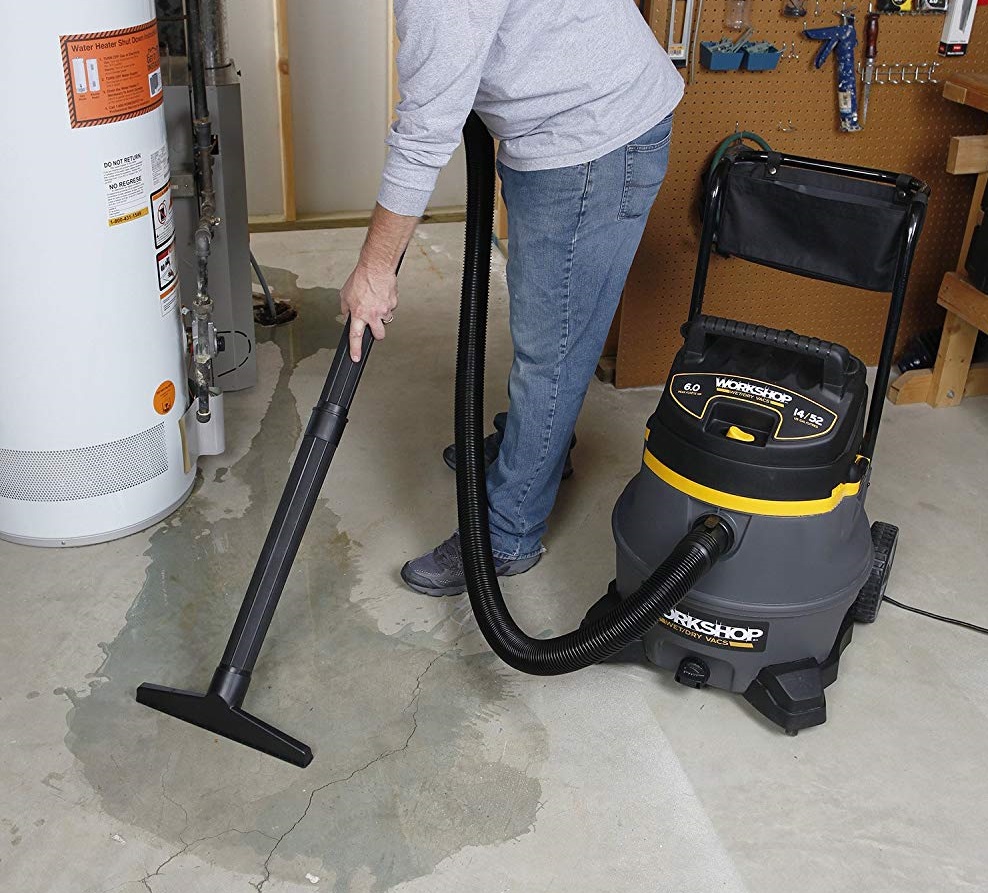 Large Capacity- ideal for robust commercial wet and dry tasks. This is the top end of machine capacity and usually contains the most powerful motor, however, these appliances will weigh more and tend to be cumbersome.
Medium Capacity– a portable machine that doesn't compromise cleaning performance but will need emptying more frequently than larger models.
Small Capacity– perfect for carrying between floors, easier for storage, however, it's not as powerful as larger units.
It's worth considering the amount of dirt you'll be vacuuming and the frequency you'll be emptying the machine as full tanks can lead to lower suction performance. Commercial vacuum cleaner tanks are usually made from strong materials such as stainless steel, which is extremely durable. If your machine needs to be used to collect harsh chemicals then you are better off with a Polypropylene tank.
Vacuum Cleaner Hoses
Vacuum cleaner hoses come in different sizes. If you need to clean larger dirt particles on a regular basis, I'd recommend a 2.5 metre hose at the very minimum. For smaller particles a hose size between 1.25 – 1.5 metres would be sufficient and for everything else in between a 1.5 to 2.5 metre hose would be adequate.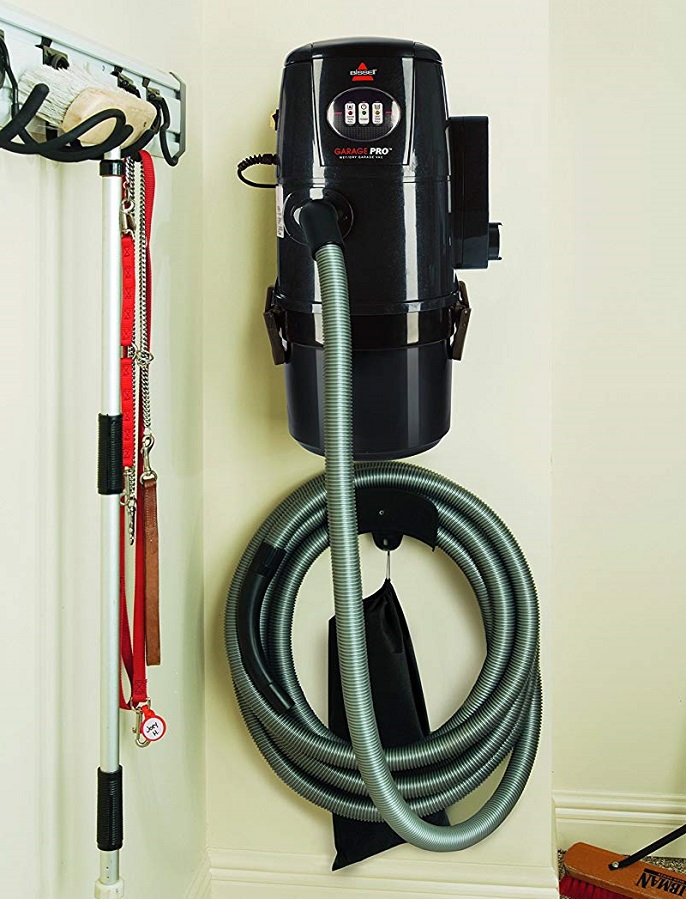 Machine Noise Level
Most modern commercial vacuums are equipped with noise diffusers and as a result, will operate at a lower noise level while still providing the high performance required for industrial cleaning. Most of our recommended vacuums have a comfortable sound level less than 80dB. Lower motor noise is highly beneficial especially in areas such as offices or stores where employees might still be working and require minimum disruption.
Recommended Reading: Best Commercial Wet & Dry Vacuum Cleaners
Vacuums for combustible or harmful dust
It is also possible to buy an industrial safety vacuum to carefully remove combustible and harmful particles such as asbestos. These units often use a higher level of professional filtration and twin motors for the most robust tasks.
Attachments and Accessories
There is no such thing as a vacuum cleaner with too many accessories. It's always a good idea to buy a machine with a good range of attachments, therefore, allowing you to perform virtually any task with relative ease. Commercial wet and dry vacuums are machines that are put through their paces. They need to keep up with a multitude of demanding tasks in different environments. Their ability to clean both dry debris and wet substances means that they need more tools than regular vacuums.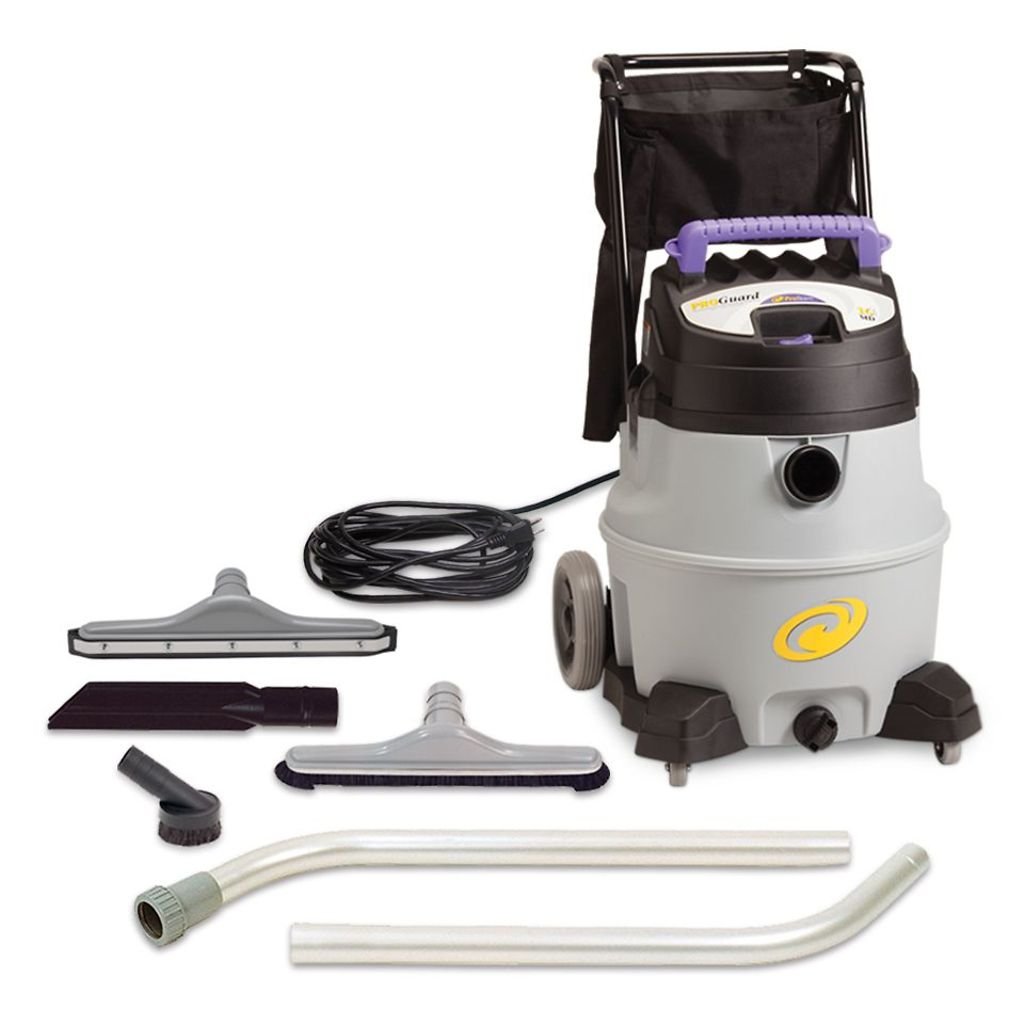 Below is a list of attachments and accessories to look out for:
Crevice tool– made for tight gaps and smaller spaces in awkward areas such as workshops and garages.
Extension wand– used for better reach and to clean beneath furniture. If your new machine comes with a leaf blowing function, you might also get a separate wand for that.
Dusting tool– a special brush with softer bristles for gentle cleaning of delicate areas.
Upholstery tool– used to clean dirt and dust from furniture. This is a must-have for a house/ office cleaning business.
Specialised floor-cleaning attachments– designed for either hard floors or carpets or a multi-purpose tool for both.
Squeegee floor tool– some brands provide an accessory that can be front-mounted to the unit to collect liquids easier than using a hose and wand.
Affordability of a Commercial Wet & Dry Vacuum Cleaner
Commercial cleaning is tough work which is why it makes sense to buy the best possible unit to save you time and effort. The cost of industrial wet and dry vacuum cleaners varies between brands.
Factors like build quality, motor wattage, capacity and filtration all play a part in the cost of a commercial vacuum. A cheap inferior appliance could end up costing you money in the long run, therefore, I'd recommend striking the balance between affordability and performance.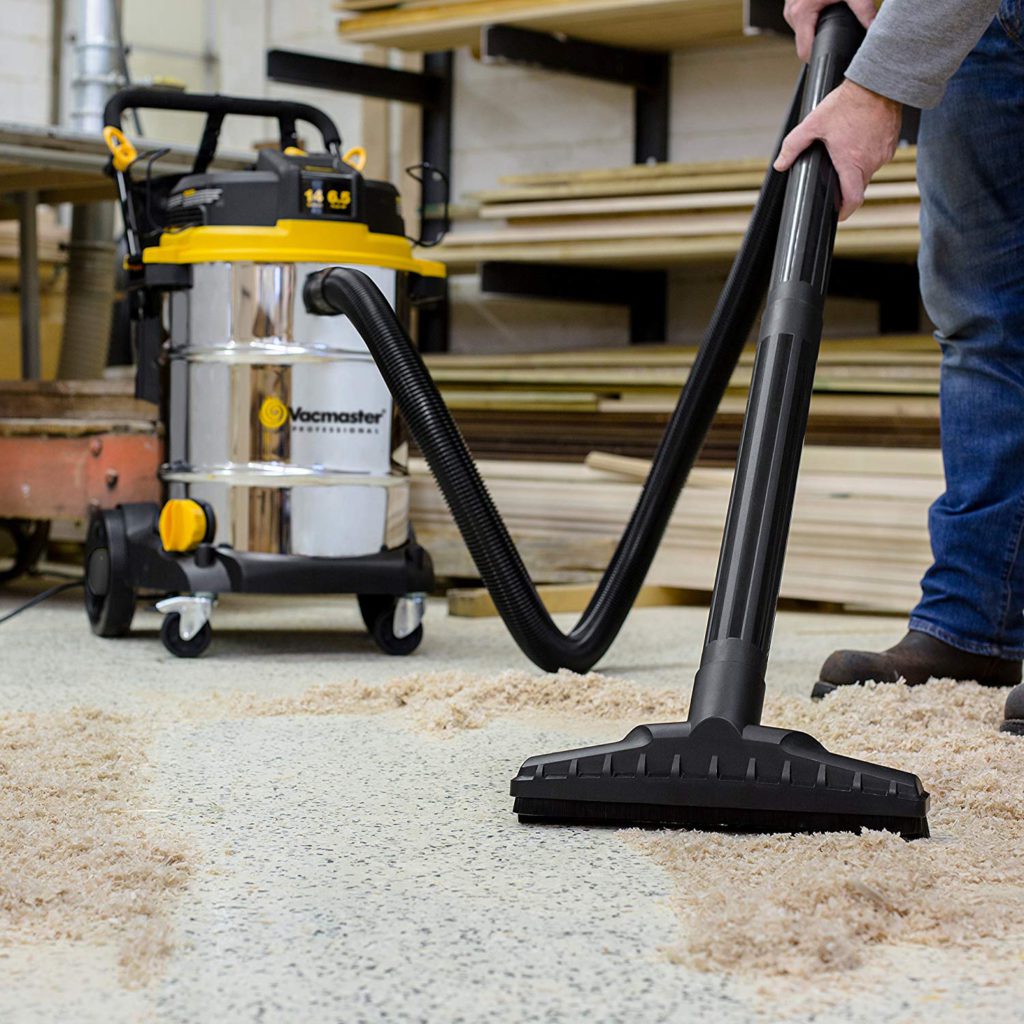 Before choosing which one to buy, I'll stress again that you should be clear about the type of cleaning you'll require it to do. If you frequently clear away leaves and rubble, I'd recommended that you consider a unit which can convert from vacuum to blower.
In addition to this, collecting liquid substances can result in a stinking tank if it isn't cleaned property and for this reason, a drain hose is a helpful feature to consider for easier drainage.
A regular high-performance vacuum cleaner will set you back around $200-$300, however when looking at a wet and dry vacuum for commercial use you should be paying anything up to about $500 or a bit more depending on the brand and usage requirements.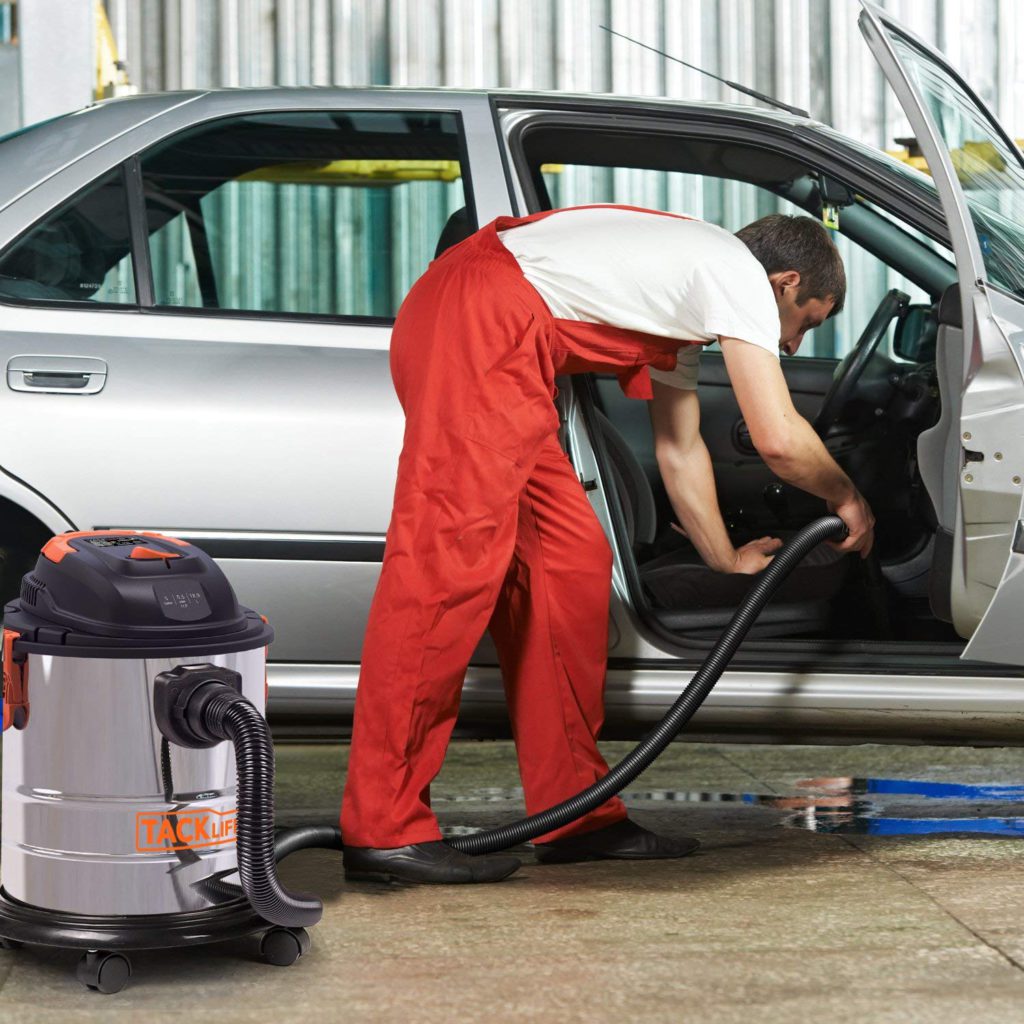 We've saved you the hassle of spending long hours searching for a suitable vacuum cleaner for your business. Just use the link below to review our best performing commercial wet and dry vacuum cleaners. We've kept the list concise, however, you will find everything needed to clean on an industrial-scale.
Recommended Reading: Best Commercial Wet & Dry Vacuum Cleaners
To Conclude

We've come to the end of our commercial wet & dry vacuum cleaners buyers guide for 2021. I hope this has highlighted the importance of robust cleaning appliances when dealing with commercial applications. Once you've decided on the type of tasks you need it to do, you should head on over to our list of recommended industrial vacuums to see which unit best suits you and your business.
We've discovered that cost doesn't necessarily correlate to performance as they are a number of factors to take into account when selecting the right machine such as capacity, motor power, accessories and convenience. Are you considering buying a commercial wet and dry vacuum cleaner or do you already own one? Please leave your comments in the section below. I'd love to hear from you.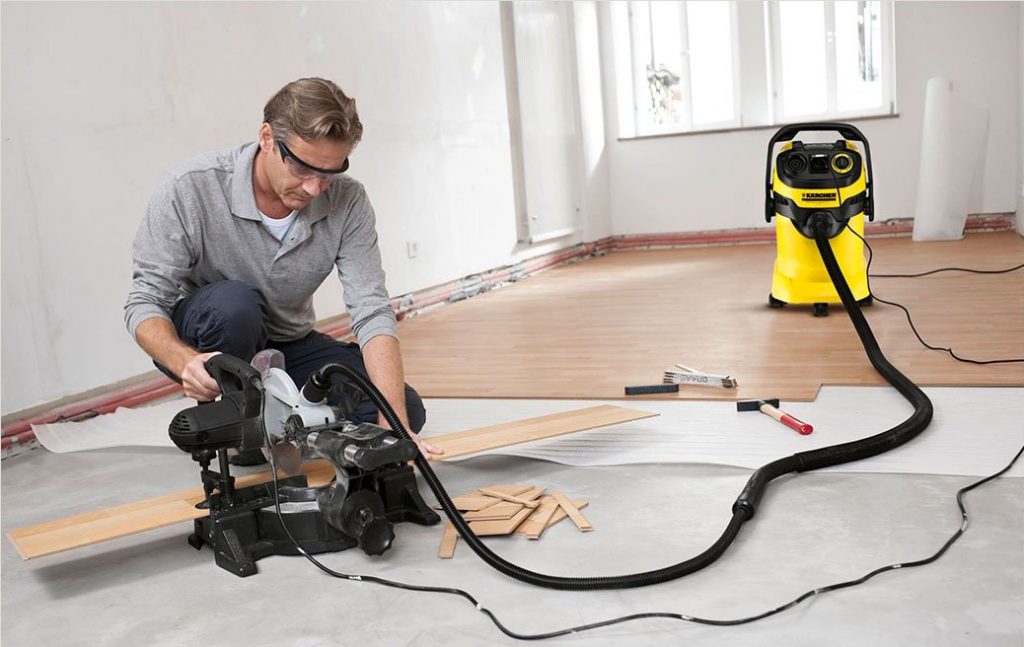 Recommended Reading: Best Commercial Wet & Dry Vacuum Cleaners
Our List of the Best Domestic Appliances