Modern stick vacuums are a popular household appliance. Our stick vacuum cleaner reviews & buying guide for 2021 reveals everything you need to know before buying one of these time-saving gadgets. At the top end of the range, we are seeing brands such as Dyson making huge leaps with handheld battery technology and digital motors to deliver suction power that is virtually equivalent to a full-sized vacuum.
Models such as the Dyson V10 can match and in some cases surpass the suction performance of an upright model without needing to fiddle with restrictive power cables. It's amazing to see the amount of technology that can be crammed inside a small lightweight stick vacuum.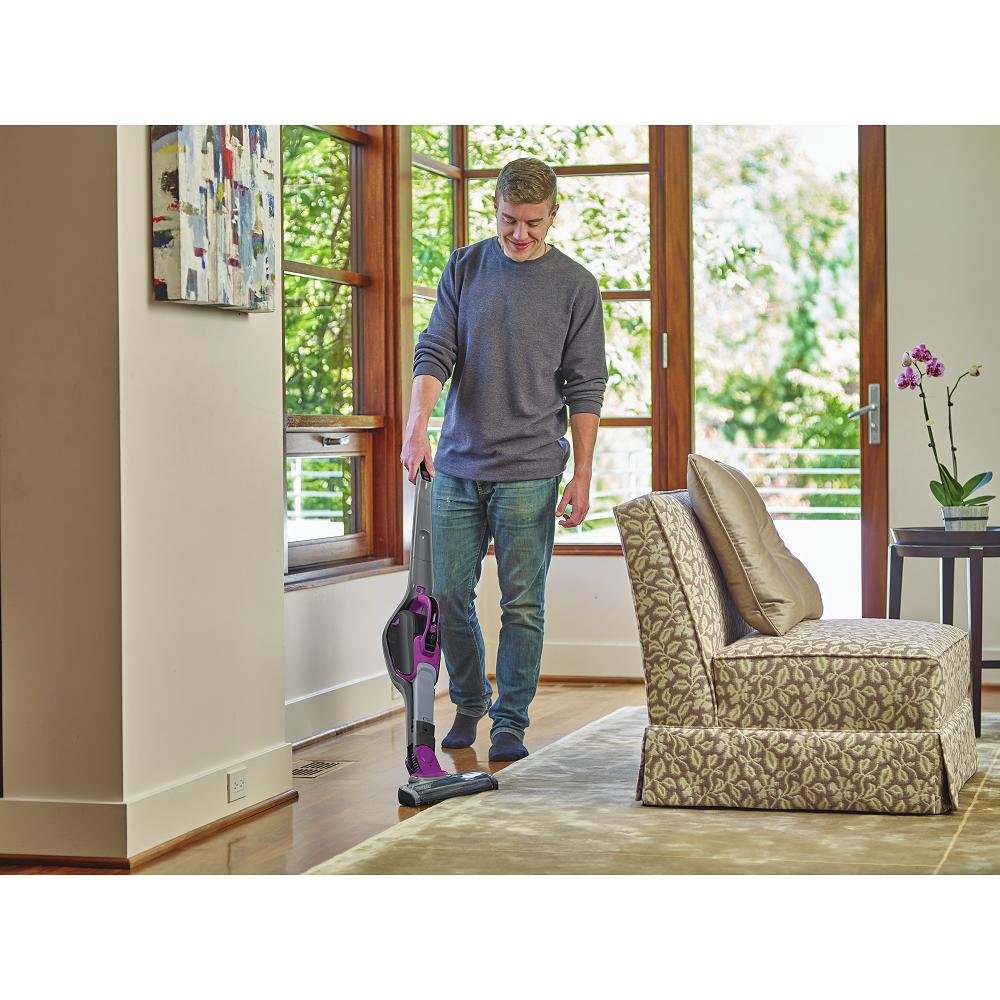 Once you get your hands on a stick cleaner you'll be asking why you didn't buy one sooner. But before you make that purchase let's take a look at some of the features to consider:
What Makes a Good Stick Vacuum?
Can it convert? Nowadays, you will find that most stick vacuums can convert to handheld models thus extending their functionality even further. Most designs will allow you to remove the wand or cleaner head and attach tools directly to the unit to use as a handheld. This allows you to clean stairs, upholstery, mattresses, car interiors and many areas above floor level.
Corners and Edges: One of the main advantages of a stick vacuum is the convenience it gives to access areas such as edges and corners that a larger vacuum might struggle to reach. The best sticks will deliver edge to edge cleaning directly from the cleaner head without the need to connect additional accessories.
Powerful suction: I'm sure you'd agree that there's no point in getting a portable lightweight stick vacuum with poor suction. The leading brands have set the standard and shown the capabilities of small vacuum cleaners, even cheaper models should deliver a decent amount of suction power to pick up dust, animal hairs and crumbs.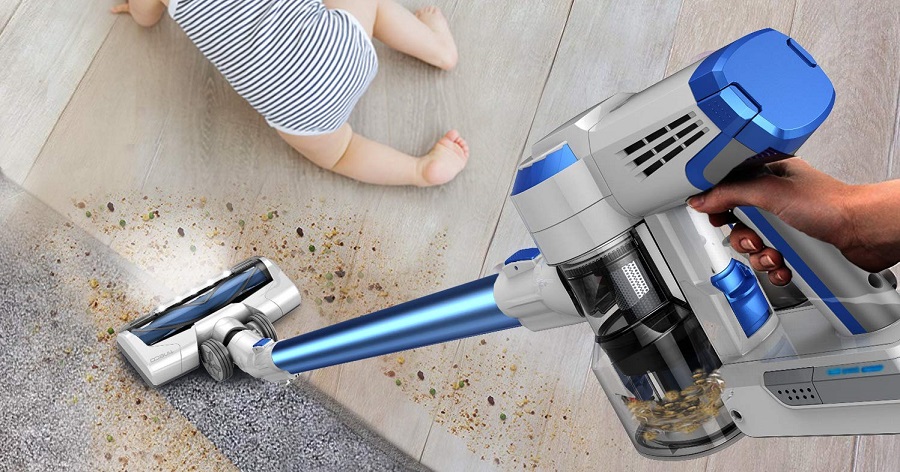 Cord length: If you decide to buy a corded stick vacuum you will need to ensure that it comes with a decent cable length to avoid constantly looking for a power socket. Aim for a cable that measures at least 20 feet to clean a wide range.
How big is the nozzle? Wider nozzles reduce cleaning times as they can pick up more dirt with fewer passes. Smaller nozzles are easier to steer into areas that are harder to reach.
Dirt disposal: Stick vacuums are equipped with a bagless canister that is usually transparent, making it easier to see when the bin is full. Make sure you get a model with an easy-emptying system for a quicker disposal process.
Battery time: The battery power for cordless stick vacuums ranges from 15 to 60 minutes but this will heavily depend on the brand and model you choose. Modern Dyson cordless vacuums come with longer battery times, however, the batteries are not swappable. Other brands might have shorter run times but you can buy a spare battery to swap around whilst the other one is charging.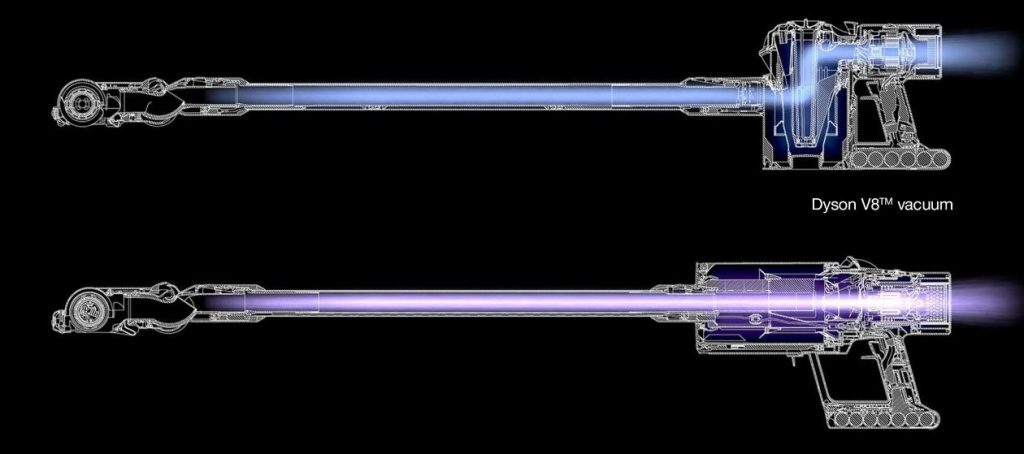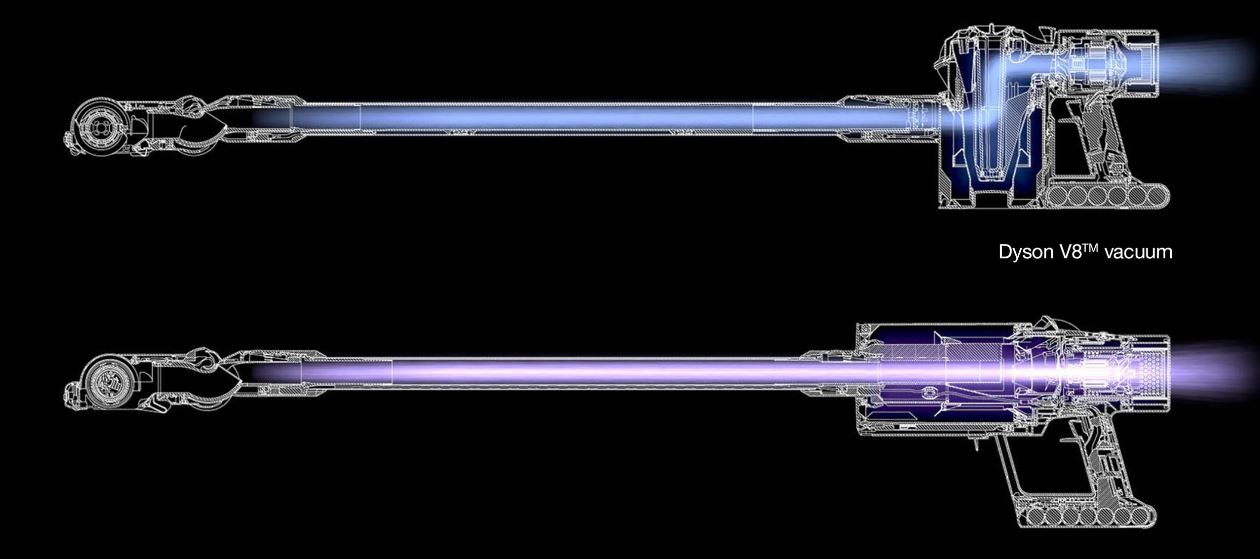 Recommended Reading: The Best Stick Vacuums For Yout Home
What Is the Right Stick Vacuum for Your Needs?
How big are your rooms? If you intend to use your new stick vacuum as your primary cleaning appliance then it might be best to by a corded model so that you can vacuum the whole house without worrying about the battery dying.
If you prefer to buy a cordless stick then try to find a model with swappable batteries or if your budget permits, you can buy a premium Dyson stick with longer running times. If you just need a stick for spot cleaning and smaller messes, you can choose an entry-level appliance that provides basic cleaning.
Floor type– Stick vacuums work optimally on thin carpets and hard flooring. Higher-end models can tackle thick carpets as they are usually equipped with motorised brushes that agitate stubborn dirt from carpets and suck it up. Beware of cheap models with motorised attachments- they don't often live up to the performance claims.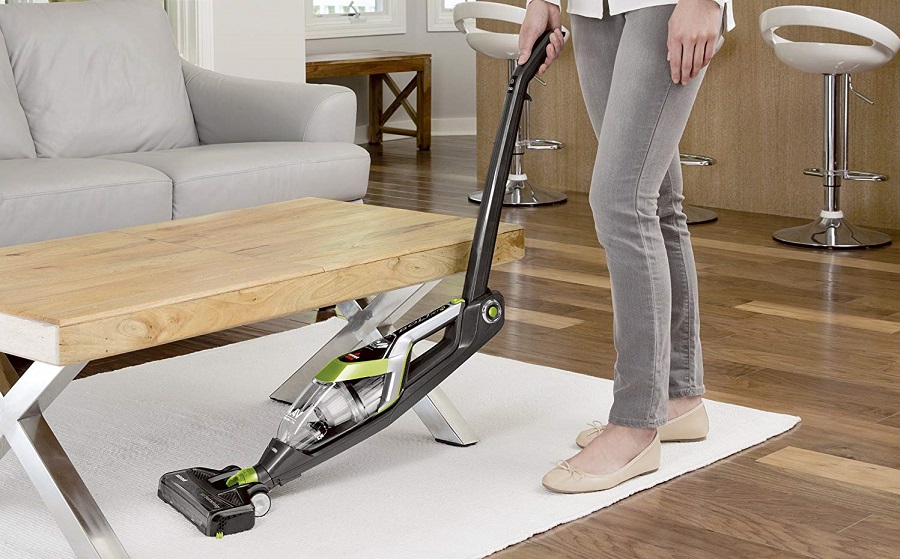 What's best, Cord-free or corded? This is one of the oldest debates in the world of vacuum cleaners. Cord-free machines offer a greater level of movement freedom but you need to be careful to get one with decent run times and short charging times. Corded units offer endless cleaning time and often last longer than their cordless counterparts.
Storage of your stick vacuum– If you live in an apartment or if storage is limited then you want to buy a unit with a folding handle. Certain models are equipped with mounting stations that can be attached to the wall or allow the unit to be positioned horizontally on the floor. These mounts usually come with additional storage for accessories. Make sure you install the mount next to a plug socket to charge the battery when the stick is mounted.
Will you be cleaning above floor level? Stick vacuums that convert into handhelds are wonderful for cleaning furniture, couches, windows frames, cobwebs and awkward spaces. Make sure you get a model with plenty of versatile attachments such as crevice tools, dusting brushes, turbo tools and wand attachments.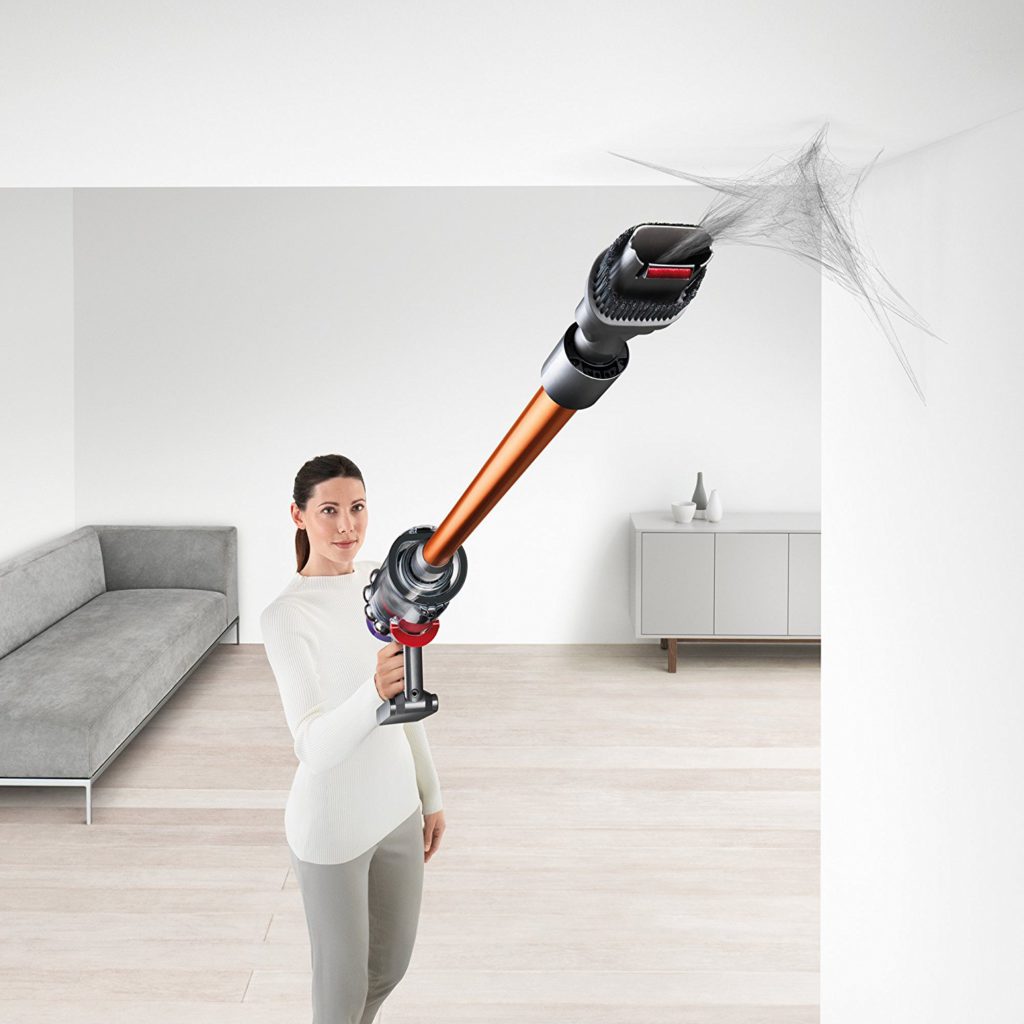 What is the Best Stick Vacuum?
By far, the most sought after vacuum cleaner is a cordless upright vacuum or a cordless stick vacuums as most people know it. We've covered the convenient features that can be enjoyed by these portable appliances, but above all they are time-saving. Cleaning sessions are shorter and often.
Budget models can be used to clean hard floors whereas advanced units perform adequately on multiple floor types including carpets. If your home is mostly carpeted then it's best to invest a bit more in a unit with a motorised brush.
Recommended Reading: The Best Stick Vacuums for Your Home
Can Stick Vacuums Clean Pet Hair Effectively?
Pet hair is a nuisance! Not all stick vacuums are powerful enough to pick up hairs as they might claim, especially cheap models. Hairs need powerful suction and if you're vacuuming thick carpets, a unit with an effective motorized cleaner head is a must.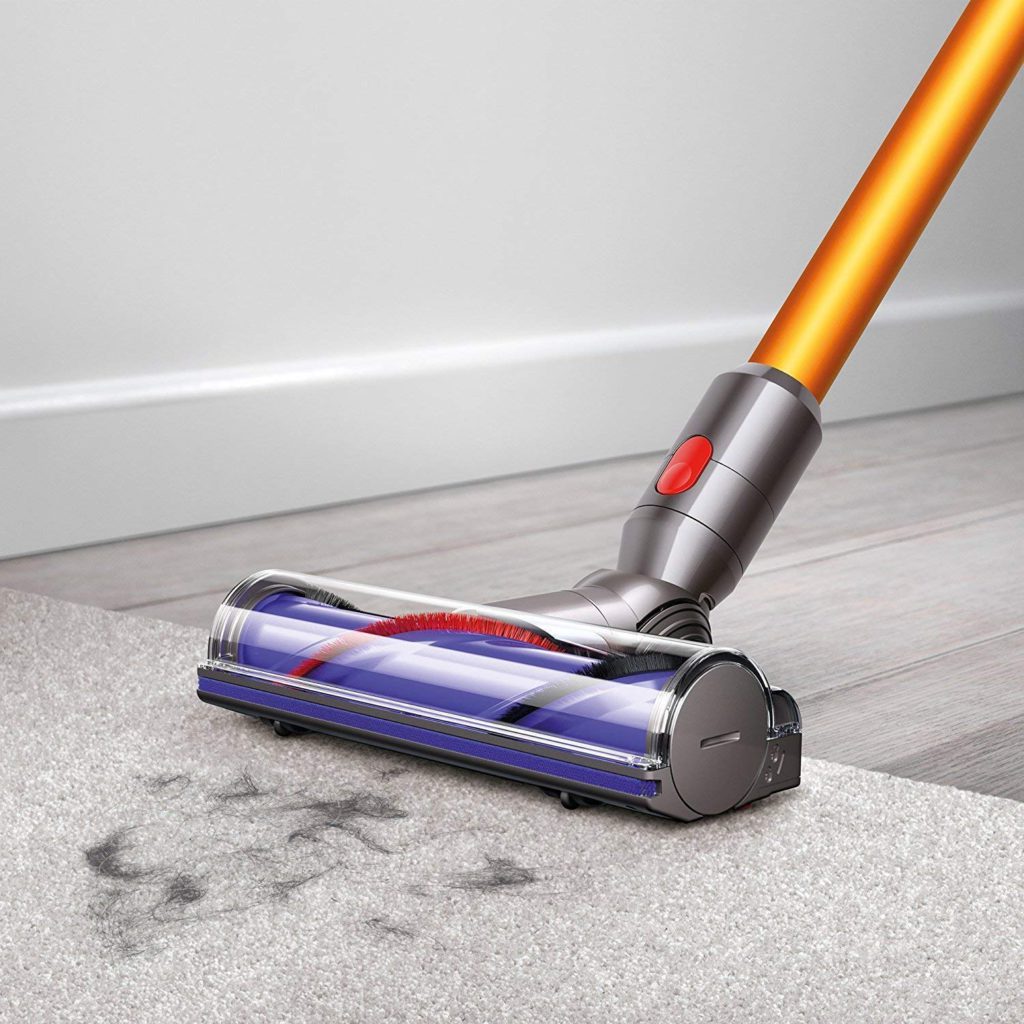 For this task, the Dyson cordless range is well suited to take on the challenge. The Dyson Absolute and Animal range come with a motorised cleaning head and various attachments that can eliminate pet hair from carpeted areas, stairs, car interiors and furniture.
Dyson remains unbeaten when it comes to delivering sheer suction from a stick vacuum and in addition to this their filters last for the lifetime of the machine. If you're are a pet owner looking for a cordless vacuum to take on pet hair then I'd recommend clicking here.
A HEPA filter comes as standard on their Absolute range which leads me to my next topic…
What is a HEPA Filter?
HEPA filters provide the best filtration you will find on a vacuum cleaner. This filter specialises in separating small particles from the surrounding atmosphere so that you can breathe cleaner air which is why it is recommended for asthma sufferers and those susceptible to airborne allergies.
HEPA is an acronym for High-Efficiency Particulate Air and for a filter to make this grade it needs to be able to remove at least 99.97% of particles as small as 0.3 microns.
Are Stick Vacuums Heavy?
One of the advantages of owning a stick vacuum is their ease of use owing to the lightweight. If you've never used a stick vacuum you'll immediately notice the difference over a full-sized vacuum.
Sticks are quicker to steer around the room and cut down cleaning times considerably. Most stick vacuums weigh less than a third of an upright unit, therefore, they are easier to carry between rooms and up the stairs.
Stick Vacuums for Hardwood Floors
When thinking about buying a stick vacuum for hardwood floors you need to ensure that the model you choose doesn't end up scratching your floors, it needs rubber wheels that prevent marking the surface. Hardwood floors need powerful suction as they are prone to dust and they need the right type of cleaner head that actually picks up dirt instead of spreading it.
Dyson is always thinking of ways to tackle problems so they created a Roller attachment specifically for hard floors. The tool is designed with fluffy material that catches dust and debris of all sizes. It addresses the issues of dirt spreading and it excels at lifting dirt effectively. You will always need powerful suction for hard surfaces especially when collecting dirt hiding between the grooves of floorboards.
Stick Vacuums for Carpet Cleaning
Carpets are the most difficult to clean out of all the floor types. You need a motorised brush to clean them thoroughly. Stick vacuums are flexible enough to reach underneath couches and furniture to clean areas of your carpet that are often neglected.
Machines with stronger suction power will normally triumph at the task of vacuuming thicker carpets whilst lower power units will require more passes to clean the same area. If you decide to buy a cheap stick vacuum you will most likely notice a dip in performance when vacuuming carpets. Choose wisely from the link below.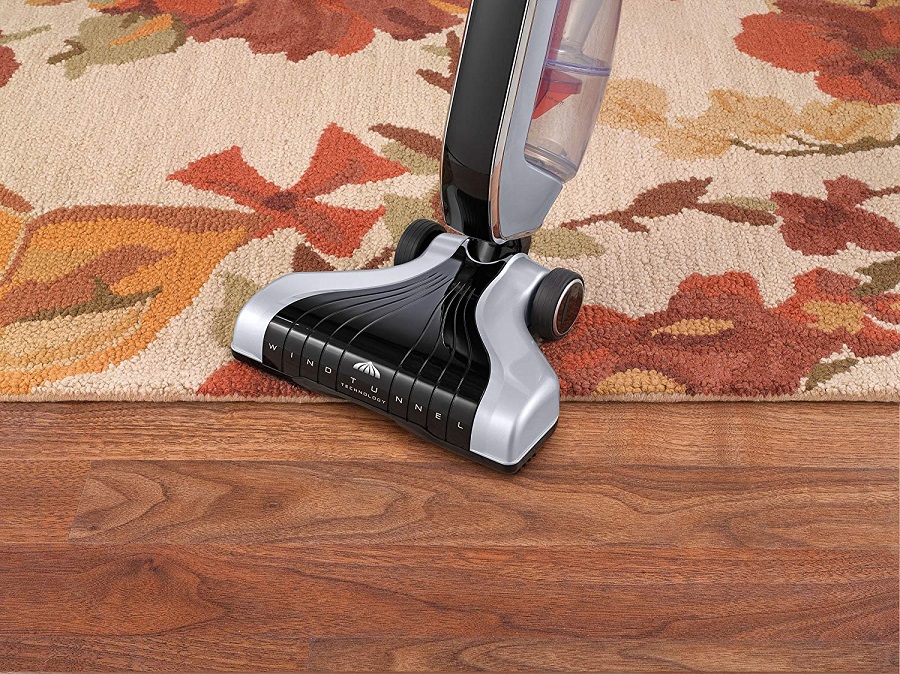 Recommended Reading: The Best Stick Vacuums For Your Home
Swanky Stick Vacuums
If you're willing to shell out the big bucks for a stick vacuum you will not be disappointed with the Dyson V11 which comes with the latest technology and is equipped with a handy LCD display. The screen lets you switch between different modes and provides a running time for each mode. When it's connected to the charger, the screen will display a percentage status of the battery.
During use, the screen also shows a countdown timer for the remaining battery power. It also warns you if the machine accumulates blockages or if maintenance is required, such as washing the filter.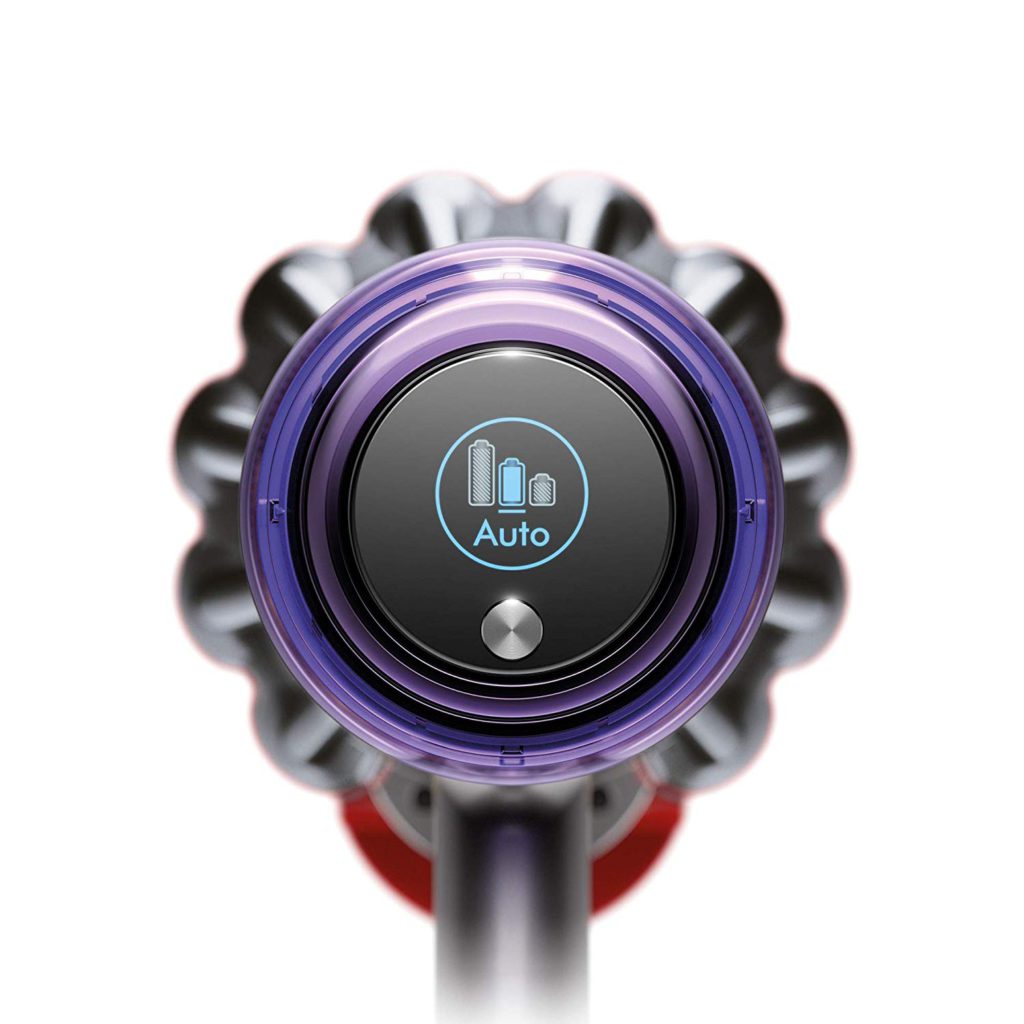 Are Stick Vacuums Noisy?
The quick answer is yes, stick vacuums tend to be noisy! This is because of their small motors that need to rotate at a very fast speed. The Dyson V10 model produces only half the amount of noise of earlier models and is noticeably quieter from the moment you turn it on. If machine noise is going to be an issue then it's worth opting for models such as the Dyson V10 or V8.
Handheld Vacuums
As mentioned before, most stick vacuums are capable of converting into a handheld vacuum by simply detaching the wand and attaching accessories directly to the unit, therefore, it makes sense to buy a stick that can covert instead of a standalone handheld vacuum. This way, you always have the choice between the two.
The flexibility of switching between stick and handheld extends the functionality of the machine beyond floor cleaning. You can clean upholstery, car seats, furniture, shelves, mattresses and stairs. It's also easier to store as you can simply detach the wand so that it takes up less space. Some models come with a folding feature so that the machine uses the least amount of space- this is useful for city pads with limited space.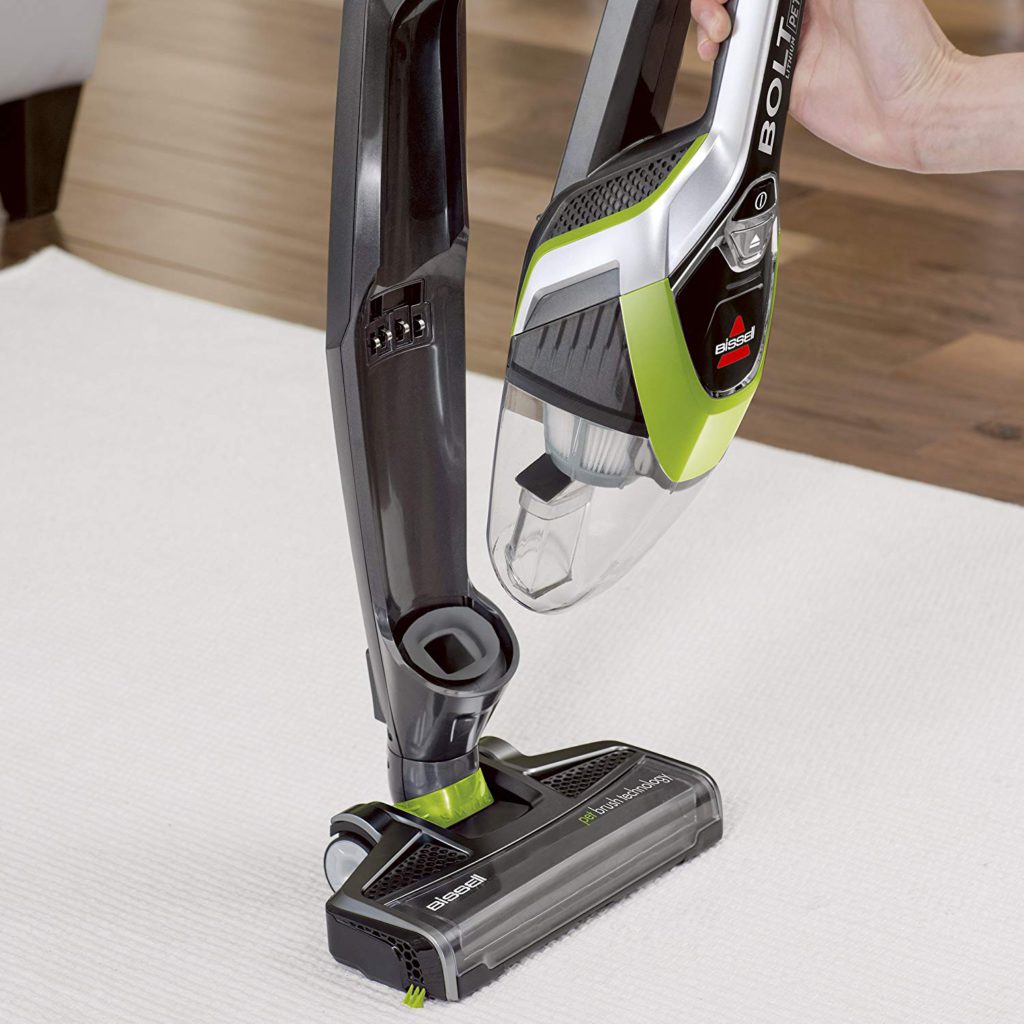 Recommended Reading: The Best Stick Vacuums For Your Home
Battery Life
We've briefly looked at the battery times for cordless sticks earlier but I'd like to go into a bit more detail. We've already established that cheaper cordless sticks have a run time of about 15 minutes, however, some can be as low as just 10 minutes. Top of the range models boast running times of about 40-60 minutes and this is constantly improving with the advancements in battery technology.
Lithium-ion is a high-grade battery and currently the best type available. They hold more charge and can be charged quicker than Nickel Metal Hydride and Nicad batteries found on low-end stick vacuums. Bear in mind that battery times are lowered when motorised attachments are used or a turbo function is engaged. Manufacturers will usually list a run time for the lowest setting to increase appeal.
Bin Capacity
All stick vacuums come with bagless bins with a smaller capacity than full-sized models. The capacity ranges from about 0.5- 0.9 litres, therefore, you will need to empty the machine regularly. Most modern sticks come with an easy-emptying feature to speed up dirt disposal times and keep the process hygienic.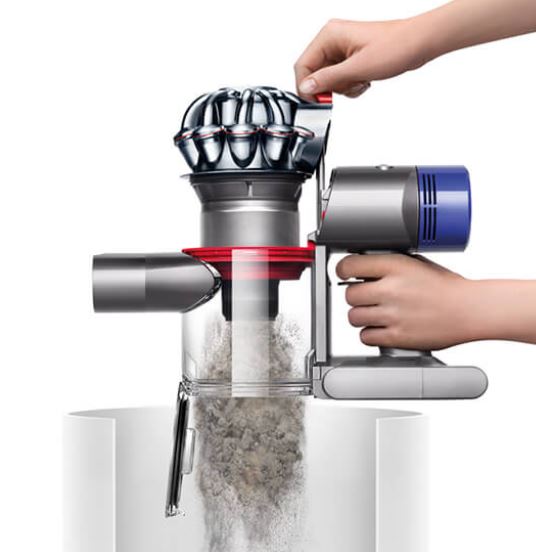 Cyclone Technology
Before Dyson created the cyclone system for their vacuum cleaners, old units utilized suction that travelled in a single direction with a filter at one end. This meant that suction power would significantly decrease because the filter was more susceptible to clogging. The introduction of cyclonic action changed all of that. The cyclones separate the dirt from the air and trap it in the bin instead of the filter.
This optimises suction power so that your stick vacuum never loses suction even when the bin is nearly at full capacity. It's not an obvious feature but it's hugely important as it eliminates the nuisance of cleaning your filter after just several uses.
Spinning Cleaner Heads for Stick Vacuums
The cleaning head of a stick vacuum will either utilise direct suction or a more sophisticated spinning brush head usually found on advanced models. A spinning brush is perfect for carpets because it can draw out stubborn dirt hidden deep in the carpet fibres. Manufacturers have different variations of this tool with some of the best types boasting multi-floor coverage thanks to the use of soft carbon fibres.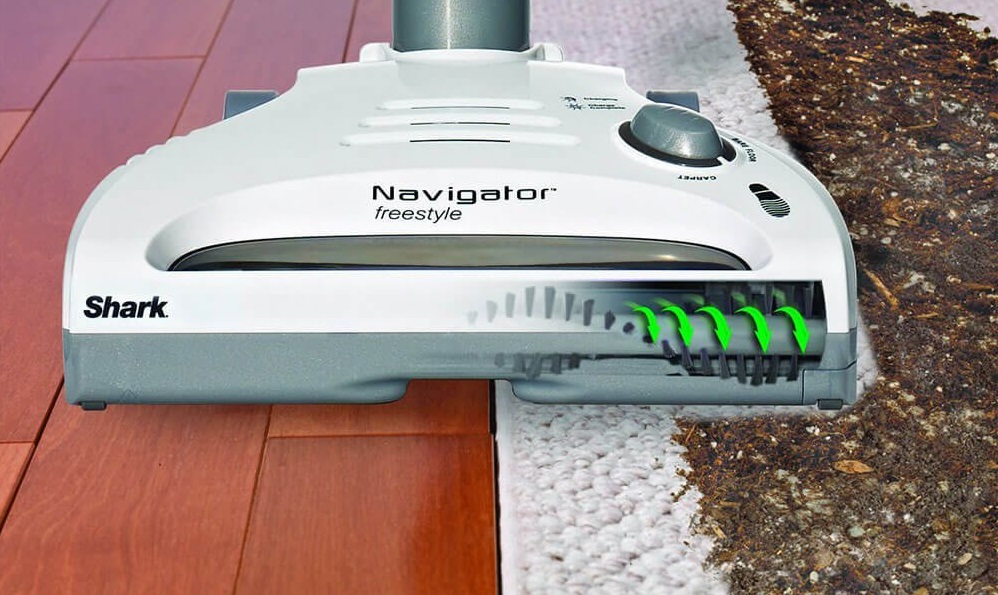 Beware of Inferior Stick Vacuums
To wrap up our stick vacuum cleaner reviews and buyers guide I'd like to end with a word of caution regarding cheap stick vacuums which might seem attractively low cost but could end up becoming more of a hassle than they are worth.
Many of these models have a short shelf life and come with poor suction performance. They are often made from poor quality materials and are not sealed sufficiently. Most models lack cyclonic power, therefore the filter gets clogged up very quickly. My advice is to keep away from cheap sticks and spend a bit more money on a vacuum that actually works. Find our best recommendations using the link below.
Our List of the Best Domestic Appliances