Affiliate Disclosure: I am grateful to be of service and to bring you content free of charge. In order to do this, please note that when you click links and purchase items, in most cases I receive referral commissions. Eventually, I may earn enough to buy a beer or two 🙂
Are you fed up of your cumbersome full-sized vacuum and asking yourself what is the best handheld vacuum in 2023? Handheld units are a great aid in the fight against household mess especially for busy individuals that want to get the cleaning done quicker.
These small machines are easy to handle and portable enough to keep close by, such as in the cabinet underneath the kitchen sink. Quickly grab it when cereal or breadcrumbs are congregating on your floor rather than putting it off until you decide to do a big clean. With a handheld vacuum cleaner, you can clean shelves, drapes, worktops and upholstery in a fraction of the time.
Before you go out and buy one, they are a few factors to consider to ensure that you get the perfect model for your home. For starters, you want a lightweight handheld that is less of a burden on your arms and wrists. A lighter machine speeds up cleaning times and improves handling.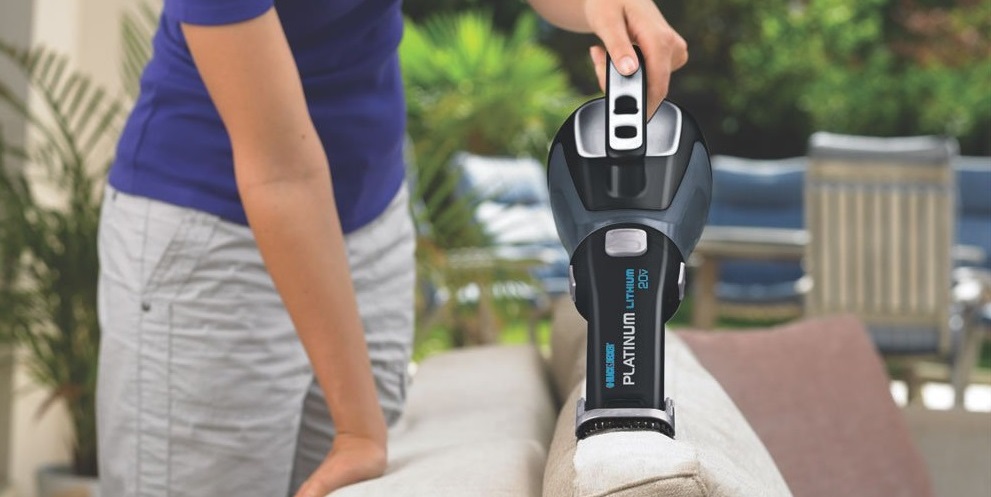 If you opt for a cordless unit, a good battery life is essential. The last thing you want is a gadget that dies partway through cleaning then needing to wait for hours to top it up before you can use it again. A decent battery will help with vacuuming bigger areas all at once.
Find models with a minimum of 15 minutes running time on a full battery. You also want to get a handheld vacuum with a range of handy attachments for dusting and to reach areas that your larger vacuum cleaner can't reach. Look for models that come with stair tools, crevice tools and dusting accessories.
Leading Overall Handheld Vacuum
Black & Decker Dustbuster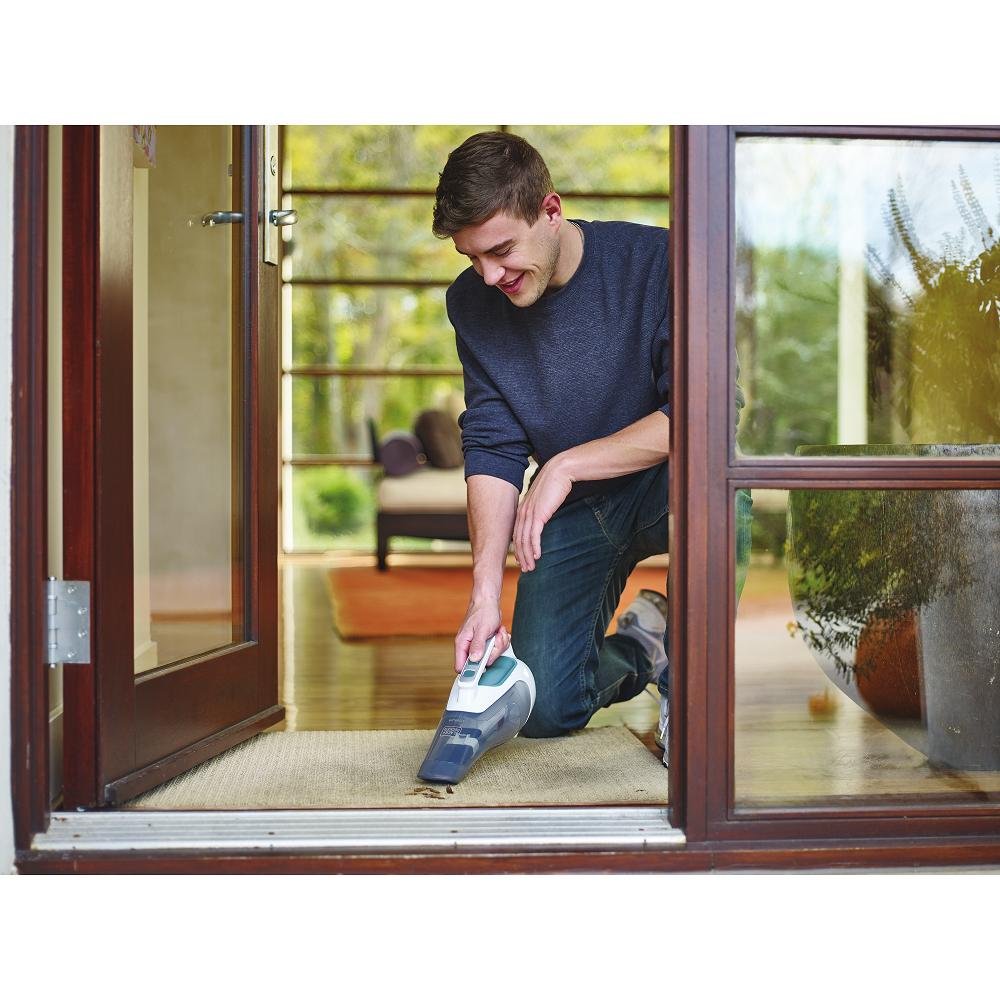 To kick things off, our top pick for overall performance is the Black + Decker Dustbuster which outranked the rest of the competition. It comes with an integrated crevice accessory to access small nooks and improve vacuuming efficiency. The Dustbuster does not shy from picking up persistent messes and it even excelled at cleaning sawdust from carpets and hard flooring.
Cordless vacuums can't really compete with the suction power found on corded machines (except if your thinking of getting a top of the range Dyson unit), however, they earn plenty of points for their labour-saving capabilities. This is where the Dustbuster comes in, it picks up dirt easily from awkward spaces such as cars interiors and pokey stairs. Performance is brilliant on multiple surfaces and it doesn't struggle to pick up larger pieces of debris, a problem that you might encounter with alternative models.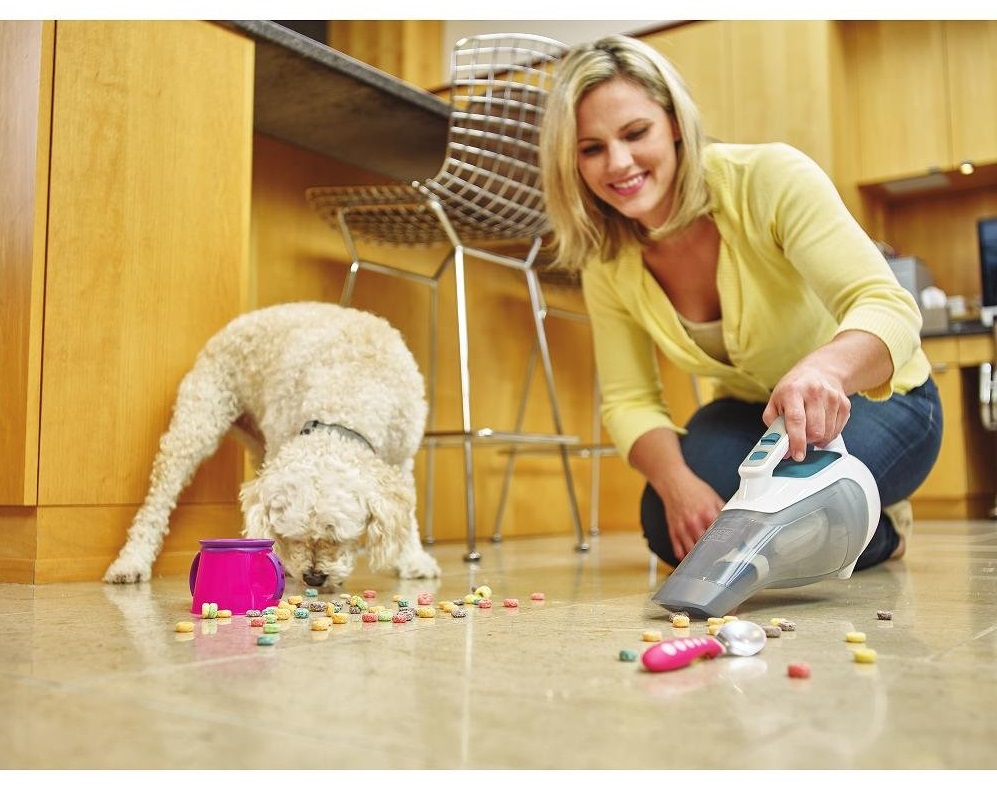 Thankfully, the Black + Decker Dustbuster actually picked up dirt instead to shifting it around- this is a common gripe with alternative vacuums. What I like about this gadget is that it cleans with less effort and it doesn't take as many passes to clean said area. One of the drawbacks is that it struggles to remove hairs from rug or carpets, however, this is a typical snag with many handheld vacuums.
There is plenty of suction power to be utilised and you get all this whilst retaining a lower noise level, therefore, you can clean without interrupting the rest of the house. The running time is a decent 15 minutes on a full charge, which is better than competing models in this price range.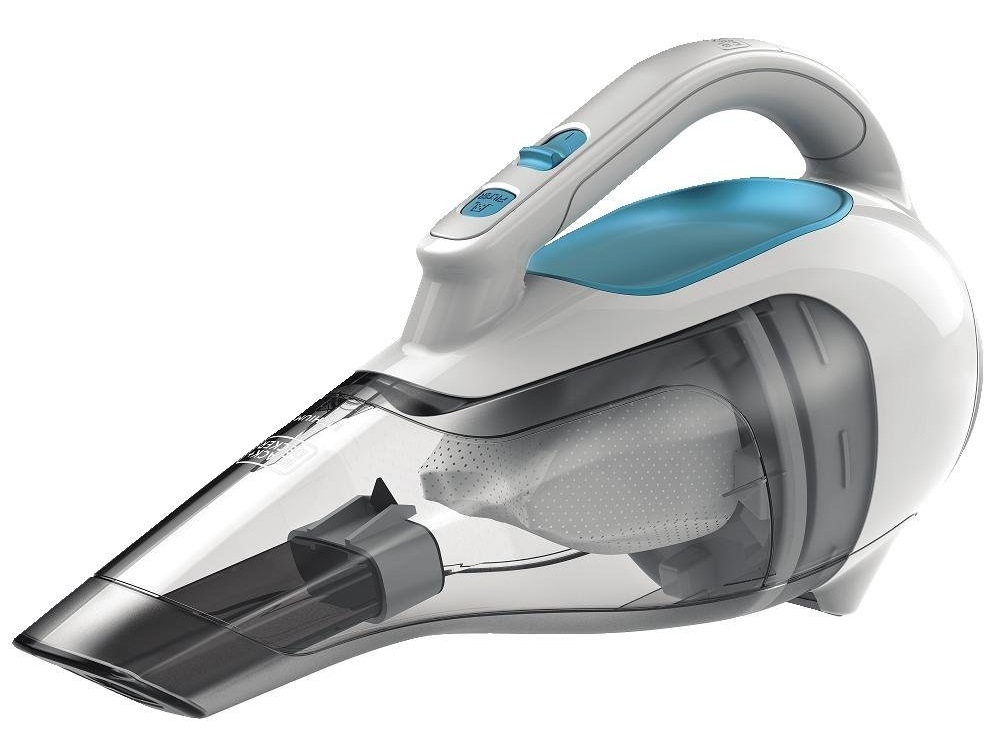 What lets it down is the long battery charging time of 8 hours, which is longer than other machines and more than we would like. The clever design enables the Dustbuster to keep the brush and crevice accessories onboard the machine and gives you convenient access to them whenever needed.
PROS
The B+D Dustbuster runs quieter than any of the other vacuums on our list.
The design is well considered and positions the exhaust at the rear to stop it from blowing dirt around.
The brush and crevice accessories are fused into the machine for better convenience.
The Dustbuster is supplied with a two-year warranty for peace of mind.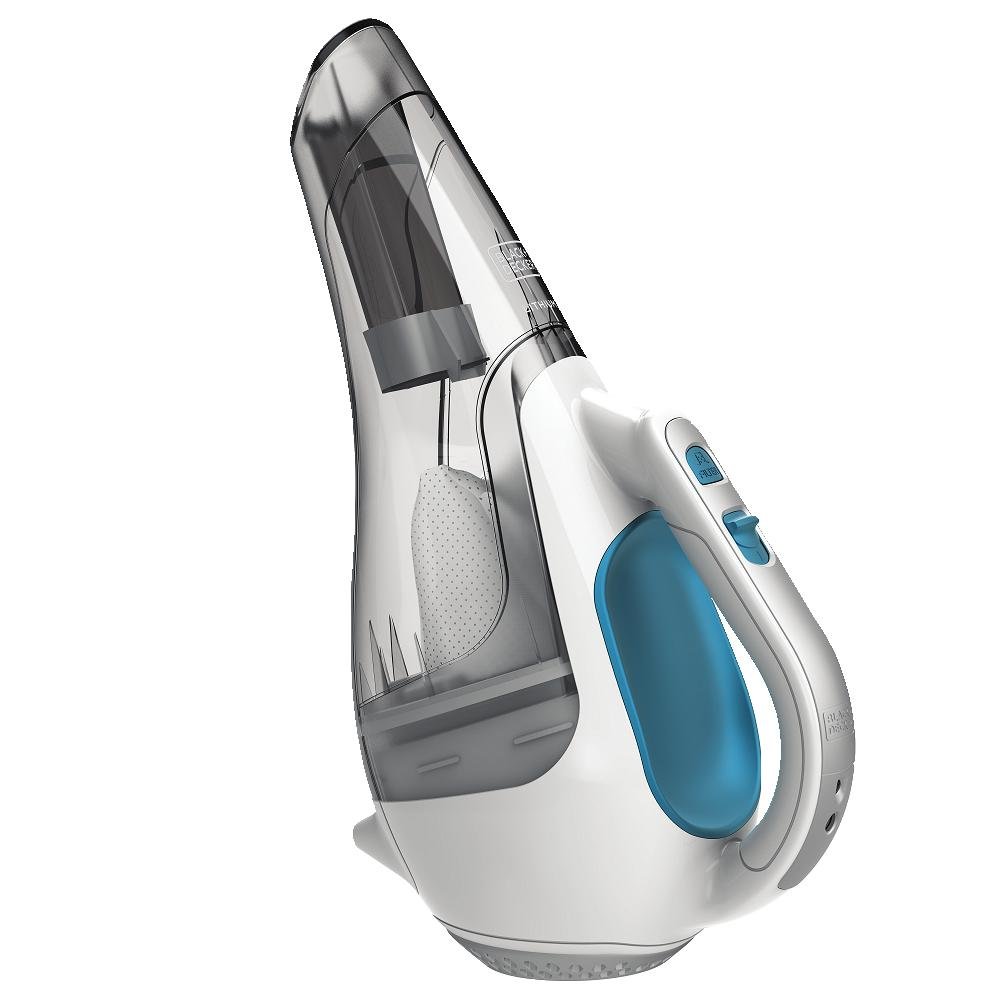 CONS
It would be nice if the Dustbuster came with more tools such as an attachable hose and a cleaner head with a wider mouth.
The 8 hour charge time is longer than we would like it to be.
This model struggles to lift animal hairs from carpet and rugs.
Where Can I Buy The Black & Decker Dustbuster Vacuum Cleaner?
Best Value Handheld Vacuum Cleaner
Dirt Devil QuickFlip
The Dirt Devil is the true definition of portable. It is remarkably small to the point that it makes other handhelds appear bulky. It doesn't provide the best suction power, however, it offers a superb degree of usability thanks to its small size. In addition to this, you can grab one for less than thirty bucks.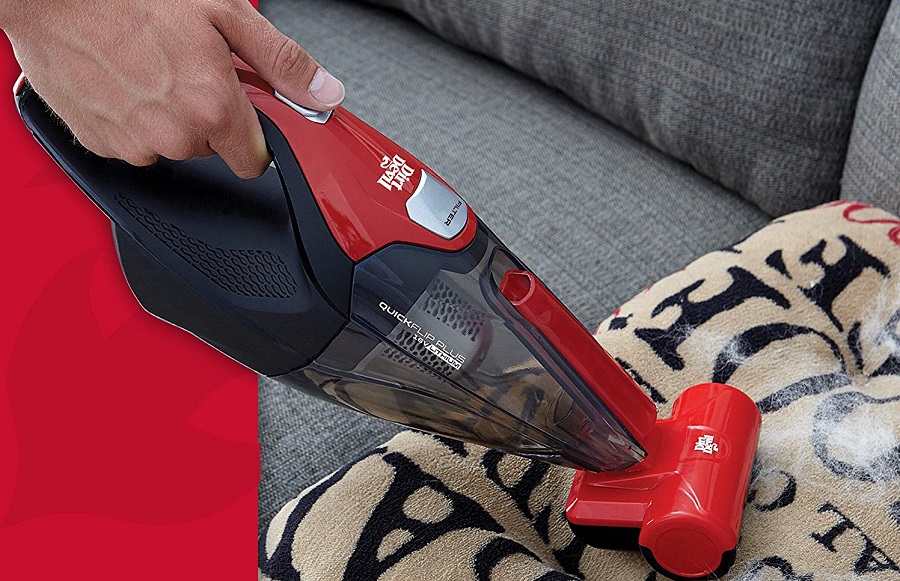 This little unit is conveniently cordless and perfect for homes with limited storage. You only get 13 minutes of battery time which isn't long enough to clean the whole house, but it's adequate for little jobs. A lot of alternative models can easily provide more suction although most of them don't give this level of portability.
The running time and suction aren't long or strong enough for all-out cleaning tasks, but the Quickflip is ideal for things like picking up crumbs, cereals and the occasional spot clean. It's handy to have a small gadget like this somewhere close instead of facing the prospect of bringing out a bigger vacuum cleaner just for a small task.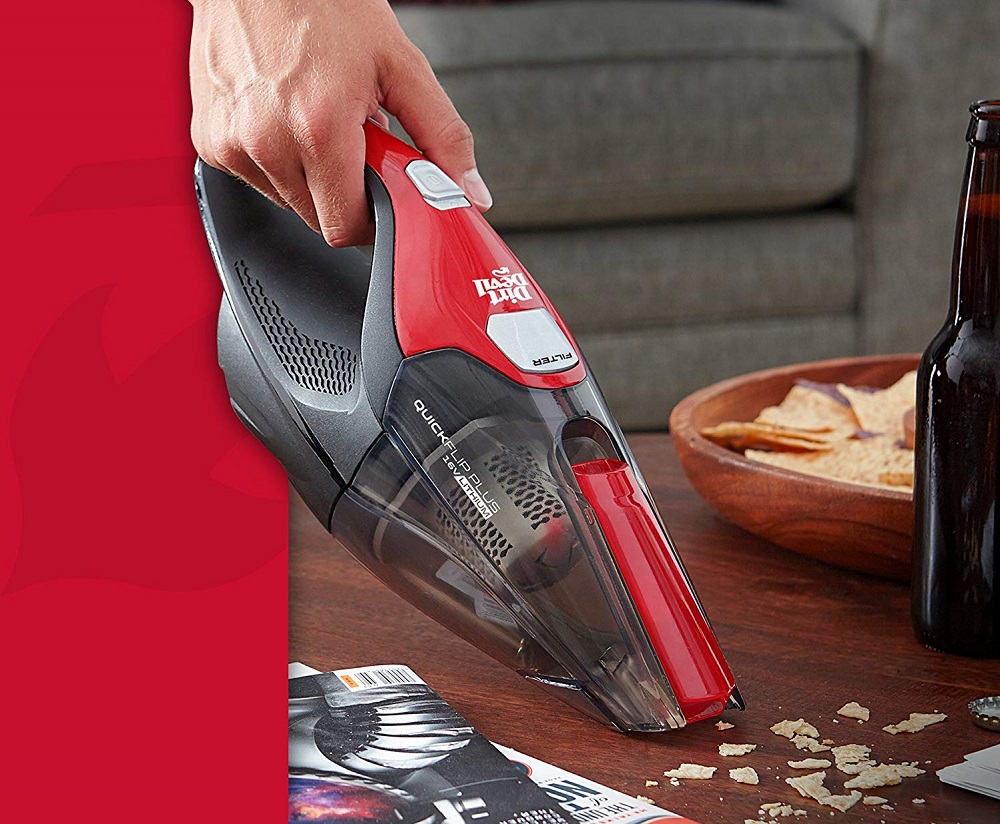 Overall, don't expect great things from the Dirt Devil Quickflip, however, it earns it places as a top value option for tiny messes that don't warrant bringing out the big guns.
PROS
This is one of the smallest handheld vacuums that you can buy.
It will cost you less than $30 and is perfect for those on a limited budget.
Cordless convenience is always welcome but when you combine that with portability then you're onto a winner.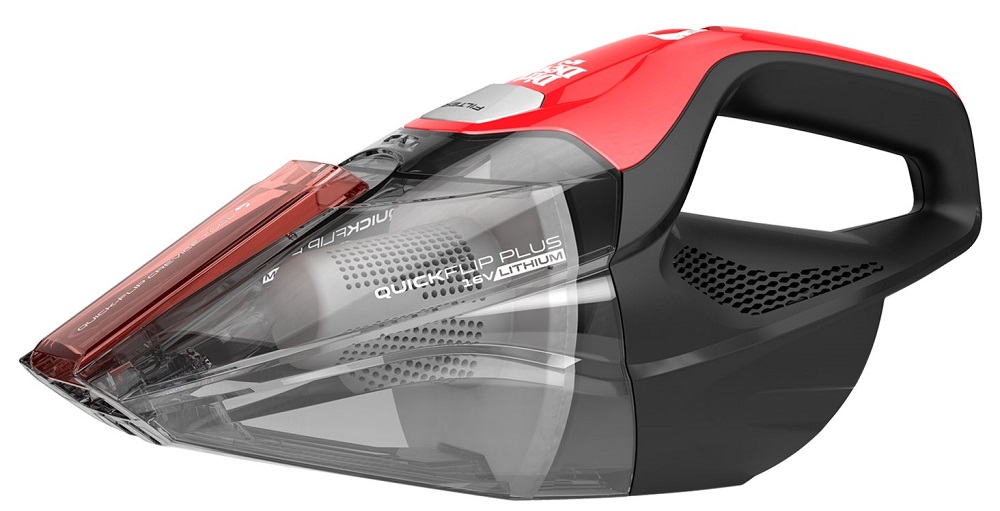 CONS
The 13-minute battery could do with being a bit longer.
Rival vacuums can easily surpass the suction power on this unit and a lot of them do.
Battery charging time is quite long.
Where Can I Buy The Dirt Devil QuickFlip Vacuum Cleaner?
Bissell Pet Hair Eraser
If you're a pet owner looking for an easy way to keep your home free from pet hairs then you should consider the Bissell Pet Hair Eraser. This unit offers a good range of accessories and it's easy on the wallet too! The machine comes with a specialised tool for pet hair removal and a flathead tool for other tasks.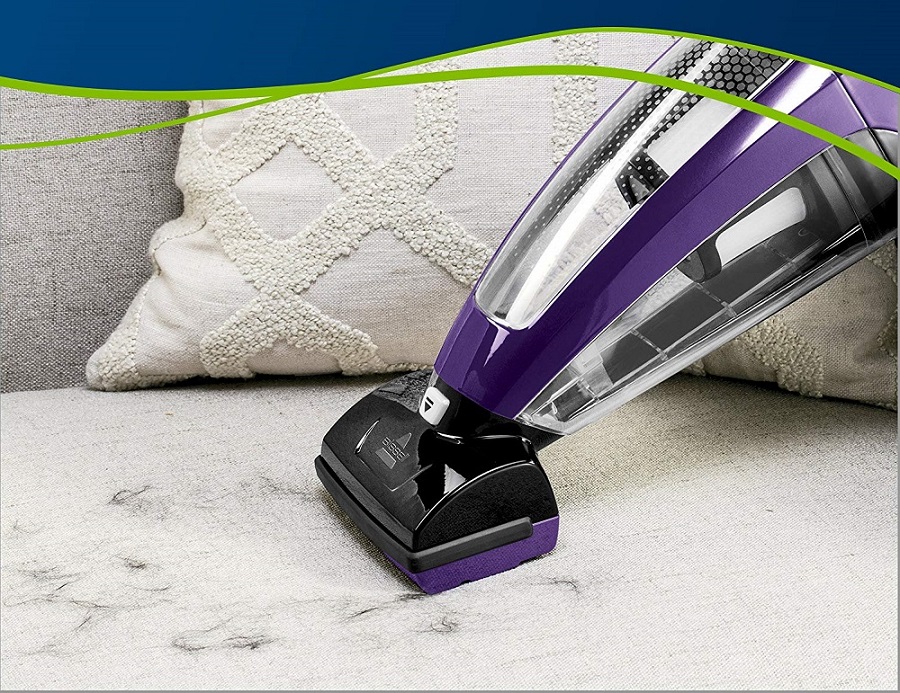 The difference with this model is that it is corded and although it might not seem like an option to go for just remember that it offers heaps of constant suction power that doesn't rely on a battery. The Bissell cleaner does what it says on the tin and totally erases animal hair from carpets, it thoroughly removes hairs burrowed deep within the carpet fibres and for that reason, it scored the highest marks.
One of the drawbacks of the Bissell handheld is that hair gets twisted around the pet hair tool and soon affects the machine's performance making it a challenge to clean if the hair is not removed. It also didn't do brilliantly at picking up other types of debris such as sawdust which was a bit of a surprise considering the powerful suction.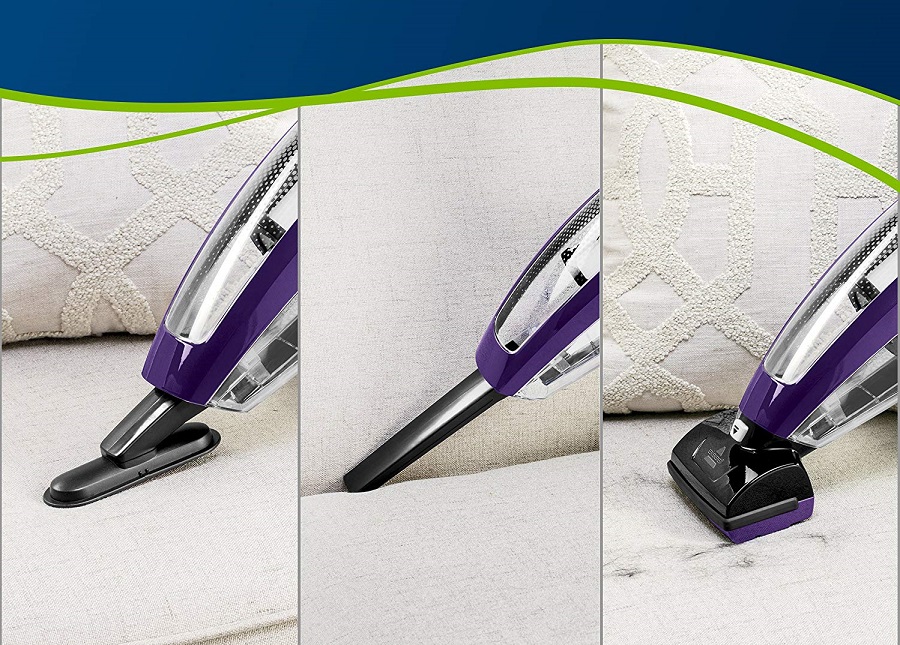 The exhaust tends to get in the way of picking up dirt effectively due to the fact that it's positioned to the side of the machine. You might need to go over some areas more than once. It's not a very practical handheld for car interiors because of the cord but if you are determined, you could always plug it into an extension cable. It doesn't come with a crevice tool which means that tight gaps and nooks are difficult to clean.
PROS
This is the best handheld vacuum cleaner for eliminating stray animal hairs.
There is plenty of suction power on offer and it doesn't depend on a battery's longevity.
The Bissell Pet Hair Eraser is an affordable option for most budgets.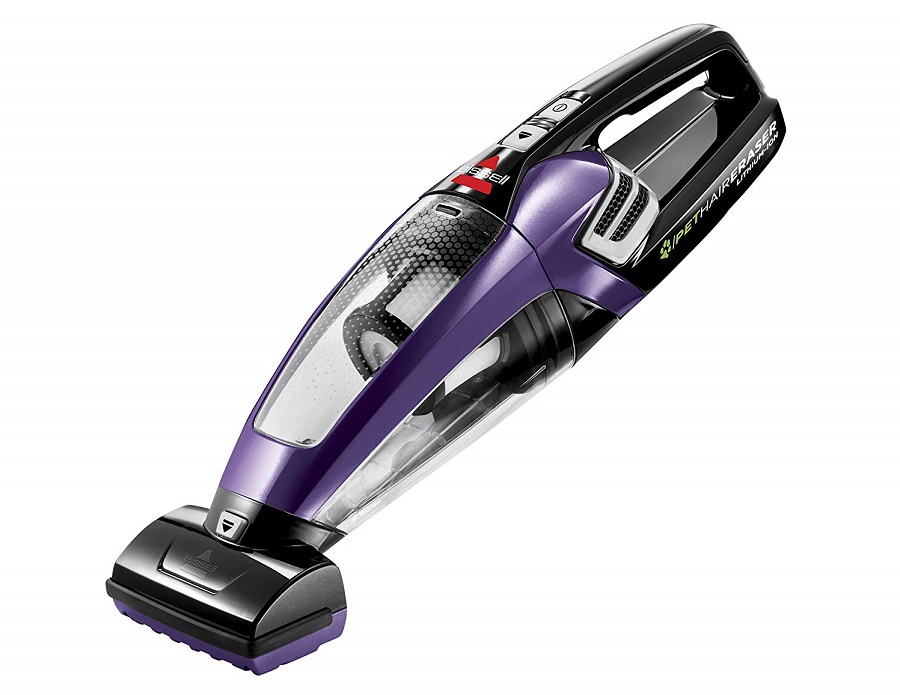 CONS
The cord can get in the way and can also be restrictive.
This model is not as lightweight as some of its rivals.
It doesn't come with a crevice for those tight gaps.
Where Can I Buy The Bissell Pet Hair Eraser 33A1B Vacuum Cleaner?
Handheld With the Best Accessories
Black & Decker Pivot
If it's ultra convenience that you're looking for then the Black + Decker 20V Pivot is the handheld gadget to get. It comes with a great set of tools and everything that you could possibly need for various cleaning jobs. One of the best features is that you can keep all of the attachments onboard the machine for immediate access.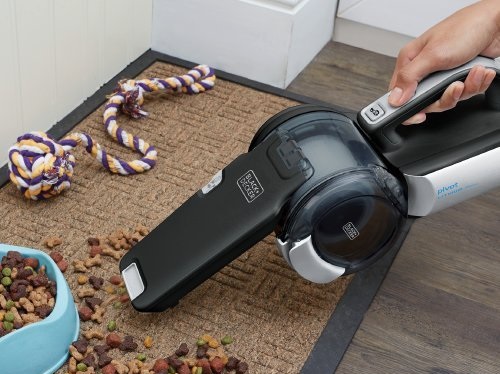 This model is all about clever design and features a crevice tool that retracts into the nozzle when it's not needed. The machine is a lot more user-friendly than its rivals and it comes with a handy storage solution- simply fold the nozzle towards the vacuum's body.
The most impressive benefit of the Black + Decker Pivot is the fast charging time which trumps everything else on the market. It takes just 6 minutes to charge and offers 17 minutes of running time. This seals the deal when you consider that rival handhelds take an average of 4-6 hours to charge.
PROS
A great range of tools that are cleverly stored onboard the unit.
It comes with a fast charging time of 6 minutes. Nothing else comes close.
CONS
Machine noise is louder than the competition.
Where Can I Buy The Black & Decker Pivot Vacuum Cleaner?
Eureka Easy Clean
Last on the list is The Eureka Easy Clean which doesn't shy away from providing powerful suction. It isn't as portable and adaptable as some of the other units that we tested but that doesn't mean that it's not a capable machine. There are a few benefits worth mentioning.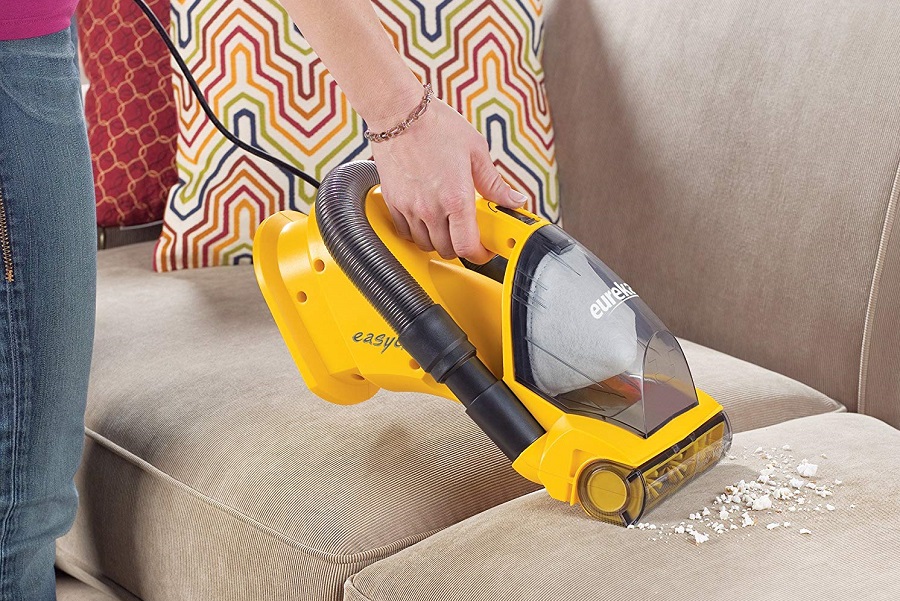 Let's start with the drawbacks first. It struggles at picking up pet hair and doesn't deliver a thorough clean on car seats, the main issue is that the powerful suction from the cleaner head fades when the hose is attached. The cord can also be a limiting factor if you're looking for a handheld that gives you the freedom to clean anywhere.
The Eureka gadget excels at vacuuming areas such as carpeted stairs and anywhere else that has carpets. The wide-mouthed cleaner head allows you to get more done in less time and it picks up various types of dirt effectively.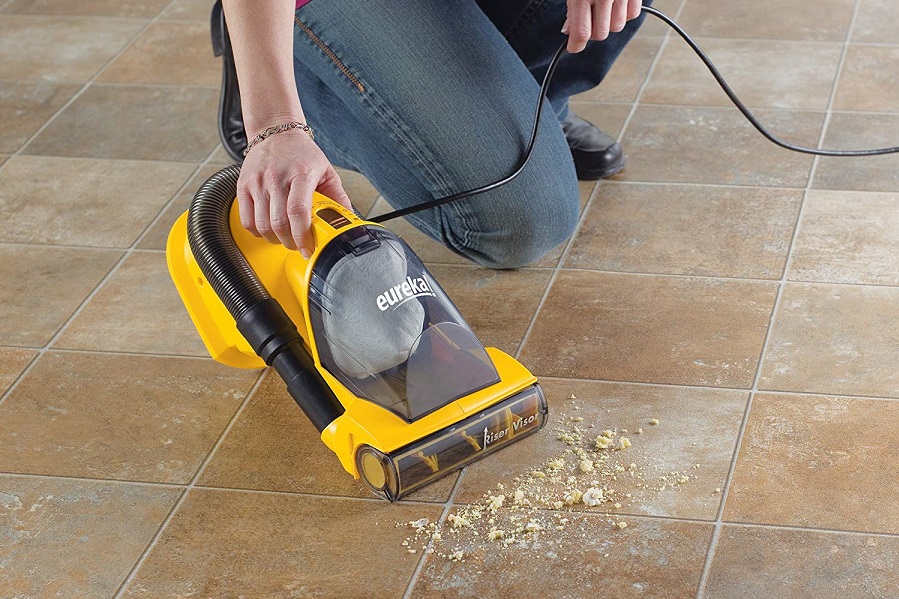 PROS
The Eureka handheld cleaner is a champion at cleaning carpeted areas.
Powerful suction comes as standard.
CONS
This machine is larger than competing handheld vacuums.
Where Can I Buy The Eureka Easy Clean Vacuum Cleaner?
What Should You Expect To Pay For a Handheld Vacuum Cleaner?
Handheld vacuums are engineered to get rid of small gatherings of dirt and once you've decided which one to buy, it won't cost an arm and a leg. You can purchase a handheld vacuum for as little as $100 and most of them cost less than this. The best units on the market range from about $30 to $180.
Bear in mind that you don't require loads of suction power to tackle small amounts of dirt, therefore, a moderate level of suction is more than adequate. Things like breadcrumbs after morning meals or dust from shelves can easily be picked up with a decent handheld.
More importantly, you want a model that is compact and adaptable to clean a variety of spaces. Our recommended handheld vacuum choices provide all of this at an affordable cost.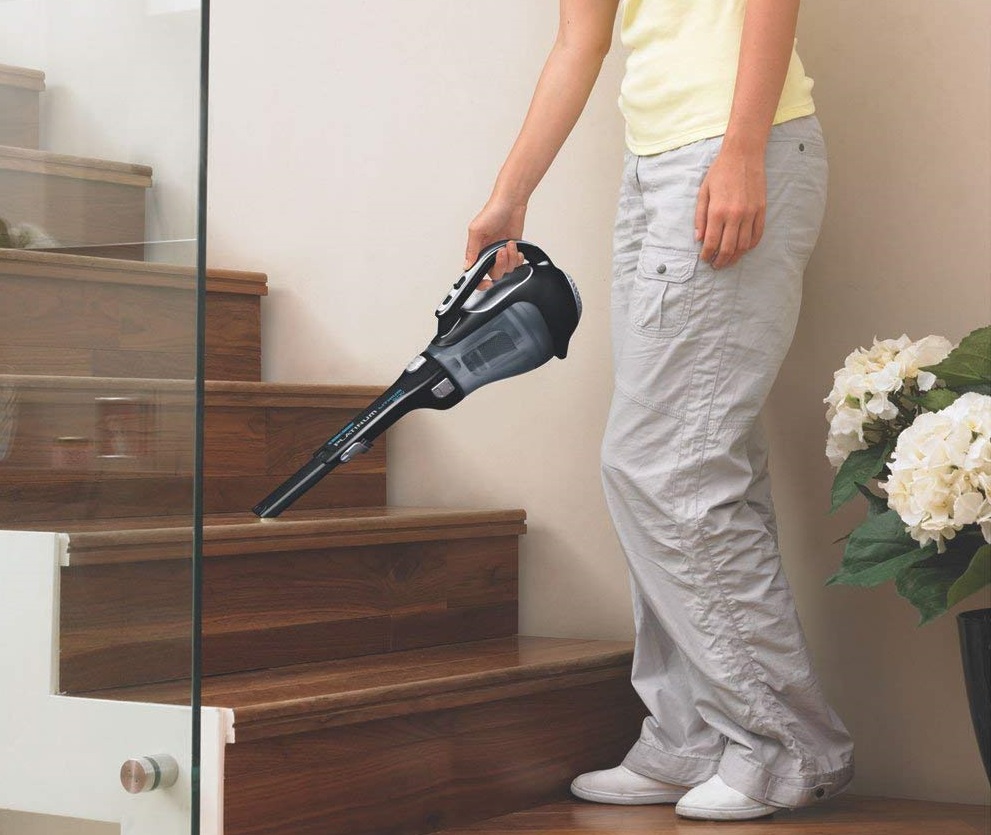 Should You Buy a Cordless or Corded Handheld?
There are always compromises with whichever choice you decide on. Cordless machines are generally more compact, however, they come with less suction power. The benefit of a handheld over an upright or canister model is that it can reach and pick up dirt from areas that larger vacuums struggle to get to.
There is no point getting a handheld that can't clean hard-to-reach areas effectively. Corded models come with the advantage of higher suction power that never fades.
The compromise with corded handhelds is that they tend to be heavier and bulkier than cordless variants. The additional weight and cable can be restrictive. So the question is, would you prefer increased power or compactness? It should be a lot easier to choose what to go for once you've decided on your priorities.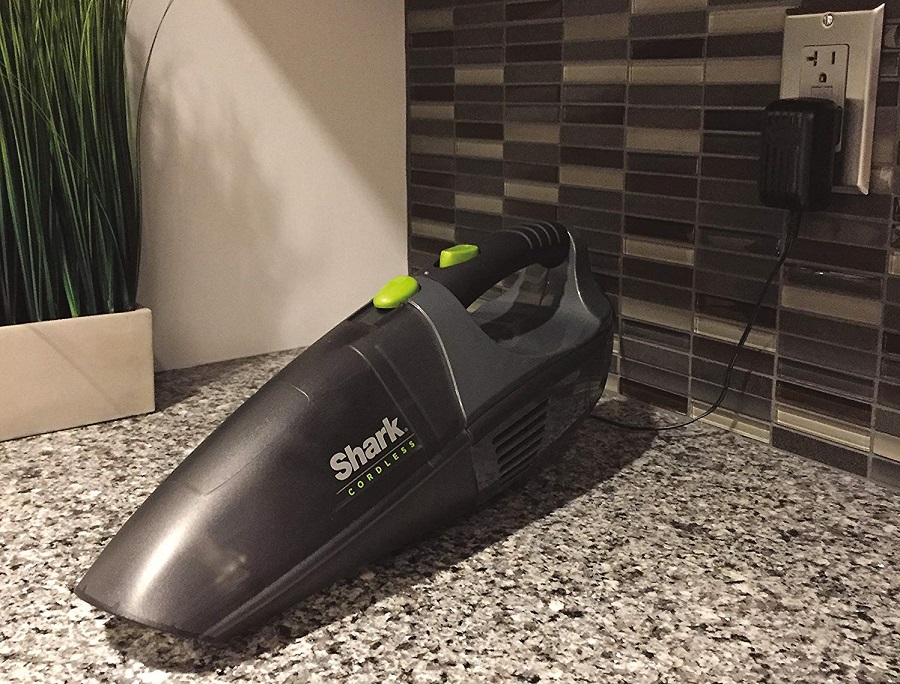 Ergonomics
It's worth mentioning that a handheld vacuum is considerably better to use if it's supplied with a good range of tools to clean various surfaces such as upholstery, drapes, carpets, tight corners and stairs. A crevice tool is a must-have as it can get into tiny gaps and pick up months (or years) of accumulated grime.
A good example of clever design is found on the Black + Decker Dustbuster. It comes with an integrated crevice tool fused into the actual unit instead of a standalone accessory that you attach. The tool can also be expanded to give you more reach.
Ideally, you want a handheld vacuum with a wide-mouth tool so that you can cover more ground in less time. A wider mouth will also help pick up dirt with a single pass thus saving you the hassle of repeated effort to clean the same area.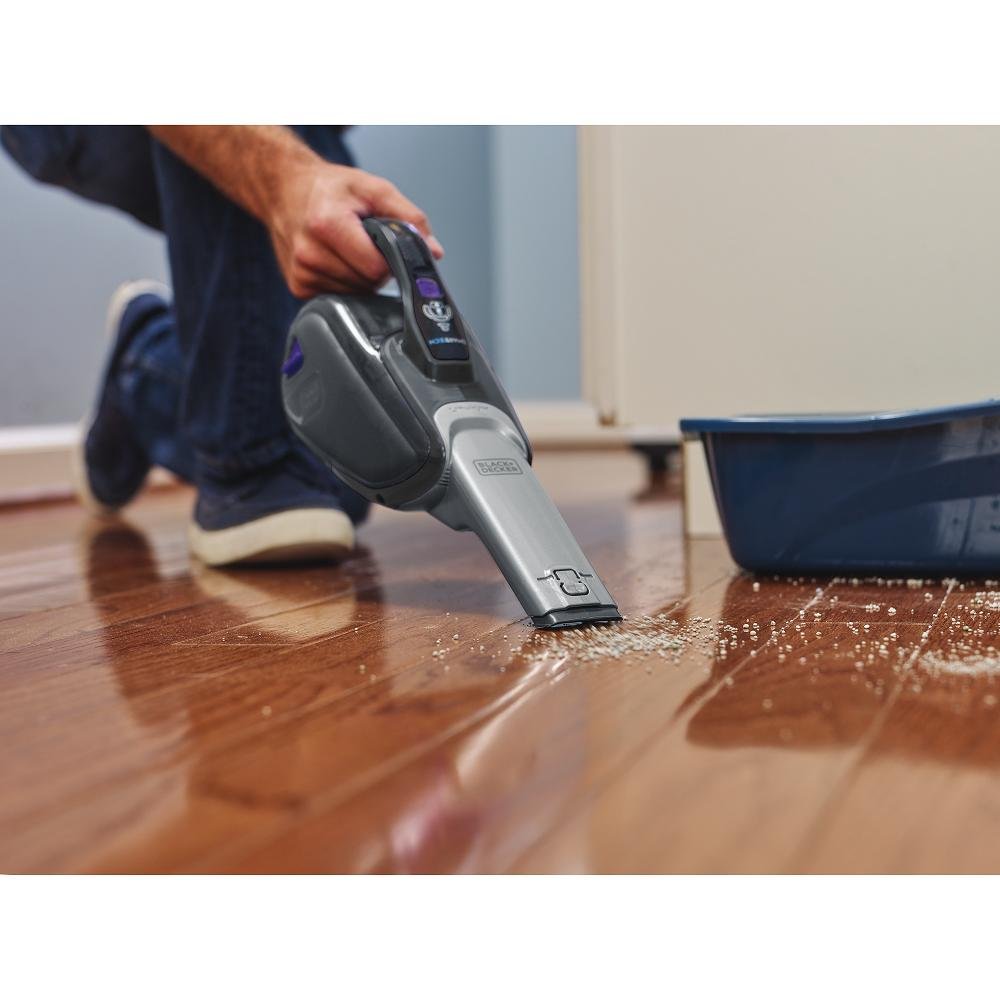 Maintaining Your Handheld Vacuum
Maintenance of vacuum cleaners is similar across the board, therefore, most of the same practices that you use for a full-sized machine can be adopted with a handheld vacuum. The reason for this is that most of the internal parts, such as filters, are similar. Nonetheless, here are some good tips to increase the life of your new handheld cleaner-
Wash or swap Filter: Filters come in all shapes, materials and sizes. You might choose to get a model with a HEPA or foam filter but either way, you will need to get into a routine of washing them if they are washable or replacing old filters with new ones.
Brushes: Although they are fewer brushes on handheld models than a bigger vacuum cleaner, they still need some TLC too. Be sure to remove hairs and other bits of debris stuck between the brush fibres. The best way to do this is to use a comb. Cleaner brushes will increase the machine's efficiency.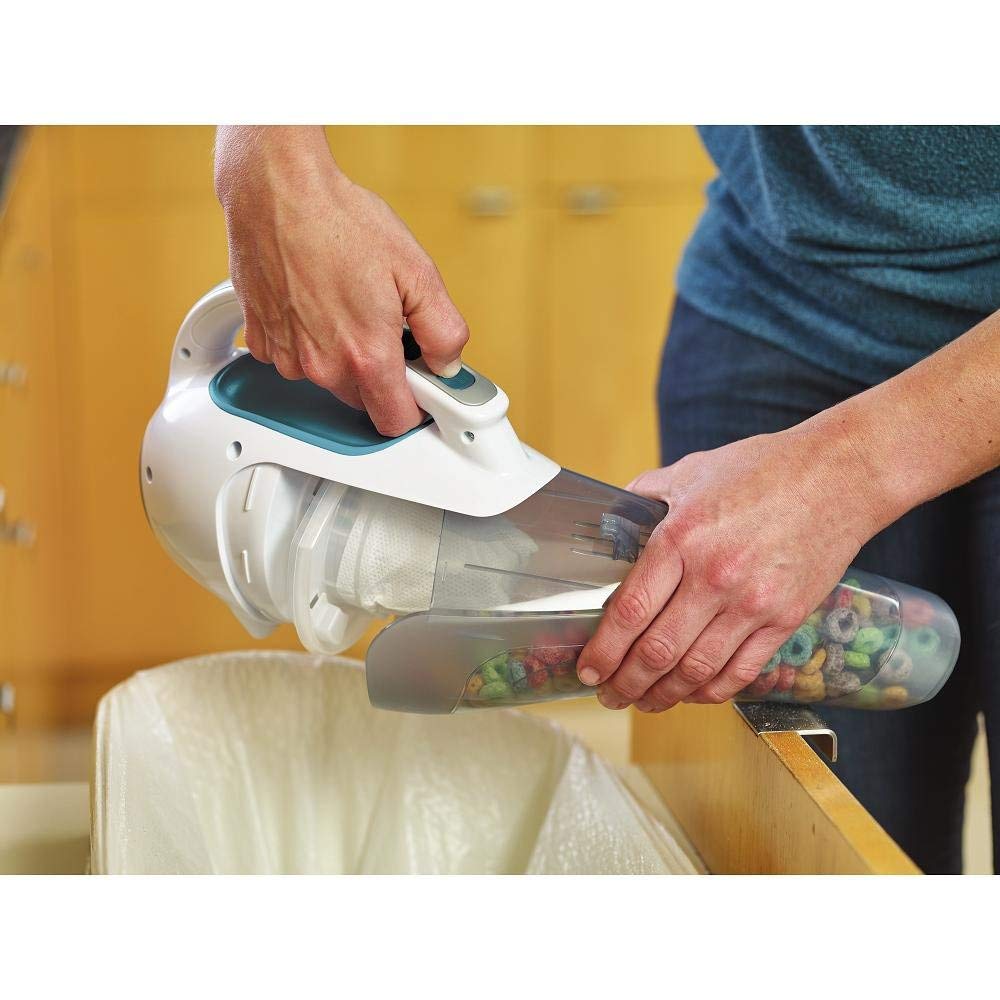 Regular emptying: Frequent dirt disposal will ensure that the bin doesn't get too full. The best advice is empty the dirt cup as it approaches 75% capacity. This should be easy to gauge as virtually all bins are transparent so that you can keep an eye on things.
Which Handheld Vacuum has the most Power?
If it's power that you're after, our top choice for a powerful handheld is the Eureka Easy Clean. It performed the strongest on hard surfaces and carpets out of all our recommendations.
As you are probably aware by now, cleaning power is not all that matters when it comes to choosing the best handheld vacuum, therefore, the Eureka cleaner did not win overall. What limits this model is the cord which restricts the freedom of movement.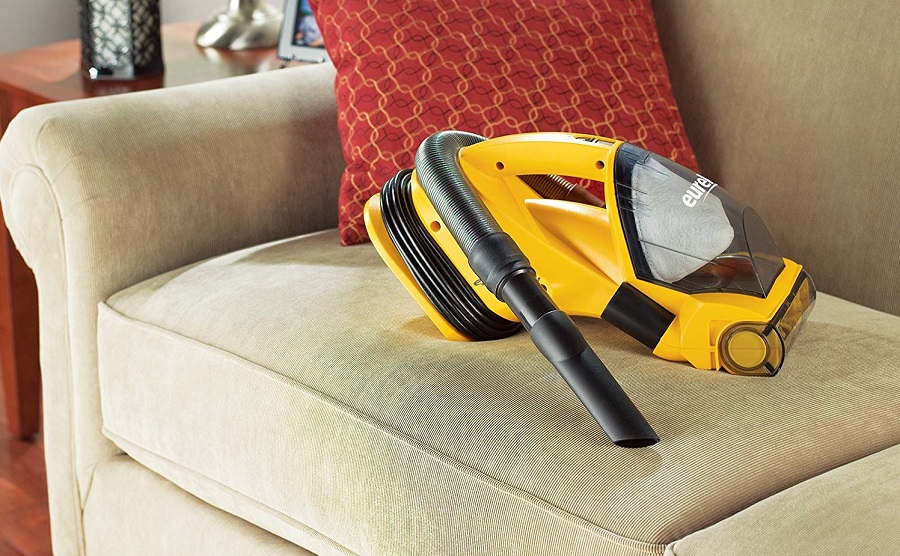 The Easy Clean isn't as lightweight as some of the other alternatives and the suction power reduces when accessories such as the hose are attached to it. The strongest suction inlet is found on the cleaner head, therefore, making the Eureka less appealing when it comes to cleaning areas such as car interiors which require several attachments to clean effectively.
The Eureka Easy Clean is undoubtedly a champion at delivering unrivalled suction power but only of this is directly from the cleaner head. It picks up stubborn dirt in fewer passes compared to its rivals.
What is the life expectancy of a Handheld Vacuum Cleaner?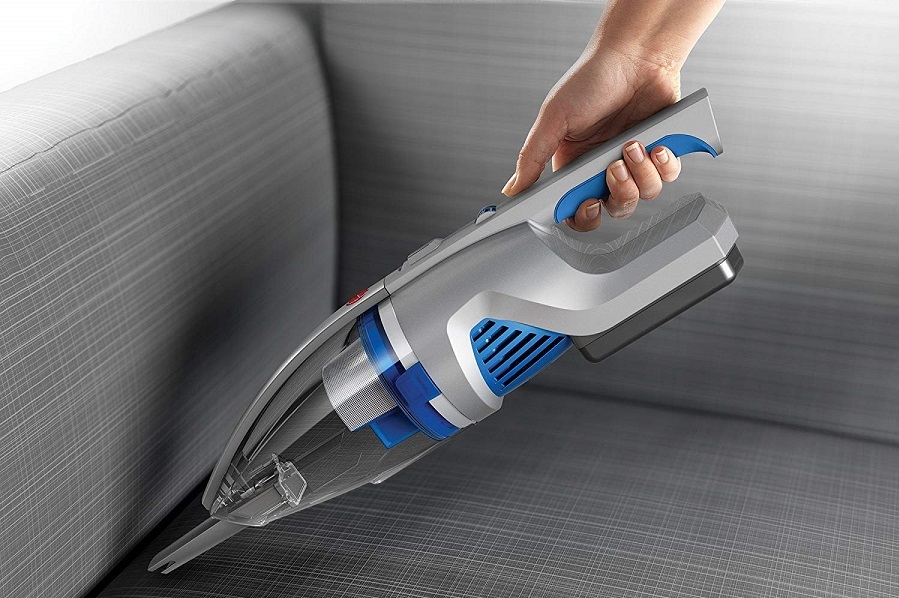 You can expect an average lifespan of up to 8 years from a decent handheld vacuum cleaner depending on the brand that you choose. The life of the machine will heavily depend on how well you take care of it and the frequency of maintenance.
Each handheld unit behaves differently, but one thing for sure is that you can expand its life with a good maintenance regime. Set a regular reminder to clean the filters and make sure that the dirt cup is emptied often.
As mentioned earlier, handheld models come with various types of filters which are placed in different sections of the machine. Most manufacturers tend to place the filters in the centre of the machine. The most popular design involves detaching the cleaner head from the machine where you will find the filter. Check if your chosen model comes with filter cleaning accessories and always follow the manufacturer's maintenance guidelines.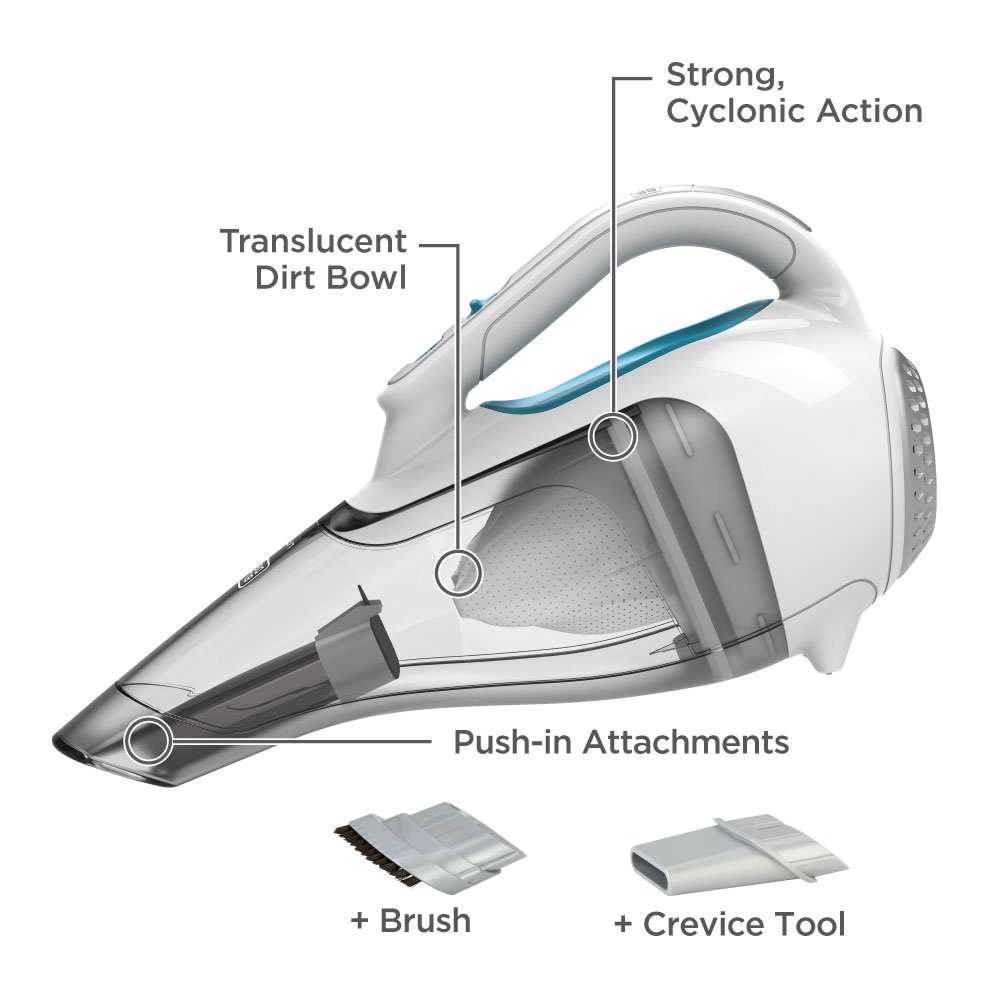 Is Your Handheld unit kind to the Environment?
Products that are made from materials such as plastic are generally controversial because of the harm that they can cause to the environment especially if they come with a battery as well. Is there a way to reduce the negative effect of these products?
Can it be repaired? We live in a disposable society especially when it comes to cheaper appliances such as handheld vacuums where it seems easier to just trash it for a new one if it breaks rather than seeking to repair it. Consider repairing a faulty appliance as it's kinder to the environment.
Longevity: The best thing you can do minimise the impact on the environment is to get a handheld that will last a long time. This not only saves you money but it results in less wastage. Always check the reliability ratings of a potential purchase and see what other owners have to say about the machine.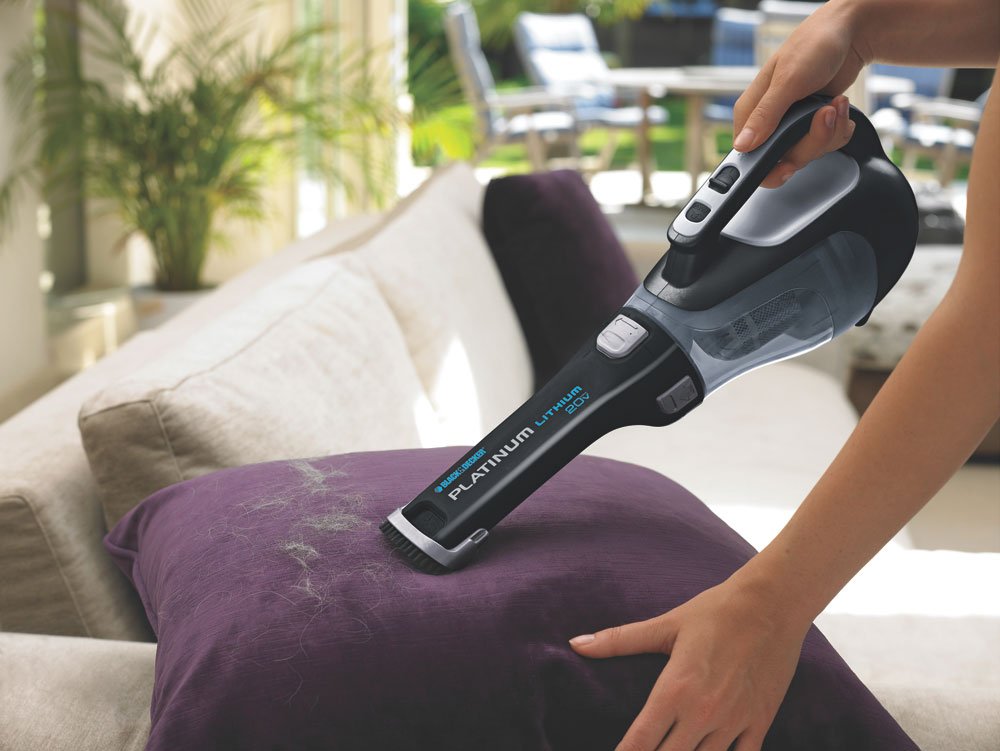 Batteries: Cordless vacuums are fitted with rechargeable batteries that are bad for the environment when the time comes to discard them. Find out if your battery can be recycled once it dies out and check where the closest battery recycling location is to you so that your battery doesn't get dumped into a waste site.
Future developments: manufacturers are also doing their bit and are beginning to design vacuum cleaners that are made from recycled materials. This should soon be an option and we'll be sure to offer you a list of recommended greener models as they become available.
What about Stairs?

Handheld vacuum cleaners are popular choices for cleaning stairs. Even the most ergonomic full-sized machines can be difficult to use on stairwells. A handheld takes away the hassle of picking up dirt from stairs. It cleans stairs in less time too!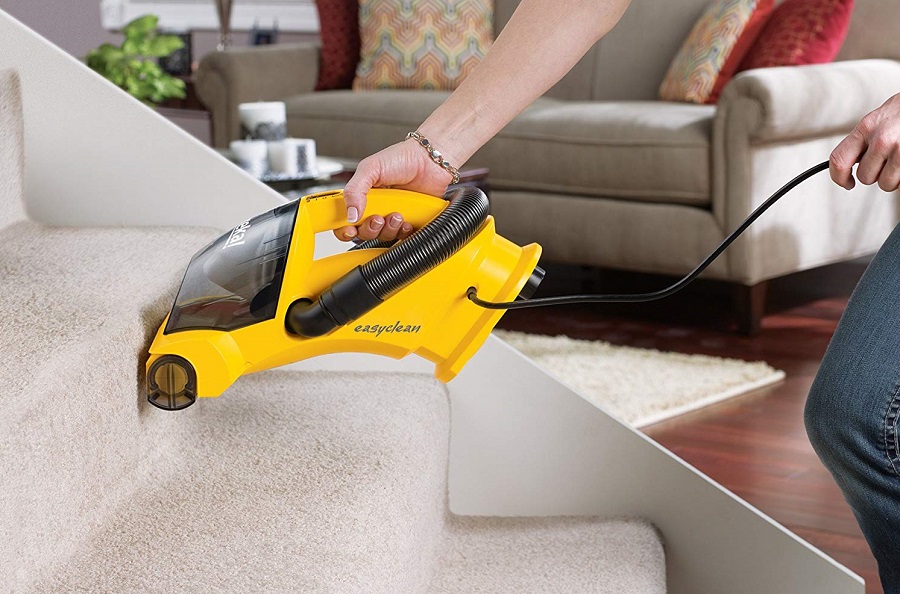 Owners of larger vacuum cleaners tend to balance canister models on the stairs whilst they attempt to clean, I've done this many times and it's truly annoying and time-consuming. The same problem is experienced with upright appliances that come with an extendable hose for stairs, the problem is that the hose is never long enough.
The moment you use a decent handheld vacuum to clean stairs you will ask yourself why you didn't do it sooner. Our top choice is the Eureka Easy Clean. It's a corded appliance but for stairs, this doesn't really matter as plug sockets are usually closeby in stairwells.
The Eureka cleaner comes with a long cord for easier movement, it can certainly clean a flight of stairs without running out of slack. I've mentioned earlier that corded vacuums are usually more powerful than battery-powered ones. The Easy Clean model has abundant power and champions stair cleaning.
Is Wattage Important?
Measuring the suction power of a vacuum cleaner isn't easy. Manufacturers use different numbers that can easily be confusing to compare. Wattage helps to determine the energy consumption of a unit but that doesn't necessarily mean that increased wattage results in increased suction power.
Coupled with this is the measurement of Amps which can appear to be a good gauge of performance, however, it merely suggests the amount of power used to carry the voltage.
Increased amperage results in more rotations (RPM) per minute but this can be insignificant if the appliance has a bad design. A higher amp output creates a higher amount of heat, which can shorten the life of the motor.
The most reliable measurement to gauge performance is Air wattage. This measures the wattage required to move a unit of air through the cleaner head or nozzle. The only problem is this can be difficult to find out unless the manufacturer provides the details within the product specifications.
Some brands will detail the motor wattage but might not provide details of the air wattage. Suction claims can usually help determine the air wattage as well, so it's worth checking that out too.
Car Cleaning Guide
Long work commutes and the inevitable school run accumulates dirt in your car interior quickly. Below are a few tips to speed up cleaning times and keep your car seats immaculate: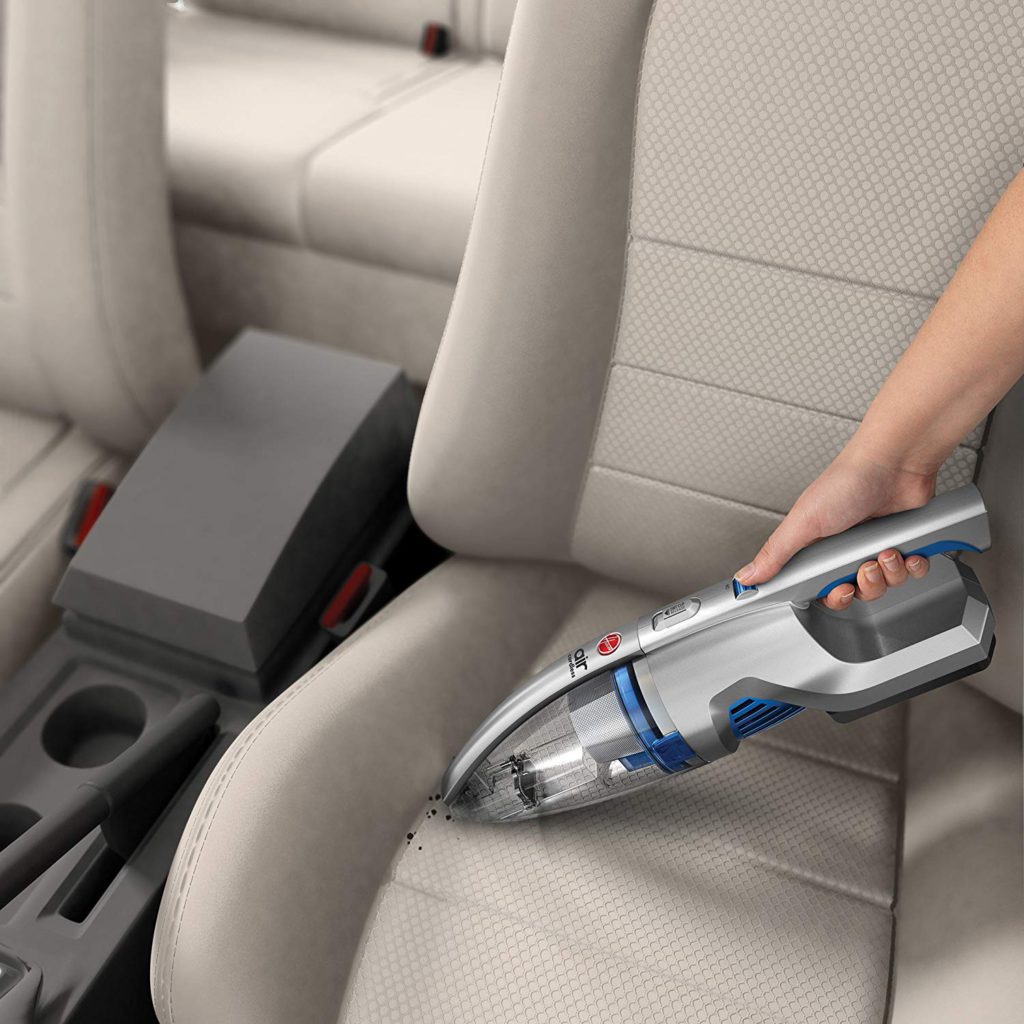 Seats: Stray animal hairs can be easily removed with a bit of water, spray bottle and a squeegee. All you need to do is spray the seats and run the squeegee over them. This will catch hair easily.
Dashboard: You can treat your leather seats and dashboard with a dab of olive oil instead of purchasing costly conditioners.
Exterior: Bugs are a problem to get rid of and usually require some effort to remove. A good technique to eliminate bugs from the car's exterior is to use some cooking oil and a dry cloth.
Air vents: Air vents gather dust that is difficult to clean. Why not use a can of compressed air or a foam brush to remove dust?
Wipes: Wet wides are a godsend in your fight against car dust and dirt. Keep them closeby for quick spot cleaning.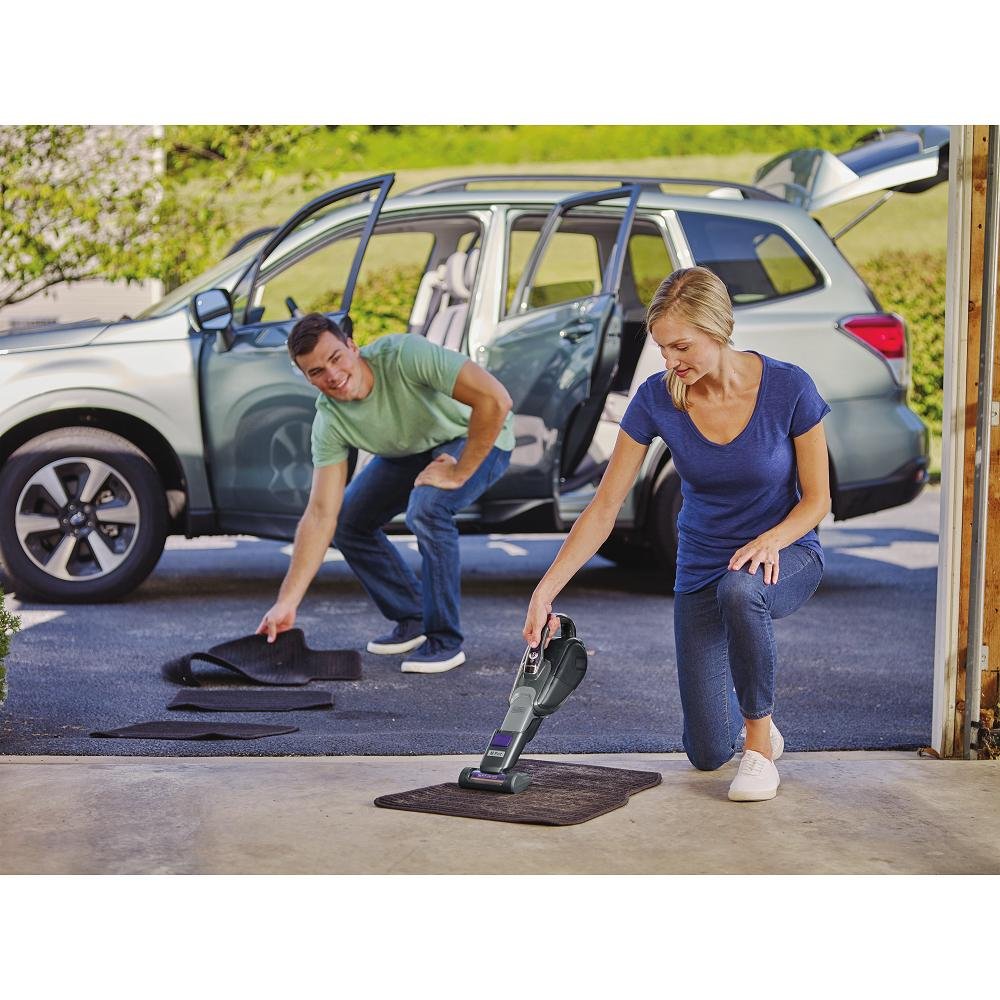 Looking for a Smaller Handheld Vacuum Cleaner?
If you want a handheld vacuum cleaner that is more compact than our recommended shortlist of handhelds, there are a few choices. It's hard to imagine that you can buy extra small handheld cleaners tinier than our offerings, however, there are some options available.
Ultra-compact handheld appliances are an interesting mix. For starters, they don't generally provide the equivalent suction power found on regular handheld appliances such as the ones we've recommended. These miniature units are more suited for cleaning dust from computer screens or keyboards.
Some of the bigger handheld cleaners are too powerful for delicate surfaces and this is where you would see the benefits of a smaller appliance. These models are either USB or battery powered.
To Conclude
If you've made it this far into the article you will have a good idea of what is the best handheld vacuum in 2023. As you can see, there is an option out there for every budget and all house cleaning requirements. You want a handheld appliance that strikes a good balance between portability and performance.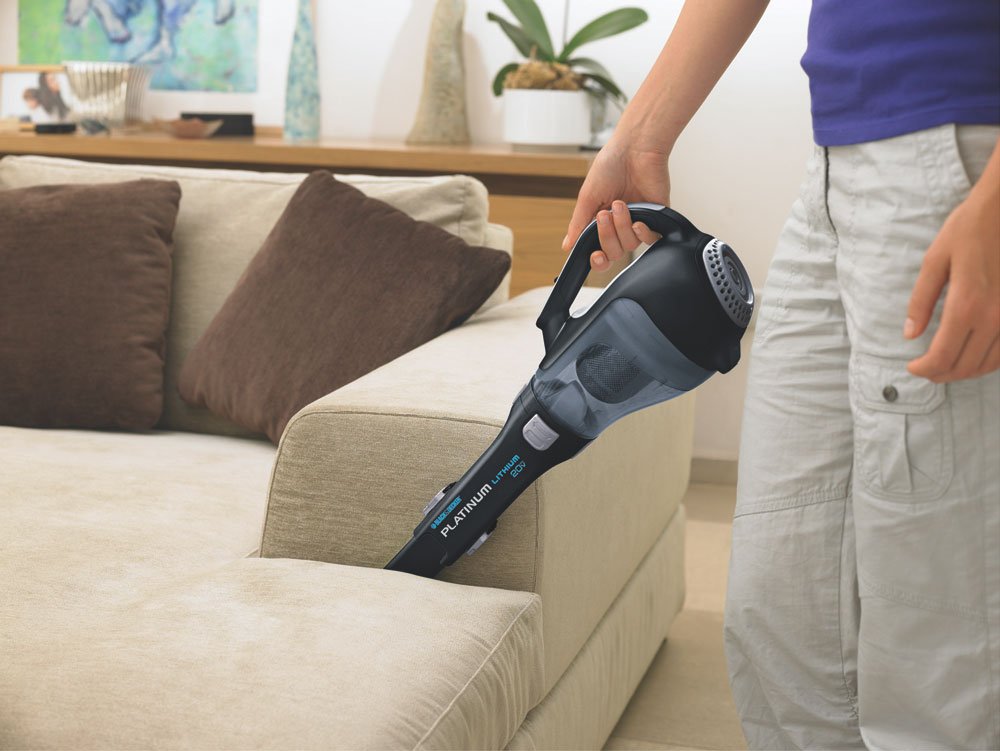 Will you decide to buy a corded or cordless appliance? We've shown you the benefits and drawbacks of both options. When it comes down to it, you need to ask yourself what's more important. Would you prefer a high-powered corded handheld or a compact cordless?
Are you considering buying a handheld vacuum cleaner from our list or do you already own one? Please leave your comments in the section below. I'd love to hear from you.
Our List of the Best Domestic Appliances