Affiliate Disclosure: I am grateful to be of service and to bring you content free of charge. In order to do this, please note that when you click links and purchase items, in most cases I receive referral commissions. Eventually, I may earn enough to buy a beer or two 🙂
If you're struggling to vacuum your home regularly I can help you find the best time-saving vacuum cleaners to keep on top of a dirty home. A regular cleaning schedule mostly depends on the type of vacuum cleaner you choose to buy. There are some handy solutions out there even if you own a pet/s or have kids running around.
Most of us have crazy busy lives and it's often difficult to sort out our homes. Our biggest gripe is dirty floors. It doesn't take much for the kids to bring dirt into the house or for pets to shed their hair everywhere.
After a busy day, the last thing I want to do is take out the vacuum cleaner, I've got just about enough energy to cook the evening meal! Thankfully there are two great solutions to help with vacuuming. Our recommendations will ensure that your carpets and floors are constantly cleaned. For this scenario, you can either choose complete automation or choose a vacuum cleaner that is incredibly quick to use.
Automated Vacuum Cleaning
This is the age of robot vacuum cleaners. I started seeing these little machines popping up several years ago but up until recently, their features were limited. Manufacturers have improved robot vacuum technology to include ultra-convenient features such as automated scheduling and automatic self-charging.

If you want to save yourself a heap of time I'd highly recommend that you buy a robot vacuum cleaner so that you have one less thing to worry about. Why do I rate robot cleaners so highly? Because they pack a lot of suction power inside a compact body and require little help to get on with the job.
Not all robot vacuums are created equally. Avoid cheap brands that are more trouble than they're worth.
One of biggest issue that customers complain about is poor quality batteries on inferior models. I would recommend buying your robot from brands like Eufy, Neato, iLife, Ecovacs and obviously Dyson (if you can afford it).
Recommended read: Follow this link to review our list of highly rated robot vacuums
What can you expect from a good robotic vacuum cleaner? Great convenience and time-saving are at the forefront of robot cleaners. Most robots are supplied with a remote control to schedule a cleaning routine that works best for you.
Some have additional functionality to be controlled via a smartphone app. You can check the status of the robot, remaining battery time or turn it on manually to perform an ad-hoc clean.

Emptying the dirt bin takes a few seconds but it's a small price to pay for the amount of time you reclaim. Personally for me, the Neato D80 is a firm favourite. The Neato robot eliminates pet hair better than some larger vacuums.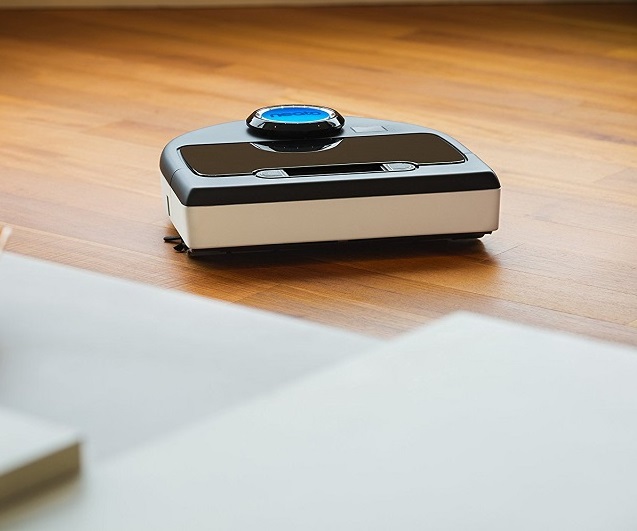 Clever route guidance enables it to navigate in a logical pattern and stick to the most efficient route. D80 is built with convenience at its core and is easy to set up.
Find a more in-depth review of the Neato D80 by clicking here.
Please note that robot vacuums cannot travel up and down stairs or clean high reaching areas. For this, you'll need a secondary vacuum. Don't worry, I've got a good solution for this below. Keep reading…
---
Super Quick Vacuum Cleaning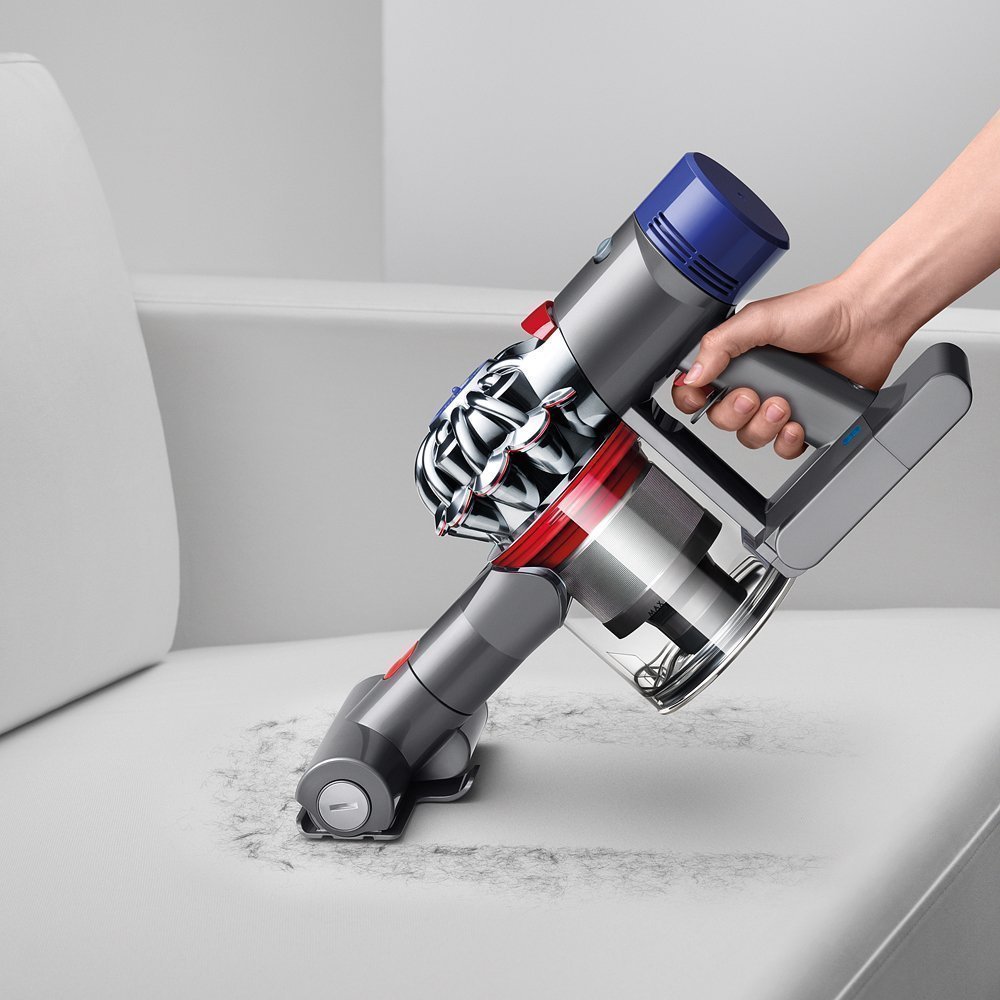 If you're not sold on a robot vacuum cleaner, the next best solution is a cordless stick vacuum.
I must confess that from the onset, I wasn't convinced that a cordless cleaner could clean as effectively as my full-sized upright vacuum but it wasn't long before I changed my mind.
Choose your stick vacuum wisely and you'll enjoy the benefits of faster vacuuming when compared to a bulkier appliance.
At the moment, Dyson is at the forefront of cordless stick technology. Why? They've designed a tiny powerful digital motor that spins faster than a formula 1 engine and managed to fit it into a stick vacuum cleaner that weighs a minuscule 2.3 kgs (5.07 pounds).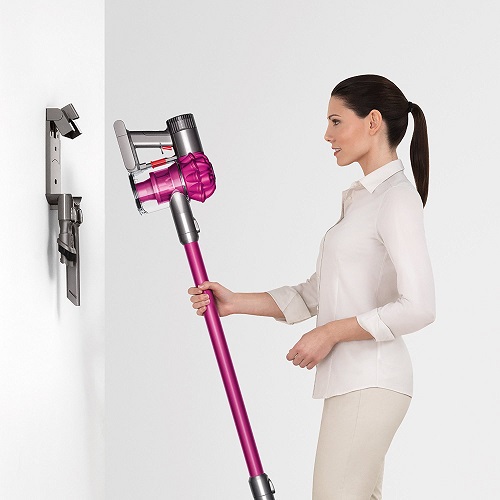 Stick vacuums are lightweight and portable and this makes all the difference for anyone wanting to vacuum quickly.
The secret is to store your stick in high traffic rooms such as the kitchen or the living room where you have immediate access to it. Most come with a mountable wall bracket.
What happens is that you'll get into a routine of cleaning little and often. I can usually clean a whole room in the time that it takes me to take out my full sized vacuum and plug it in.
Recommended Read: Follow this link to review our list of the best cordless handheld vacuum cleaners
Dyson has a great range of cordless stick vacuums including the V6, V7 and V8. Each model has specific variants to meet the needs of demanding households including homes with pets, cleaning car interiors, vacuuming hard to reach areas, and also a mattress vacuum that gets rid of bed bugs.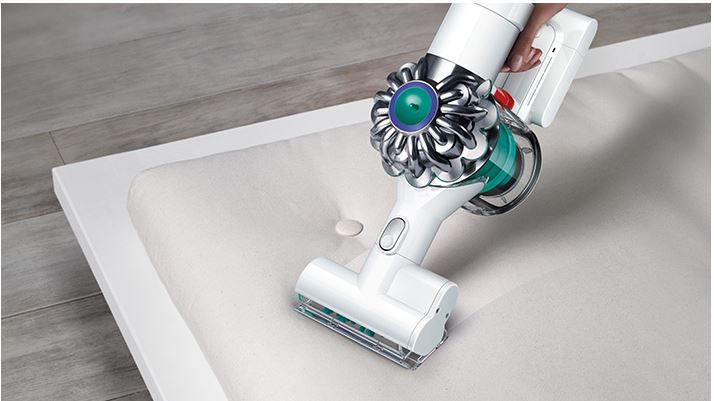 Another great feature found on Dyson stick cleaners is a turbo boost button that cranks up the suction when extra power is needed for stubborn dirt like dried up mud or dirt deep-seated into your carpets.
Best Rated: Follow this link to review our list of the best cordless handheld vacuum cleaners
The Dyson ball has been fitted into the cleaner head and it's impressive to see how much time you save with the pinpoint steering. You can zip around and underneath furniture in minimal time no matter which Dyson model you decide to buy.

Typically I can vacuum the whole house in 10-15 mins compared to my upright vacuum that takes twice as long. I live in a busy 3 bedroom home with 2 flights of stairs, kids, a lazy husband and a dog.
If you've read my previous posts you'll notice that I'm a huge Dyson fan and that's because I stand behind high-quality products that work and make my life easier. I don't see the point of buying a cheap appliance that doesn't clean too well and has a higher chance of breaking down. Pay a little extra and save money in the long term.
---
Conclusion
It's easy to fall behind with vacuuming when considering our busy lifestyles. Make a smart choice and buy a robot vacuum cleaner or a cordless stick vacuum and they'll always be time for your floors to be cleaned regularly.
Are you thinking of buying a cordless stick or robot vacuum recommended above? Please get in touch via the comments section below. I'd love to hear your thoughts.
---
Our List of the Best Vacuums